Oct. 22 - Nov. 07, 2015
Thursdays-Sundays
A delightfully dark comedy about women scorned in Minnesota and the really, really nice gangsters--Norwegian hit men--they hire to whack their ex-boyfriends. Olive, a transplant from Texas, and Betty, a transplant from Kentucky, have been dumped while undergoing a horrendous Minnesota winter. They meet at a bar, recognize each other's thirst for vengeance, and Betty recommends a pair of Norwegian assassins, Tor and Gus. However, just as the path of love does not run smooth, hilarious twists and complications arise with all involved in this business of revenge.
We're thrilled to present the Austin premiere of this new play by award-winning local playwright C. Denby Swanson! After graduating from the University of Austin Michener Center for Writers, Swanson went on to receive a Jerome Fellowship, McKnight Advancement Grant, William Inge Residency, and the NEA/TCG National Theater Residency Program for Playwrights. Her work has been commissioned and produced nationally as well as locally by Zach Scott, Salvage Vanguard Theater, and ScriptWorks. She is the former Artistic Director of ScriptWorks and is currently on faculty at Southwestern University.
The Norwegians stars Claire Grasso as Olive, Boni Hester as Betty, Michael Stuart as Tor and Ben Wolfe as Gus.
The play is directed by Lara Toner, with set design by Mike Toner, costume design by Glenda Barnes, lighting design by Don Day, and sound design by Joel Mercado-See.
[Click to view feature by Rosalind Fiares for the Austin Chronicle, October 22, 2015)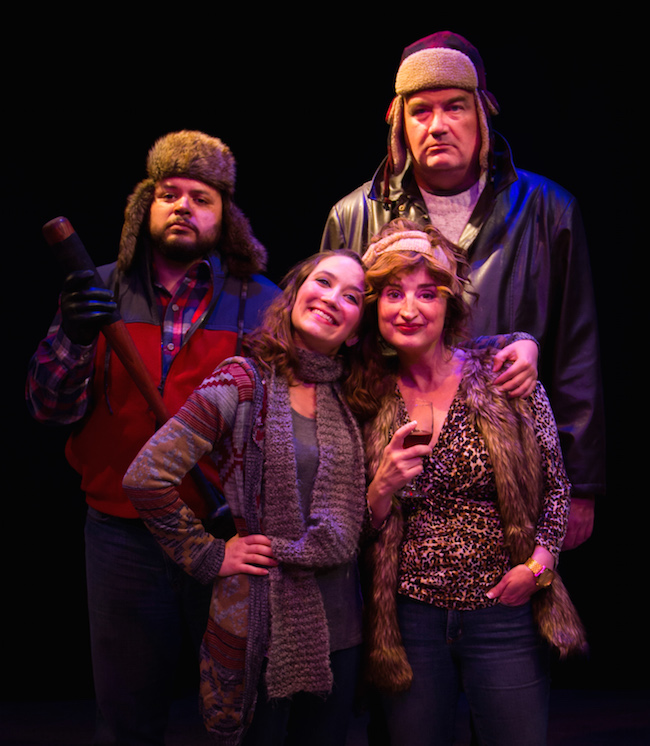 Austin Playhouse 16th Anniversary Season
Our 2015-2016 season will open with Tom Stoppard's most moving play The Real Thing, September 18 - October 11, 2015, followed by the beloved romantic comedy The Philadelphia Story by Philip Barry, November 20 - December 20, 2015, a jazz-infused drama about the king of baseball Satchel Paige and the Kansas City Swing by Trey Ellis and Ricardo Khan, February 12 - March 6, 2016, and a hilarious spoof on Victorian adventurers The Explorers Club by Nell Benjamin, April 1 - May 1, 2016. The final show of our season will be Stephen Sondheim's wildly romantic musical A Little Night Music, May 27 - June 26, 2016. In addition to our five-play season, Austin Playhouse will also produce the Regional premieres of Austin playwright C. Denby Swanson's The Norwegians, October 23 - November 7, 2015, and the 2013 Pulitzer Prize award-winning play Disgraced by Ayad Akhtar, January 8 - 31, 2016.
Austin Playhouse
Austin Playhouse is a professional theatre currently performing its 16th season. Under the leadership of Producing Artistic Director Don Toner and Artistic Director Lara Toner Haddock, Austin Playhouse has grown from a three-play season on the campus of Concordia University, to a year-round operation producing an average of eight plays a year. Austin Playhouse is currently performing at the Austin Community College Highland campus. The theatre has recently been renovated to include an expanded lobby, rehearsal hall, and restroom facilities.
---
The Norwegians
by C. Denby Swanson
Austin Playhouse
Thursdays-Sundays,
October 22 - November 07, 2015
October 23 - November 7, 2015
Thursdays - Saturdays at 8 p.m. and Sundays at 5 p.m.
Austin Playhouse at ACC's Highland Campus,6001 Airport Blvd., Austin, TX 78752
WEB: austinplayhouse.com
TICKETS: $24
BOX OFFICE: Call 512.476.0084 or email boxoffice@austinplayhouse.com
DISCOUNTS: All student tickets are half-price. $3 discount for Seniors 65 and up. Group rates available.