Feb. 05 - Mar. 06, 2016
Fridays-Sundays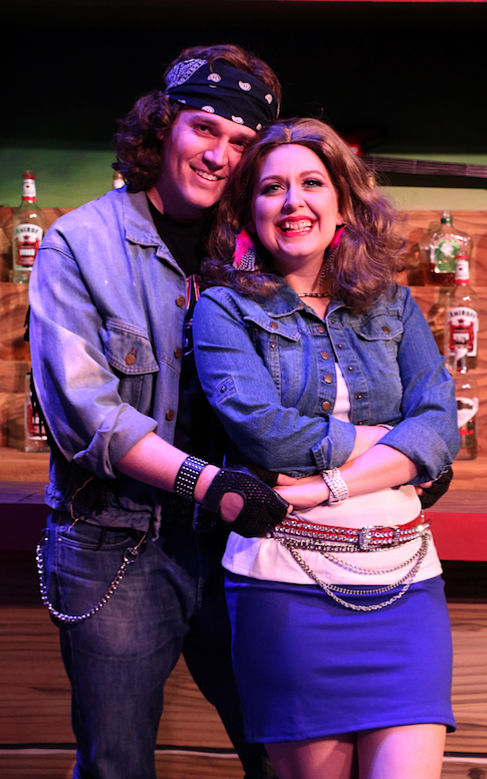 ROCK OF AGES the musical is the ultimate rock mix-tape musical, a hilarious story of dreams, love and rock. The story is set in the tail end of the big, bad 1980s in Hollywood where the party has been raging hard. Aqua Net, Lycra, lace and liquor flow freely at one of the Sunset Strips last legendary venues, a place where sex machine Stacee Jaxx takes the stage and scantily clad groupies line up to turn their fantasies into reality. Amidst the madness, aspiring rock star (and resident toilet cleaner) Drew longs to take the stage as the next big thing (and longs for small-town girl Sherri, fresh off the bus from Kansas with stars in her eyes). But the rock and roll fairy-tale is about to end when German developers sweep into town with plans to turn the fabled Strip into just another capitalist strip mall. Can Drew, Sherri and the gang save the strip–and themselves–before it's too late? Only the music of hit bands Styx, Journey, Bon Jovi, REO Speedwagon, Pat Benatar and more hold the answer.
Featuring memorable tunes such as 'We Built This City', 'The Final Countdown', 'I Wanna Know What Love Is' and 'Don't Stop Believin', the show brings its wild celebration of Los Angeles rock culture to San Antonio's Woodlawn Theatre. A live rock band on stage, directed by Andrew Hendley, will rock out to these songs and more. This feel-good, sing-along, rock 'n' roll musical is directed and choreographed by Christopher Rodriguez, artistic director.
On February 10, the ROCK OF AGES cast will perform two sneak-peak previews at Whole Foods Market. Performances are at 2 p.m. at The Quarry location and 6 p.m. at The Vineyard location. These performances are free and open to the public.
On February 14, ROCK OF AGES patrons will receive complimentary Valentine's Day Carnations in the Woodlawn Theatre Lobby.
ROCK OF AGES was created by Chris D'Arienzo and was nominated for Five Tony Awards. Warning: this show may unleash your inner rock god, and have you reaching for your air guitar in the aisles. Mild Adult Themes make this show appropriate for audiences 13 years old and above.
---
Rock of Ages
by jukebox musical of the 70s and 80s, book by Chris D'Arienzo
Wonder Theatre (formerly Woodlawn Theatre)
Fridays-Sundays,
February 05 - March 06, 2016
February 5, 2016 - March 6, 2016
The Woodlawn Theatre, 1920 Fredericksburg rd. San Antonio, Texas. 78201
Fridays & Saturdays at 7:30 PM, Sundays at 3:00 PM
Ticket cost: $17 Child/Student,$23 Senior/ Military, $26 Adult
Phone 210-267-8388