Nov. 16 - Dec. 04, 2016
Wednesdays-Sundays
Austin Shakespeare brings Noel Coward's classic comedy Present Laughter to the Rollins Studio Theatre at The Long Center for the Performing Arts from November 16, 2016 – December 4, 2016. Chaos, romance and dazzling dialogue are shaken up to concoct this perfect cocktail for the holiday season!
Marc Pouhé stars as the 1930's matinee idol, Garry Essendine, who is self-obsessed, slipping into middle age, and still surrounded by admiring women. Artistic Director Ann Ciccolella says, "Marc was so funny offstage at Macbeth this summer that I envisioned him in a full-out comedy."
Open auditions caught a gaggle of Austin actresses including Babs George, who plays the estranged wife; Kara Bliss, the seductress; and Alison Stebbins, the saucy secretary. Janelle Buchanan doubles as the wisecracking Swedish housekeeper and the elegant Lady Saltburn, and Corinna Browning makes her Austin Shakespeare debut as the alluring debutante. Steve Cruz takes on the role of the madcap, aspiring playwright; Michael Miller, the harassed agent; and Robert Deike, the producer. Austin architect and set designer John Mayfield is creating the actor's lavish London apartment.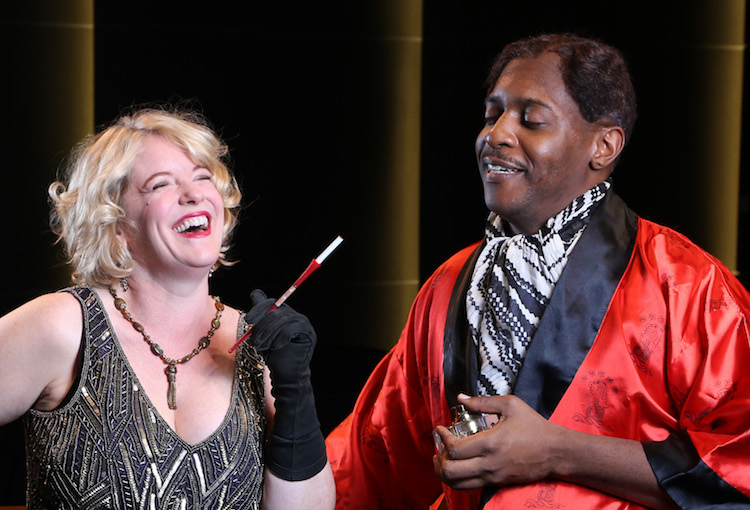 Creative Team
Ann Ciccolella – Director
John Mayfield – Set Design
Patrick Anthony – Lighting Design
Benjamin Taylor Ridgway – Costume Design
Chaz Sanders – Props Design
William Meadows – Sound Design
Photography – Bruce Malone & Bret Brookshire
Graphic design by Project C
Founded in 1984 and the only professional classical theater company in Central Texas, Austin Shakespeare presents professional theater of the highest quality with an emphasis on the plays of William Shakespeare, bringing to the public performances that are fresh, bold, imaginative, thought-provoking, and eminently accessible, connecting the truths of the past with the challenges and possibilities of today. In the fall and spring, Austin Shakespeare also produces plays by Shaw, Schiller, and Stoppard at The Long Center for the Performing Arts Rollins Studio Theatre. Austin Shakespeare's ongoing "Shakespeare Aloud" reading group and "Artist's Way" sessions invite new participants weekly. Austin Shakespeare's education program 20/20 sends professional actors into the schools to encourage love of language.
Austin Shakespeare is a proud member of the Austin Creative Alliance.
---
Present Laughter
by Noël Coward
Austin Shakespeare
Wednesdays-Sundays,
November 16 - December 04, 2016
Rollins Theatre
Long Center
701 Riverside at South First,
Austin, TX, 78704
November 16, 2016 – December 4, 2016
Wednesdays– Saturdays at 7:30 p.m. and Sunday at 3 p.m.
No performance on Thanksgiving "Student Informance" on Friday, December 2 at 11 a.m.
The Rollins Studio Theatre at the Long Center for the Performing Arts, 701 W. Riverside Dr., Austin, TX 78704
Tickets start at $18. To purchase tickets, visit thelongcenter.org/event/present-laughter or call The Long Center's 3M Box Office at (512) 474-LONG (5664), TTY (800) 735-2989.
Austin Shakespeare is offering middle and high school students a Present Laughter "Student Informance," an abbreviated production followed by a Q&A session, on Friday, December 2, 2016 at 11 a.m. To schedule space at the "Student Informance" or request more information, email education@austinshakespeare.org.