Review: Present Laughter by Austin Shakespeare
by Michael Meigs
Most of those in Noël Coward's London audiences would have immediately caught the Shakespeare reference of the title. In Twelfth Night Feste the clown serenades Toby Belch and Sir Andrew Aguecheek:
O mistress mine, where are you roaming?
O, stay and hear; your true love's coming,
That can sing both high and low:
Trip no further, pretty sweeting;
Journeys end in lovers meeting,
Every wise man's son doth know.

What is love? 'tis not hereafter;
Present mirth hath present laughter;
What's to come is still unsure:
In delay there lies no plenty;
Then come kiss me, sweet and twenty,
Youth's a stuff will not endure.
Coward, who'd just turned 40 in 1939 when he wrote Present Laughter, mocks himself more than anyone else. For the early run and later touring performances the playwright took the role of his protagonist Gary Essendine. Like the fictitious ageing stage matinee idol, Coward had been famous and adored for almost two decades.
Can there be too much adulation? The running joke in Present Laughter is that women are perpetually throwing themselves at Essendine, and he's still wooing them, bedding them, and then regretting them. "Youth's a stuff will not endure," as the song reminds us, but Gary imagines himself perpetually young, blessed and protected by his artistic charisma.
John Mayfield's tidily evocative set, Benjamin Taylor Ridgway's costumes and Coward's cheeky dialogue bring the audience into a glamorous lost world of between-the-wars London. Perhaps it was unreal even then, mostly a fiction of stage and film. London audiences must have been enchanted by the vision of sybaritic living and coy offstage sex that never resulted in pregnancies.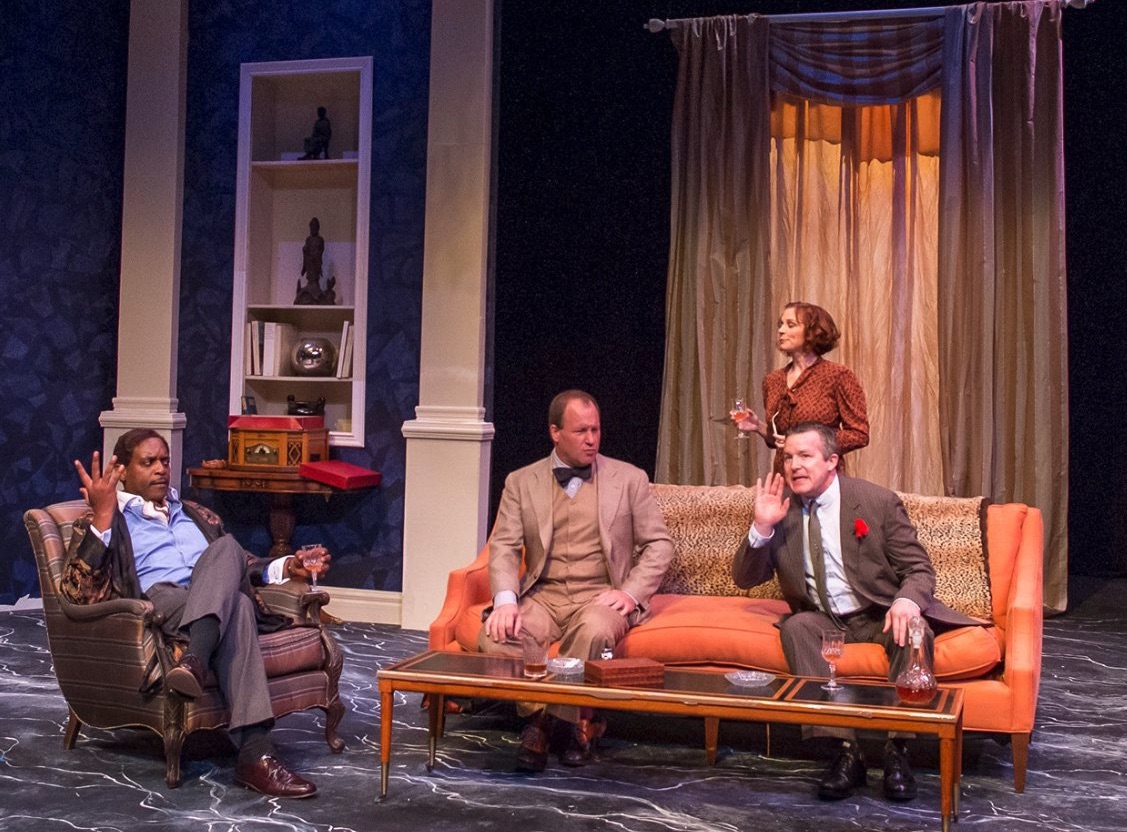 Chat and repartee are essential to this cerebral style of comedy, and this cast delivers them in fine rhythm and accent. Marc Pouhé as Essendine is a canny choice by director Ann Ciccolella. He's well known and admired for his lengthy and varied career on Austin stages. It's a treat to see our King's Horseman/Macbeth/de Guise/Petruccio/Cyrano/Martin Luther King/ Satchell Paige take on Coward's self-parody. Pouhé fits as comfortably into Essendine's foolish self-indulgence as he did into his earlier heroic personages, and he seems to be thoroughly enjoying himself.
Essendine is a beleaguered masculine charmer. He's entirely unapologetic about his one-night stands and about limiting the relationships to that duration, but he's kind hearted about it. We quickly learn that there are sleepovers but no sleep-togethers in his digs; his female visitors wind up in that chilly spare bedroom and wearing a spare set of pajamas, but Essendine retires to the comfort and regal isolation of the master bedroom.
He has plenty of women panting for him: infatuated arts student Daphne (Corinna Browning), his own secretary of seventeen years Monica (Alison Stebbins), and -- most formidable of all -- Joanna (Kara Bliss), who has wiggled her way into his inner circle by marrying his financial backer and seducing his producer.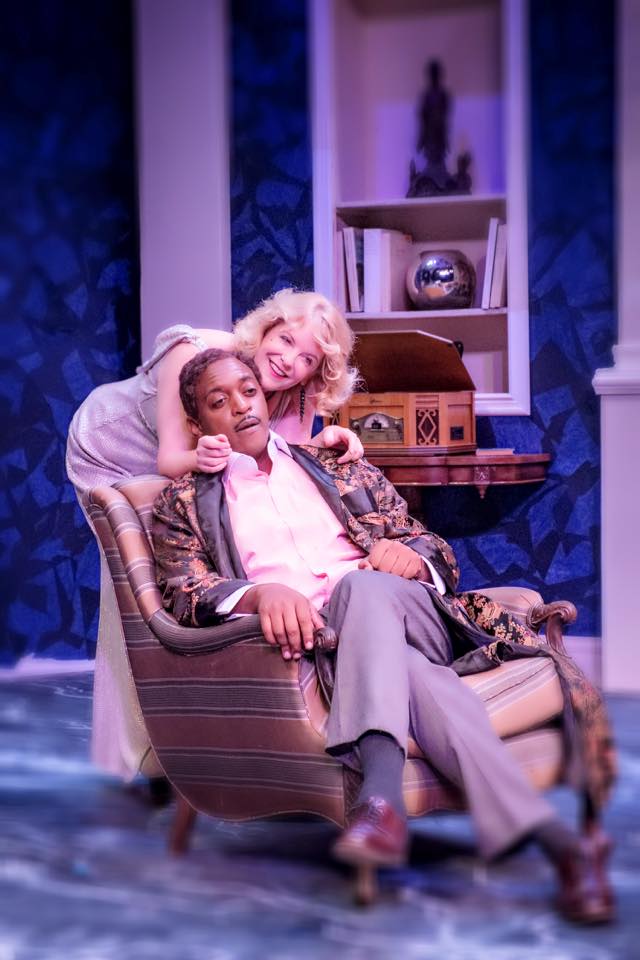 There's even Roland Maule, an infatuated young male writer, played for campy laughs by Steve Cruz, who's silly, both starstruck and moonstruck in the presence of his idol. Polite society in the England of the time pointedly ignored male homosexuality or poked fun at it in the abstract as Coward does here. Our lounging matinee idol appears appalled by Maule, although probably more by his gushing naïveté than by his gay infatuation. Later in the play there's intriguing dialogue about a half-remembered 'Joe' (Jo?) in Egypt as Essendine makes a halfhearted effort to deal with his pile of fan mail and love letters.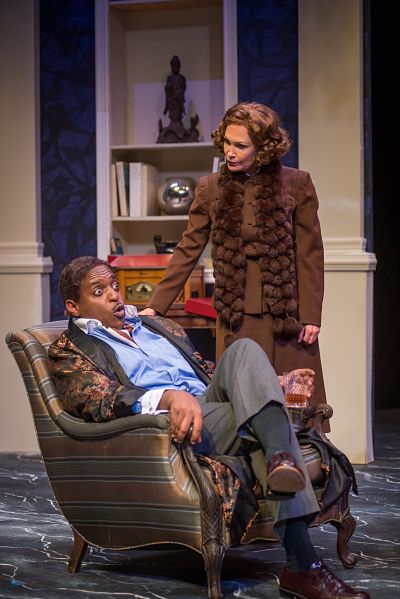 Emotions swirl about these ever so polite characters, and there are plenty of hungry hearts and deceits. Essendine's unashamed indulgence is refreshing by contrast.
The only real adult amongst the principals is his wife Liz (Babs George). Liz gave up living with his foibles long ago, but she's still attached enough to drop in unannounced and give him good advice. Gary is slightly abashed by her tone but not quite ready to follow her counsel, even on arrangements for his tour to Africa (in those days, that meant South Africa).
That spare bedroom and extra set of silk pajamas get yet another workout before the end of the third act when Liz arrives to check up on him. Our last glimpse is of an uncontrite Gary and smiling Liz tip-toeing away from the apartment, leaving his latest imbroglios yet unsolved.
EXTRA
Click to view Austin Shakespeare's program for Present Laughter
---
Present Laughter
by Noël Coward
Austin Shakespeare
Wednesdays-Sundays,
November 16 - December 04, 2016
Rollins Theatre
Long Center
701 Riverside at South First,
Austin, TX, 78704
November 16, 2016 – December 4, 2016
Wednesdays– Saturdays at 7:30 p.m. and Sunday at 3 p.m.
No performance on Thanksgiving "Student Informance" on Friday, December 2 at 11 a.m.
The Rollins Studio Theatre at the Long Center for the Performing Arts, 701 W. Riverside Dr., Austin, TX 78704
Tickets start at $18. To purchase tickets, visit thelongcenter.org/event/present-laughter or call The Long Center's 3M Box Office at (512) 474-LONG (5664), TTY (800) 735-2989.
Austin Shakespeare is offering middle and high school students a Present Laughter "Student Informance," an abbreviated production followed by a Q&A session, on Friday, December 2, 2016 at 11 a.m. To schedule space at the "Student Informance" or request more information, email education@austinshakespeare.org.