Aug. 12 - Sep. 11, 2016
Fridays-Sundays
Just a little touch of "Star Quality"! EVITA opens August 12 at Woodlawn Theatre
EVITA, one of the most passionate and colorful musicals in theater history is gracing Woodlawn Theatre's mainstage this fall.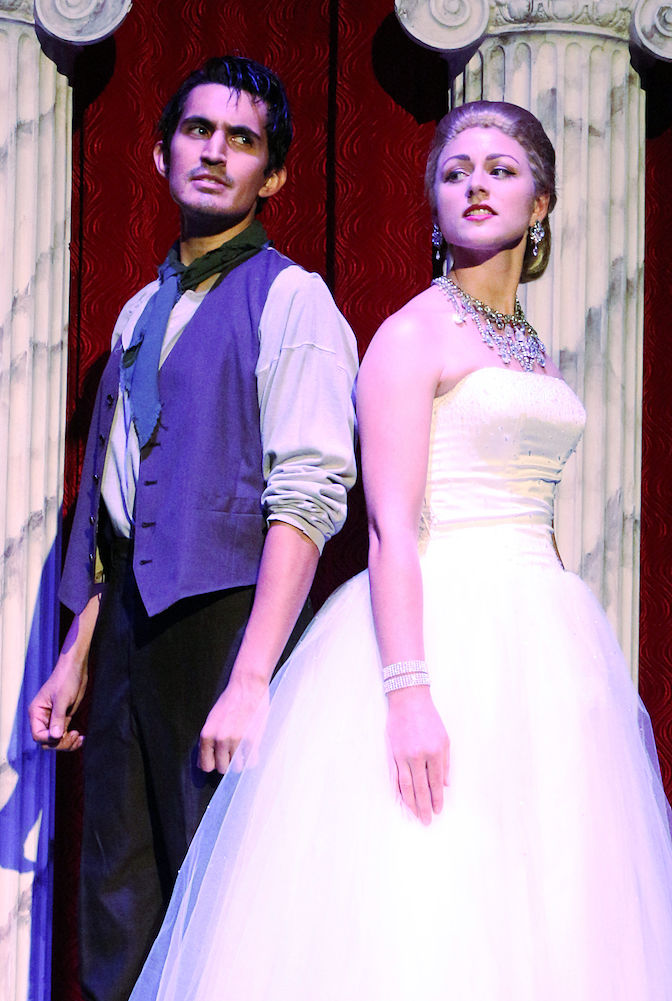 Winner of seven Tony Awards,
EVITA
brings to life the dynamic, larger-than-life persona of Eva Perón, wife of former Argentine dictator, Juan Perón. Blessed with charisma, Eva Perón captivated a nation by championing the working class. She was a starlet at twenty-two, the president's mistress at twenty-four, First Lady at twenty-seven and dead at thirty-three.
This exuberant production creates a gripping theatrical experience and features Andrew Lloyd Webber's compelling Latin, pop and jazz influenced score. One of the most popular collaborations between Webber and Tim Rice, this legendary musical features some of theater's most beautiful songs, including "Don't Cry for Me, Argentina," "Another Suitcase in Another Hall," And "High Flying, Adored."
Christopher Rodriguez as director and choreographer and Josh Pepper as music director, bring this spectacular show to life.
EVITA, sponsored by Margarita Man, is live on Woodlawn Theatre's mainstage for five weekends only from August 12 to September 11. Show times are Friday and Saturday at 7:30 p.m. and Sunday at 3 p.m.
The Woodlawn Theatre is San Antonio's historic local theatre, located in the heart of the Deco District at 1920 Fredericksburg Road, just south of Hildebrand. Free parking with security patrol is available. Handicap accessible.
CAST
Evita – Lauren Wertz-James
Che – Travis Trevino
Peron – Miguel Ochoa
Magaldi – Matthew Perales
Mistress – Andrea Diaz
Ensemble:
Ysenia Anais (Tango Dancer)
Alonzo Corona (Tango Dancer)
Gid De La Rosa (Officer)
Lina Forero (Sister)
Luis Garcia Jr. (Tango Dancer/Officer)
Melissa Gonzalez (Tango Dancer)
Ana Hernandez (Mother)
Meredith Hinojosa
Natalie Luna-Kuhn
Amy Mireles
Lorenzo Mireles (Officer)
Ivan Ortega (Brother/Lover)
Kate Ragan
Alex Valverde (Officer)
Michelle Vidaurri (Sister)
Alejandro Trevino
Michael Arellano
Eric Garcia
Meredith Hinojosa
Rebekah Williams
Ellen Reynolds
Kids Ensemble:
Gwynaleesa de la rosa
sheridan Nabb
Mara Flores
Zac Taylor
lorelai Lauterbach
Lilly Grace Willmoth
Sophia Luz Tellus

Director/Choreographer – Christopher Rodriguez
Music Director – Josh Pepper
---
Evita
by Andrew Lloyd Webber
Wonder Theatre (formerly Woodlawn Theatre)
Fridays-Sundays,
August 12 - September 11, 2016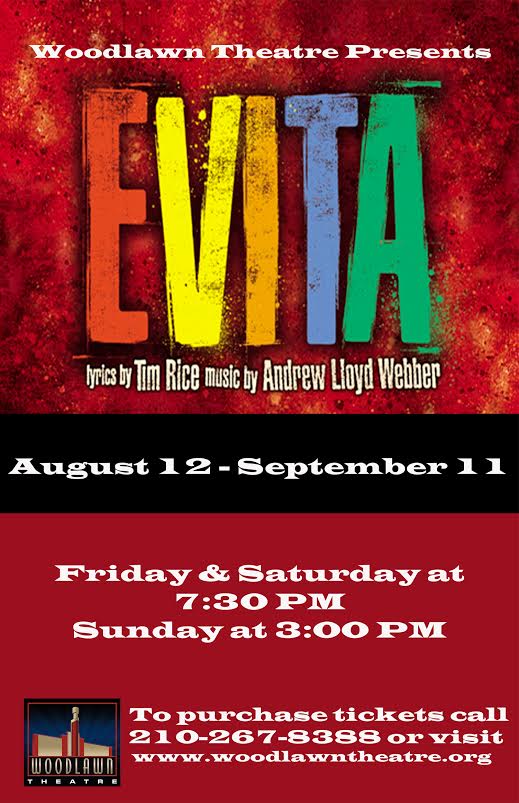 August 12th, 2016 - Sept 11th, 2016
Woodlawn Theatre, 1920 Fredericksburg rd. San Antonio, Texas. 78201
Fridays & Saturdays at 7:30 PM, Sundays at 3:00 PM
Ticket cost: $17 Child/Student,$23 Senior/ Military, $26 Adult
Box Office is open Tuesday through Friday 10 AM – 5 PM and an hour before each show.Website:
www.woodlawntheatre.org
Tickets are on sale now at
woodlawntheatre.org
, or by calling the box office at 210-267-8388. Prices are $17 for students and children, $23 for seniors and military, and $26 for adults. All tickets are subject to a $3 service fee. Groups of 10 people or more receive a 20% discount.