Review: Evita by Woodlawn Theatre
by Kurt Gardner
Evita is one of Andrew Lloyd Webber and Tim Rice's best musicals, and certainly one of their most enduring. The story of a woman who used her body (and any other means at her disposal) to achieve fame and power, it also presents audiences with a moral dilemma. Are we meant to cheer for someone who relied on such unscrupulous means to achieve her success?
The answer is both yes and no, as the musical gives us a complicated portrait of a power-hungry First Lady who basked in the love given to her by her people even when it seemed necessary to buy it. Conversely, we are given frequent glimpses of the girl who rose up from nothing and genuinely needs that adulation to survive.
The creators helpfully provide us with an amusingly cynical narrator in the person of Che, a revolutionary who follows Eva from her lowly origins to the palace in Buenos Aires, constantly reminding her of the unsavory things she did to get there.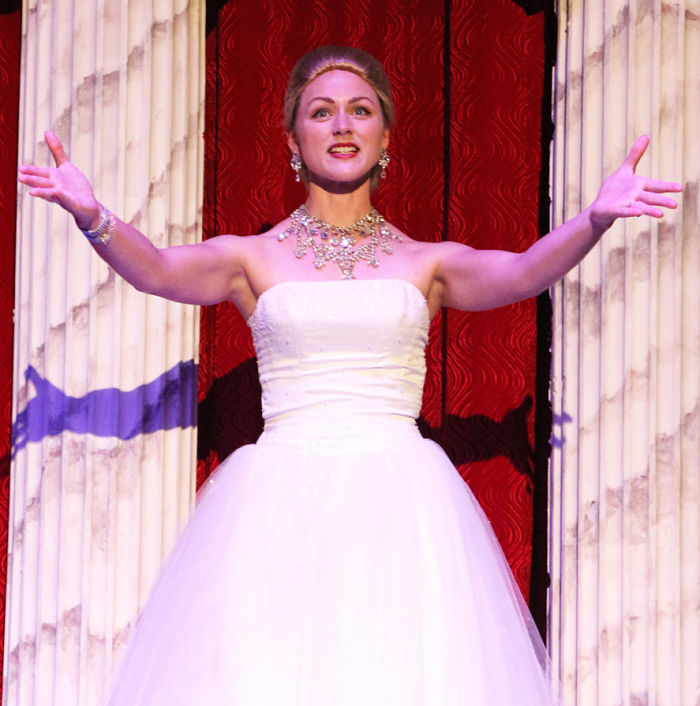 Eva had arrived in the city as a small-time actress, but upon meeting and marrying Colonel Juan Perón, her political rise and eventual status as the leader of the Argentinian lower classes was soon complete. Living this part to the fullest, she draped herself in designer fashions and expensive jewels even as her followers starved.
Like Webber and Rice's earlier Jesus Christ Superstar, Evita is truly an opera: virtually every word is sung. As such, it relies on a competent score that delivers Evita's story in a comprehensible and entertaining manner, and this show succeeds. Rice's lyrics are occasionally silly ("they need to adore me, so Christian Dior me"), but they mostly work, and they're carried along by one of Webber's best scores, a piquant mix of Latin rhythms, military marches and longing ballads.
Along with the iconic "Don't Cry for Me Argentina," there's "I'd Be Surprisingly Good for You," Eva's shameless seduction of Perón; "And the Money Kept Rolling In (and Out)," a light ditty about their regime's corruption; and the touching second-act "She Is a Diamond," sung by the president to his generals as he defends his wife.
The Woodlawn production, directed by Christopher Rodriguez, is virtually flawless. Lauren Wertz-James's charismatic Evita projects the right mixture of high style and low scheming. Miguel Ochoa is appropriately sombre as the militaristic Perón. Travis Trevino works wonders as Che, and his mocking commentary adds welcome, wry humor to the proceedings.
Matthew Perales is memorable as Magaldi, the small-town tango singer whose coattails Eva rides to the big city, as is Andrea Diaz as Peron's mistress, who makes the most of her sole number, "Another Suitcase in Another Hall," after being dismissed by the new woman in the general's life. All the performers are blessed with terrific voices, accompanied by musical director Josh Pepper's rich and full orchestra.
Once again, the Woodlawn's ensemble really shines, providing strong vocal backing and exhilarating dance courtesy of Rodriguez's excellent choreography. Benjamin Grabill's evocative town-square set is well lit by Matt Smith and enhanced by Benjamin Farrar's video and sound design. Rose Kennedy's costumes and Ron Hammett's wigs are era-appropriate, and their ensembles for Eva's high-fashion phase are real knockouts.
Evita plays Fridays and Saturdays at 7:30 p.m. and Sundays at 3:00 p.m. through September 11 at the Woodlawn Theatre, 1923 Fredericksburg Road, San Antonio. Reservations can be made online or by calling (210) 267-8388.
Kurt Gardiner's reviews also appear in www.BlogCritics.com.
---
Evita
by Andrew Lloyd Webber
Wonder Theatre (formerly Woodlawn Theatre)
Fridays-Sundays,
August 12 - September 11, 2016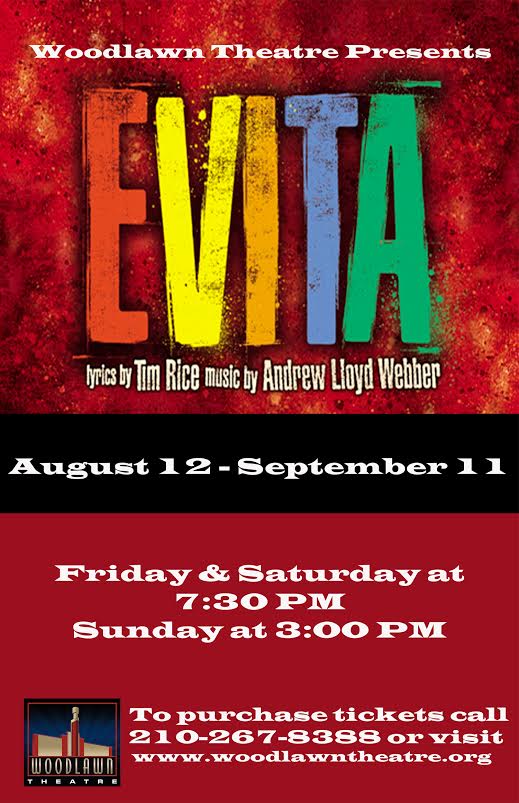 August 12th, 2016 - Sept 11th, 2016
Woodlawn Theatre, 1920 Fredericksburg rd. San Antonio, Texas. 78201
Fridays & Saturdays at 7:30 PM, Sundays at 3:00 PM
Ticket cost: $17 Child/Student,$23 Senior/ Military, $26 Adult
Box Office is open Tuesday through Friday 10 AM – 5 PM and an hour before each show.Website:
www.woodlawntheatre.org
Tickets are on sale now at
woodlawntheatre.org
, or by calling the box office at 210-267-8388. Prices are $17 for students and children, $23 for seniors and military, and $26 for adults. All tickets are subject to a $3 service fee. Groups of 10 people or more receive a 20% discount.