Dec. 02 - Dec. 17, 2016
Wednesdays-Saturdays
Is love timeless? Marianne, a mercurial quantum physicist, and Roland, an unvarnished beekeeper, explore this possibility through multiple episodes in their lives. Like a symphony, the leitmotifs and codas in this couple's multiverse are performed. Significant passages are played and replayed, with variations both subtle and grand. We witness the complexity of their relationship ebb and flow through initial flirtations, commitment overtures, and in painful reprises of infidelity and illness. Through the unconventional telling of this love story, CONSTELLATIONS searches for the hope that love exists in a universe independent of physical and emotional constraint, even free of the confines of time and space.
One relationship. Infinite possibilities. In the beginning Marianne and Roland meet at a party. They go for a drink, or perhaps they don't. They fall madly in love and start dating, but eventually they break up. After a chance encounter in a supermarket they get back together, or maybe they run into each other and Marianne reveals that she's now engaged to someone else and that's that. Or perhaps Roland is engaged. Maybe they get married, or maybe their time together will be tragically short. Nick Payne's Constellations is a play about free will and friendship; it's also about quantum multiverse theory, love, and honey.
Following the successful inaugural run of our Sidewalk Series with Lyle Kessler's ORPHANS this past summer, Street Corner Arts returns to Hyde Park Theatre with CONSTELLATIONS by Nick Payne. Premiering in 2012 at London's Royal Court Theatre, this much praised two-hander also enjoyed a successful Broadway run in 2015 garnering numerous award nominations. The Corner welcomes award-winning artists Liz Fisher to helm this production and Austin favorites Stephanie Carll and Ryan Hamilton in the roles of Marianne and Roland. Lighting and set design by Patrick Anthony.
Audio feature/interview with Michael Lee at KUT-FM, December 14, 2016

Starring Stephanie Carll (THE TAMING OF THE SHREW, MUCH ADO ABOUT NOTHING) and Ryan Hamilton (FAT PIG, COCK), directed by Liz Fisher (BELLEVILLE, DEUS EX MACHINA).
"The phrase 'emotionally satisfying' is rarely seen alongside that of 'experimental drama'— which makes Nick Payne's arresting, intelligent new play Constellations all the more exciting." Variety
"Constellations gets into your head and under your skin with an immediacy that sometimes tickles and often hurts." The New York Times
Nick Payne's plays include If There Is I Haven't Found It Yet (Bush), One Day When We Were Young (Paines Plough), Lay Down Your Cross (Hampstead), Wanderlust and Constellations (Royal (Royal Court). He was awarded the 2009 George Devine Award for Most Promising Playwright and was the 2010 Pearson Playwright-in-Residence at the Bush Theatre.
From the playwright:
I wanted to write something that could only work in a theatre so I deliberately chose to write for just two people and write something that doesn't need a set or lights or anything like that. You could do it in a village hall. Just two actors and an audience. The brilliance of doing something like that is asking the audience to actively imagine everything that is not here.
It's more about imagining everything you have done and never done existing in a parallel universe. As the play jumps between universes, you see a slightly modified versions of the different stages of the one relationship.
It's I think it's also very cruel, because we get to experience only one universe. In a way, Constellations is me falling in and out of love with the wonder of the science. And I suppose it's also about death, which is something I didn't say at the time because I imagine it wouldn't have sold many tickets.
Reviews of previous productions:
"Who knew that higher physics could be so sexy, so accessible—and so emotionally devastating? CONSTELLATIONS, Nick Payne's gorgeous two-character drama…may be the most sophisticated date play Broadway has seen. [Payne is] a wise and compassionate young playwright…And though CONSTELLATIONS is a supremely articulate play, it knows that words inevitably fail, that they are never enough to bind two people together forever. Time, it turns out, is a more effective breaker of hearts than human beings, with all their conflicted intentions, can ever be. This story of parallel universes is universal in every sense of the word." —The New York Times.
"Nick Payne's smart, slushy and pretty superb CONSTELLATIONS [is] about the progress of any ordinary life, which begins with seemingly endless possibilities and then dwindles until death forecloses further choice…I wasn't alone in sniffling into my Playbill." —The Guardian (UK). "Short and sweet and strangely haunting…The devilishly clever scribe is not playing games with either his characters or his audience, because with each iteration Roland and Marianne grow closer to one another—and become more important to us. And by the end of the play (has it really been only an hour?), we're fully invested in their lives. All of them." —Variety.
"…a singular astonishment, at once eloquent and mysterious but which nonetheless articulates within its own idiosyncratic idiom something that touches an audience as real…a wholly satisfying and complete emotional journey…The well-judged dialogue, at once terse and trenchant, finds its own characteristic poetry." —The New Yorker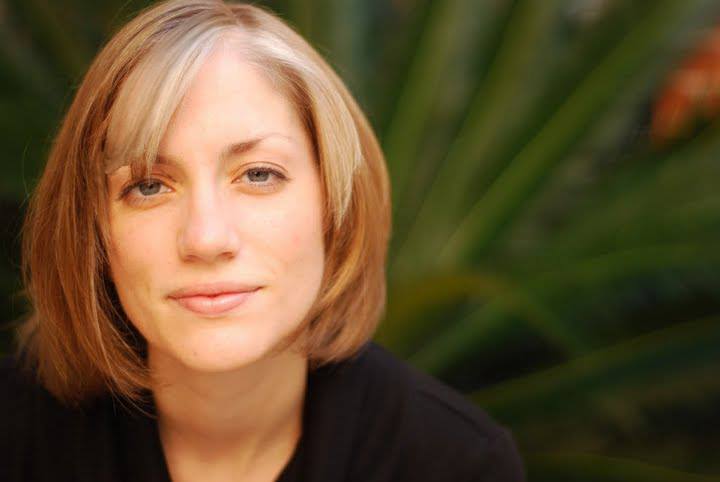 Directed by Liz Fisher, an interdisciplinary theater artist based in Austin. For the past fourteen years, Fisher has worked as an actor, director, writer, and producer with some of Austin's most lauded companies.
She is an award winning actress, with multiple nominations for B. Iden Payne and Austin Critics' Table awards. As an award winning playwright, she has been invited to residencies across the country to develop new plays that focus on transmedia storytelling. Liz's directing work centers on new plays and exciting reimaginings of classic texts. She is an Associate Member of SDC and recently won the National SDC Directing Award, in conjunction with the Kennedy Center, which also garnered her a fellowship to the Eugene O'Neill Theater Center. Liz has presented at SXSW Interactive and academic conferences on her work in blending technology and theater and was a visiting guest artist for Southwestern University's Sarofim School of Fine Arts.
In addition to her artistic accomplishments, Liz is also a successful arts manager who has run arts incubators, produced five play cycles, and managed interdisciplinary, new work festivals. Currently she is the Program Coordinator for Shakespeare at Winedale and an MFA Directing Candidate at Texas State University.
---
Constellations
by Nick Payne
Street Corner Arts
Wednesdays-Saturdays,
December 02 - December 17, 2016
December 2, 2016 – December 17, 2016
Preview Thursday, 12/01
Opening Performance Friday, 12/02 with Opening Party
Wednesday, 12/14 Industry Night
Saturday 12/10, ASL-Interpreted Performance
All other shows Thursday, Friday & Saturday nights at 8 pm
General Admission: $20 ($18 if purchased in advance, $15 for seniors/students if purchased in advance
Tickets on sale NOW at https:// www.streetcornerarts.org, at BuyPlayTix or call us at (512) 298-9776
Group Tickets available upon request
ALL PERFORMANCES AT HYDE PARK THEATRE, 511 West 43rd Street, Austin TX