Feb. 18 - Mar. 05, 2016
Mondays, Thursdays-Saturdays
As You Like It follows its heroine Rosalind as she flees persecution in her uncle's court, accompanied by her cousin Celia to find safety and, eventually, love, in the Forest of Arden. In the forest, they encounter a variety of memorable characters, notably the melancholy traveller Jaques who speaks many of Shakespeare's most famous speeches (such as "All the world's a stage" and "A fool! A fool! I met a fool in the forest"). Jaques provides a sharp contrast to the other characters in the play, always observing and disputing the hardships of life in the country.
This gender-bending, music-infused take on Shakespeare's classic romantic comedy is directed by Lily Wolff with assistant direction by Clarissa Smith-Hernandez and text direction by Robert Matney.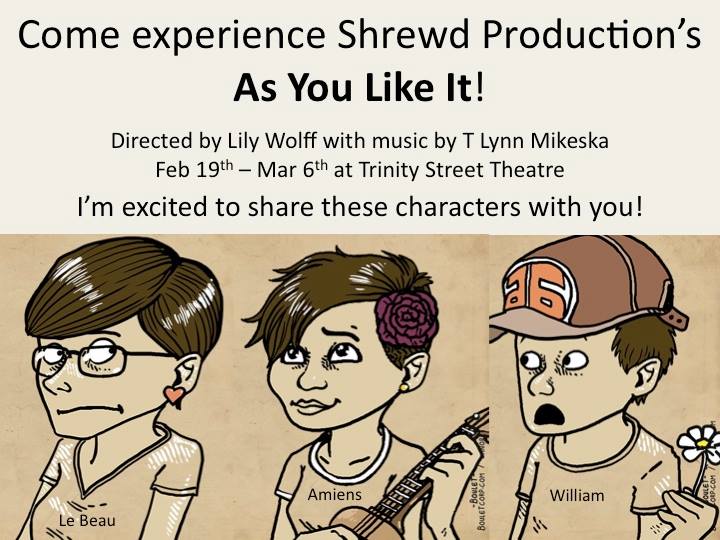 The show features an all-star cast including Shannon Grounds as Rosalind, Robin Grace Thompson as Celia, Kriston Woodreaux as Orlando, Andreá Suzanne Rebecca Smith as Oliver, Valoneecia Tolbert as Phoebe, Kevin Moxley as Sylvius, Julie Moore as Touchstone, David Boss as Audrey/Duke Frederick, Molly Fonseca as Jacques, Fritz Ketchum as Duke Senior, Michael Mergen as Charles/Corin, Robert Deike as Adam/Martext, Taylor Flanagan as Le Beau/Amiens/William and Taji Senior-Gipson completing the ensemble.
As You Like It boasts an incredible creative team including award-winning lighting designer Patrick W Anthony, set designer Bp Houle, costumes designed by EL Hohn, and original music composed by T Lynn Mikeska.
---
As You Like It
by William Shakespeare
Shrewd Productions
Mondays, Thursdays-Saturdays,
February 18 - March 05, 2016
Trinity Street Players
Black Box Theatre, 4th floor, First Baptist Church
901 Trinity Street
Austin, TX, 78701
Location:
Trinity Street Theatre
(4th floor, First Austin Baptist Church)

901 Trinity Street
Austin, TX 78701

Click here for a map.

Street parking and garage parking are available. Metered parking is available on the street, and is free after 6pm on Wednesdays and Sundays.

Dates & Times:
Friday, Feb. 19 @ 8pm
Saturday, Feb. 20 @ 8pm
Sunday, Feb. 21 @ 8pm
Industry Night: Monday, Feb. 22 @ 8pm


Thursday, Feb. 25 @ 8pm
Friday, Feb. 26 @ 8pm
**Saturday, Feb. 27 @ 8:30pm
Sunday, Feb. 28 @ 8pm


Thursday, Mar. 3 @ 8pm
Friday, Mar. 4 @ 8pm
Saturday, Mar. 5 @ 8pm
Sunday, Mar. 6 @ 8pm

**Please note that the performance on Saturday, February 27th will start at 8:30pm.
Tickets:
$20 on Thursdays and Sundays
$25 on Fridays and Saturdays
$18-$23 Students/Seniors/Starving Artists
$15 Industry Nights
Click here to purchase tickets.

**A limited number of $10 Student tickets will be available on Thursdays and Mondays only with valid student ID. These tickets can only be purchased in person at the Box Office.