Art/Model Show: Subject
by Paper Chairs
Feb. 26 - Mar. 06, 2016
Fridays-Mondays
paper chairs proudly presents Art/Model Show: Subject, the second installation in our performance series exploring the personal stories, cultural perceptions and creative queries surrounding art modeling and live figurative drawing sessions. We hope you can join us Friday February 26 - Monday February 29, 2016 & Thursday March 3- Sunday March 6th, 2016 at Art.Science.Gallery. (8 performances only!)

This multi-media production, devised by performers who model in Austin's visual arts community, features layers of performance, recorded video interviews of local artists and models, and live figure drawing. A first installation in the series, titled

Art Show/Model Show,

was originally produced at The Off Shoot in 2013 and was described as "a fearless combination of humor and poignancy [..with] a unique perspective from behind the canvas" (Broadway World Austin.)

Our 2016 performance digs deeper into individual perspectives, with new cast members and video content that includes broader voices and fresh stories. This version of the

Art/Model Show

experience includes a host of insights into the timeless exchange between the artist and model. In this modern world, where the digital image abounds, why do artists still hire live models as subjects? How does a live connection color the creative experience? How does the relationship with the body affect the way we approach our work, our lives?

This installation is the next chapter in the series' exploration of the creative process. We've added two experienced Austin models to our cast, Brittany Anne Robertson and David G. Robinson, as well as brand new art model/theatre maker/visual artist Annie McCall. We are thrilled to set this performance inside Art.Science.Gallery. at Canopy. By performing this documentary theatre experience in an intimate contemporary art gallery space, we bring the audience even closer to the exchange between the artist and model and their exercise in expression, perspective and time.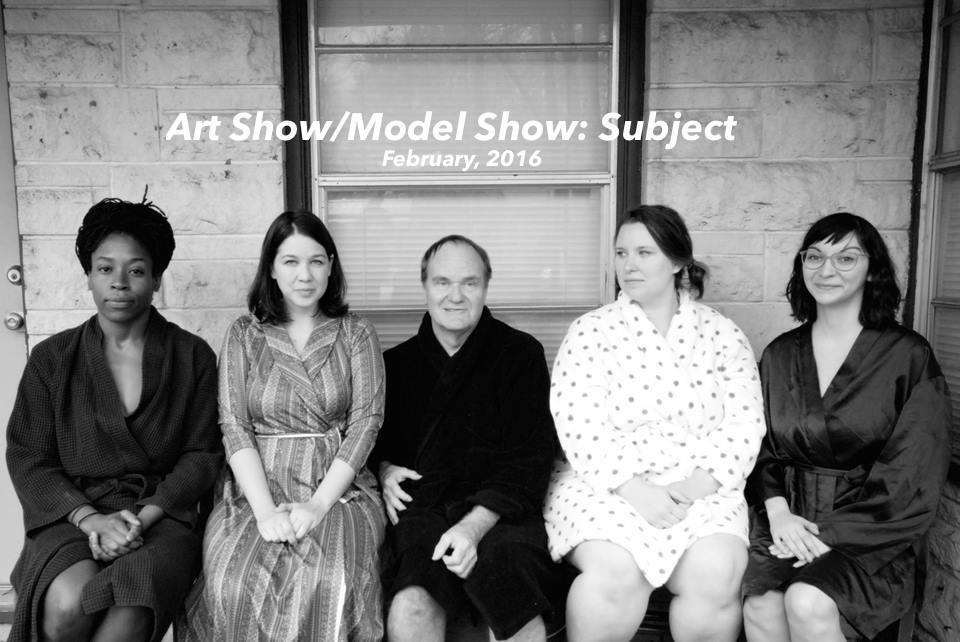 Directed by Kelli Bland, Meghan Morongova
Performers: Jen Brown, Michelle Keffer, Annie McCall, Brittany Anne Robertson, and David G. Robinson
Stage Manager: Sadie Langenkamp
Technical Design by: Steven Shirey
Video by: Eric Graham, David Soto, and Jorge Sermini
Music Score by: Chris Owen
Production Manager: Dani Pruitt
Producer: Spring Karlo
Featuring interviews and work of Austin's best figurative artists and models!
[poster art by Karen Maness.]
---
Art/Model Show: Subject
by paperchairs ensemble, directed by Kelli Bland and Meghan Morongova
Paper Chairs
Fridays-Mondays,
February 26 - March 06, 2016
Limited seating & only 8 performances!
Friday February 26- Monday February 29, 2016 & Thursday March 3- Sunday March 6th, 2016

Thurs, Fri, Sat, Mon performances at 8 pm (Doors open at 7:30pm.)
Sunday performances at 3pm (Doors open at 2:30 pm)
(The performance is approximately 1 hour 15 min. long, no intermission, no late seating.)


in the Canopy fine arts complex at 916 Springdale Rd. Austin, TX 78702