Apr. 05 - Apr. 28, 2019
Thursdays-Sundays
Copenhagen, a Tony Award winner for Best Play, explores an explosive confrontation between science and politics. Inspired by actual events that have intrigued and baffled historians for more than 50 years, Copenhagen revolves around a 1941 meeting between two brilliant physicists, Niels Bohr of Denmark and Germany's Werner Heisenberg. The two men were long-time friends whose work together opened the way to the atomic bomb, but who were now on opposite sides of World War II. This pivotal meeting was a defining moment of the nuclear age, yet its true nature remains a mystery. Why did Heisenberg go to Copenhagen? What was he hoping to accomplish?

The search for an unknowable truth forms the core of Copenhagen. In our current political landscape, where "alternative facts" are often presented as evidence, Copenhagen is a refreshing reminder of the value of seeking the truth.

Copenhagen's mysteries are unraveled by three of Austin's finest actors. Ev Lunning, Jr. stars as Niels Bohr, Babs George as his wife Margarethe, and David Stahl as Werner Heisenberg. Copenhagen will be directed by Don Toner.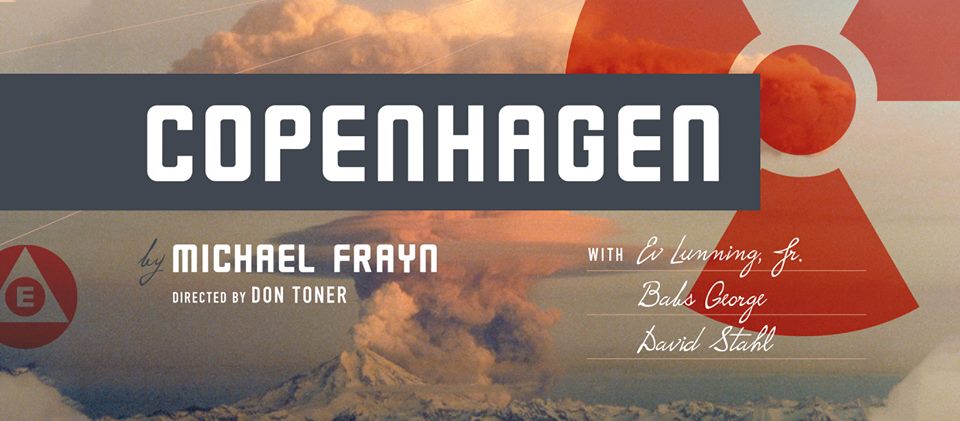 David Stahl, who plays Heisenberg, discusses the play:
o
Ev Lunning, Jr., who plays Niels Bohr, discusses the play:
---
Copenhagen
by Michael Frayn
Austin Playhouse
Thursdays-Sundays,
April 05 - April 28, 2019
April 5 - 28, 2019
8 p.m. Thursdays - Saturdays, 5 p.m. Sundays
added Saturday matinee at 2pm on April 13th!
For tickets and more information, call 512-476-0084 or click here.
Copenhagen is a subsciption season production.
[poster design by Five and Four]