Feb. 15 - Mar. 09, 2019
Fridays-Sundays
From the Pulitzer Prize-winning author of Disgraced, a fast-paced economic thriller that exposes the financial deal making behind the mergers and acquisitions boom of the 1980s.
Saratoga-McDaniels' Izzy Peterman is buying, but Everson Steel's Tom Everson isn't selling. Simple problem. Work it out at the table, right? But nothing on Wall Street is easy or simple. And Bob Merkin of Sacker-Lowell, Saratoga-McDaniel's financing source, is determined to make it as complicated and self-serving, oh and by the way, as under-the-table as possible.
In a world where some say, "It's nothing personal, it's just business," turns out that's not exactly true. It's ALL personal. Beneath the war of numbers, JUNK reveals a tribal, almost-cultish subculture where racial, generational and gender politics echo the ever-prevalent rifts and skirmishes waged daily within our larger American society. In the movie WALL STREET, Gordon Gekko famously said "Greed is good." In JUNK, greed is God.
Set in 1985, Junk tells the story of Robert Merkin, resident genius of the upstart investment firm Sacker Lowell. Hailed as "America's Alchemist," his proclamation that "debt is an asset" has propelled him to a dizzying level of success. By orchestrating the takeover of a massive steel manufacturer, Merkin intends to do the "deal of the decade," the one that will rewrite all the rules. Working on his broadest canvas to date, Pulitzer Prize winner Ayad Akhtar chronicles the lives of men and women engaged in financial civil war: insatiable investors, threatened workers, killer lawyers, skeptical journalists, and ambitious federal prosecutors. Although it's set 40 years in the past, this is a play about the world we live in right now; a world in which money became the only thing of real value.
Starring Carlo Lorenzo Garcia, Molly Fonseca, Michael Stuart, Joe Penrod (returning to Austin for this special production!), Nguyen Stanton, Zac Carr, Zac Crofford, David Yakubik, Jason Graf, Sweet Van Loan, Scot Friedman, Annika Lekven, Craig Kanne, Lamont Lofton, Nate Dunaway and SCA's own Jeremy Brown and Rommel Sulit.
Directed by Benjamin Wallace Summers (WAITING FOR LEFTY, THE ALTRUISTS, BULL, POCATELLO) and Assistant Director Jeremy Lee Cudd (ACTUALLY). The production team is rounded out by Stage Manager Helen Hetrick, Lighting Designer Rachel Atkinson, Scenic Design / Technical Director Zac Thomas and Costume Designer Talena Martinez.
Audio feature by Michael Lee, KUT-FM, February 25, 2019
"JUNK is an epic, strutting, restless, sexually charged, slam-bang-wham piece of work, something akin to the huge socio-political dramas by the likes of David Hare."
– Chris Jones, Chicago Tribune
"JUNK melds a breadth of genres – crime story, tragedy, issue play, cautionary tale-into a fast-moving, broad-ranging social thriller."
– Adam Feldman, Times Out New York
"JUNK doesn't exactly illuminate the mysterious process whereby corporate marauders ruthlessly eviscerate and in due course take over companies that resist their takeover bids. What it does do…capture the electric energy that fueled these aggressive acquisitions, along with the intoxicating sense of power that blinded the raiders to all other principles and values."
– Marilyn Stasio, Variety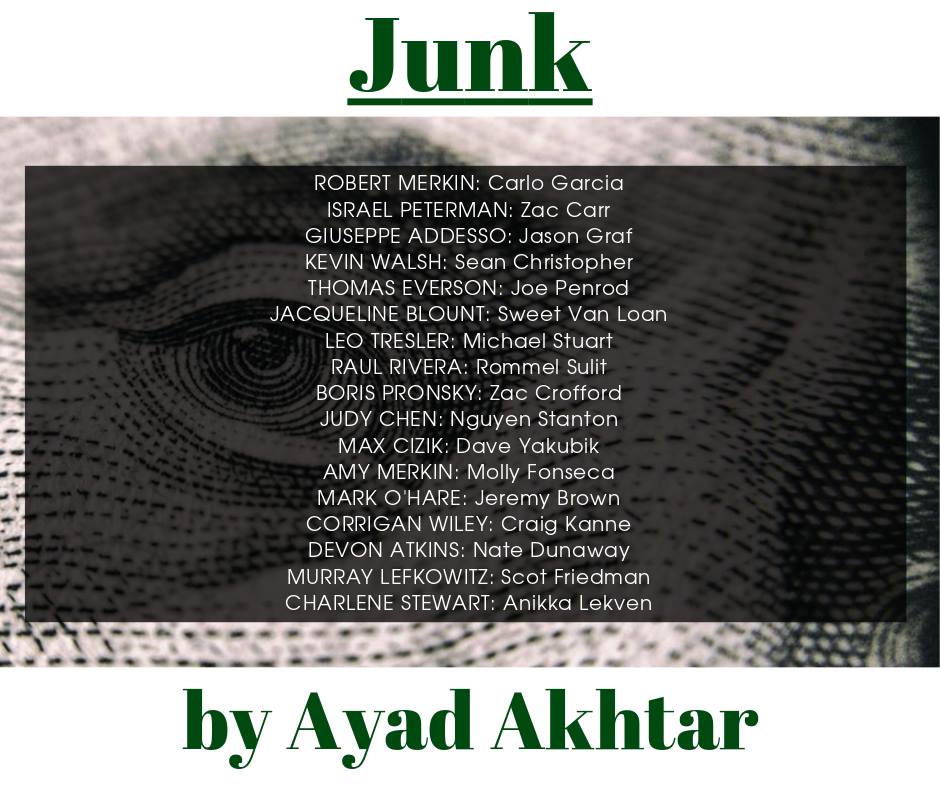 ---
Junk
by Ayad Akhtar
Street Corner Arts
Fridays-Sundays,
February 15 - March 09, 2019
February 15, 2019 – March 9, 2019 at 8:00 PM
Whisenhunt Stage at the ZACH Theatre
1510 Toomey Road
Austin, TX 78704
TICKETS / $25 General Admission; $20 Seniors, Educators, Students (with ID)
INFO: Tickets on sale now at www.streetcornerarts.org or call (512) 539-8638d
Website: http://www.streetcornerarts.org
Facebook: https://www.facebook.com/streetcornerarts/
[image: cover for Kindle edition via Amazon.com]