Apr. 06 - Apr. 21, 2018
Mondays, Thursdays-Saturdays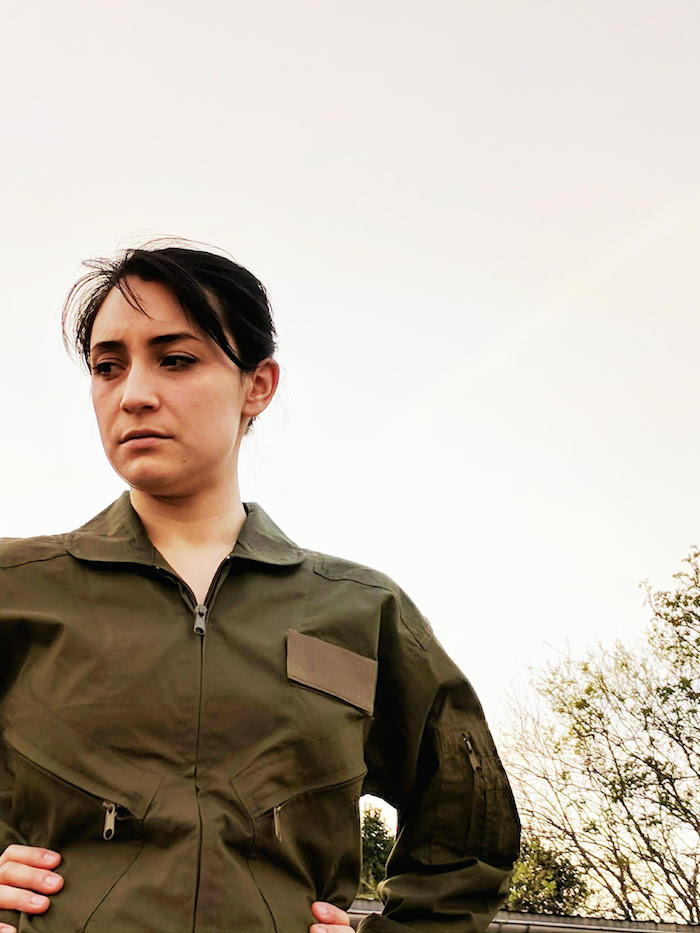 When an unnamed female fighter pilot in the United States Air Force gets unexpectedly pregnant, her superiors reassign her, post-maternity leave, from flying F-16s to the "chair force," as a reluctant drone pilot. "I stare at grey," she says glumly, thru her mundane work shift. Hunkered down in the relative safety of a trailer in the broad desert ennui of Nevada, she is exposed to the confusing and disorienting experience of conducting warfare remotely. Her life takes on a peculiar mix of monotony and horror. Does having the unique benefit of having her family and newborn daughter nearby matter when she's still asked to kill people far away? And in the end, does it matter to the dead whether the fatal blow was delivered from the cockpit of an F-16 or from a swivel chair in the middle of the Nevada desert?
Street Corner Arts is excited to be bringing George Brant's work back to Austin for the first time since he received his MFA in Writing from the Michener Center for Writers at the University of Texas at Austin, widely regarded as one of the top creative writing programs in the world. Since then George's work has received the Lucille Lortel Award, the Edgerton Foundation New Play Award, the David Mark Cohen National Playwrighting Award from the Kennedy Center and been produced and developed internationally by notable companies such as The Public Theater, Trinity Rep, The Atlantic Theater Company, Gate Theatre of London, Milwaukee Rep, Cleveland Playhouse, The Metropolitan Opera, The Kennedy Center, The Playwright's Center, and Asolo Rep to name but a few. He is published by Samuel French, Oberon Books, Fisher Verlage, Smith & Kraus and is a member of the Dramatists Guild. Among his many other plays, ELEPHANT'S GRAVEYARD and MARIE AND ROSETTA have also been widely produced, with ELEPHANT'S GRAVEYARD having been developed and workshopped at the UT Department of Theatre & Dance.
Starring Sarah Danko whose recent credits include ROMEO AND JULIET (Present Company), THE EFFECT (Capital T Theatre)and THE DROWNING GIRLS (Theatre en Bloc). Lighting by Chris Conard, sound and video design by Lowell Bartholomee. Directed by Benjamin Wallace Summers (WAITING FOR LEFTY, THE ALTRUISTS, BULL, POCATELLO).
---
Grounded
by George Brant
Street Corner Arts
Mondays, Thursdays-Saturdays,
April 06 - April 21, 2018
Runs April 6, 2018 – April 21, 2018
Opening Performance Friday, April 6 with post-show opening party
Saturday, April 7 "Family Night" with refreshments and post-show Karaoke!
Industry Night, Monday, April 16 at 8 pm
All other shows Thursday, Friday & Saturday nights at 8pm
Tix April 6-19: $20, General Admission; $15 Educators + Students with ID
Final Fri-Sat Tix, April 20-21, $22 General Admission; $17 Educators + Students with ID