Mar. 23 - Apr. 08, 2018
Fridays-Sundays
When an elderly secretary at the local high school confronts a threat in her office with six bullets, the local gun company responds by naming their latest gun after the reluctant hero: The Secretary. But as production begins on The Secretary, guns start going off all around town—and no one's pulling the trigger. The Secretary is an offbeat comedy about safety, survival, and guns in a world that's up in arms.
The Long Center for the Performing Arts is pleased to partner with Theatre en Bloc to present the world premiere of an original, offbeat comedic play written by Kyle John Schmidt and directed by Jenny Lavery. In-line with their mission to produce quality theatre that is relevant to communities and situations in Austin, TX, there will also be Optional Talk Backs regarding guns and gun culture following each performance.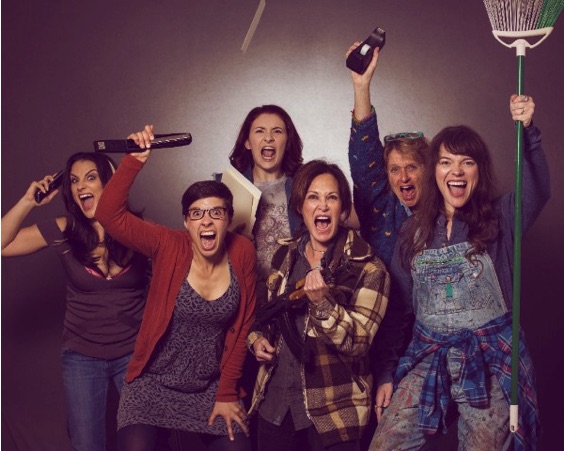 The Secretary features an all-female cast, starring Babs George*, Elise Ogden*, Amber Quick, Liz Beckham, Susan Myburgh, and Regan Goins.
*Actors Appearing Courtesy of Actors Equity Association
Jenny Lavery direts, with Production Management by Blake Addyson, Lighting Design by Rachel Atkinson, Set Design by Cheraya Esters, Costume Design by Jenny Hanna-Chambers, Stage Management by Joshua Secor, Photography by Errich Petersen, and including Jenny Lavery as Producing Artistic Director. The Secretary is funded in part by the Cultural Arts Division of the City of Austin Economic Development Department and Scriptworks Finer Point Funding for New Play Development.
Feature by Andrew J. Friedenthal for TimeoutAustin, March 22, 2018
Theatre en Bloc is a professional theatre company with a history of producing quality theatre that is relevant to communities and situations in Austin, TX. Founded by Jenny Lavery in 2011, TEB is led by the belief that great art inspires great communities. Our mission is to create and share elegantly rendered theatrical events, both new and extant, that collide with the question: What does it mean to be alive in the world today?
To date, TEB has created, developed and produced 7 original works as well as produced 7 regional premieres, garnering 80+ awards and nominations for their work. TEB has been named Company To Watch, named on several of the Chronicle's Best in Theatre lists, and won Fontera short fringe both years entered with the original Violet Crown shadow puppet folk musicals. TEB has done national residencies developing new work, and taught at all of the local colleges.
---
The Secretary
by Kyle John Schmidt
Theatre en Bloc
Fridays-Sundays,
March 23 - April 08, 2018
Rollins Theatre
Long Center
701 Riverside at South First,
Austin, TX, 78704
Performances Thursdays - Sundays at 8 pm
The Secretary will be presented in Rollins Studio Theatre for a three-week run of eleven performances, beginning March 23 and ending April 8.
Pre-sale tickets are available for Long Center Members starting Wednesday, February 14, and single tickets will go on sale Friday, February 16 at 10 a.m.
Tickets for The Secretary will be available at TheLongCenter.org or by calling (512) 474.LONG (5664). Also available at the Long Center's 3M Box Office located at 701 West Riverside Drive at South First Street. For groups of 10 and more, please call 512-457-5150 or groupsales@thelongcenter.org.
[photo by Errich Petersen]