Review #2 of 3: THE SECRETARY by Theatre en Bloc
by Brian Paul Scipione
"Reality is that which, when you stop believing in it, doesn't go away." ― Philip K. Dick
The Secretary is a multi-thematic play about the inter-relations of people working together, a local business's communal responsibility, abusive marriages, crime and most significantly gun control. While there are many hot button topics bandied about, the play is thoroughly enjoyable thanks to a constant flow of comic relief. The actors are clearly relishing their roles at every point as they manifest the archetypes of rural America. They fully embrace the reality that each character faces: Ruby's struggle with running a successful business while dealing with the loss of her daughter, Brandy is also dealing with the loss of a child, April wants to bring down the one-horse company that sells guns but supports her home town, Janelle longs for true love. In many of these cases, their wishes are diametrically opposed to each other, but they keep crossing paths in the same office.
Kyle John Schmidt, a MFA graduate from the Michener Center for Writers, has written many plays and is a winner of the Heideman Award and with The Secretary he is arguably at the top of his game. The dialogue is crisp, witty and genuine and feels like we are spying on people when they are being their most honest. The characters are fully three dimensional and poised in a series of scenes where they can demonstrate their inner principles and external frustrations in believable fashion. Even more to Schmidt's credit is that all the characters remain likeable from beginning to end. No matter what your politics, you will find yourself relating and rooting for each character on multiple levels. This is no small feat as many playwrights often let their characters go astray from their original conception, allowing them to become overly stereotyped or worse, flat personalities with no other purpose then to move the scene along. These characters and the amazing actors that portray them are the type you find yourself thinking about days after the play is over, wondering how they are now and how they might react to current events.
Director Jenny Lavery has done a masterful job of assembling this powerful cast, creating the cloistered atmosphere of an office that manages to double as a center of power and social intersection, and then releasing the reins to let the chips (read as bullets) fall where they may. Lavery is not known to shy away from controversial subjects. Last year she directed Neva, a play about actors struggling to work under a totalitarian regime who must find a way to balance between their roles as artists and activists. With The Secretary, Lavery introduces the audience to a very familiar world, the modern workplace at a crossroads with a small town. Bringing the idea of "stick to your guns" to a whole new level, the community is content to avoid any moral pitfalls until the local high school secretary shoots and kills one of the students, ostensibly in self-defense -- but this, like most of the events that take place off-stage, is left quite murky. By allowing the action of the play to remain in this mist of 'he said, she said' Lavery presents the story without any trace of preachiness or political agenda. This doesn't mean the townspeople are free from moral turpitude, in fact, it's quite the opposite: it is only in their repeated attempts to find their place in the increasing insanity around them that we get to know them. It would be all too easy to say the character of Ruby represents the far right while April is a bleeding heart liberal. That is not what is happening here at all. All of the townspeople are, just that, people albeit with knee-jerk reactions and a job to do; they cannot escape their human nature and the torrential pulling of their own inner conscience.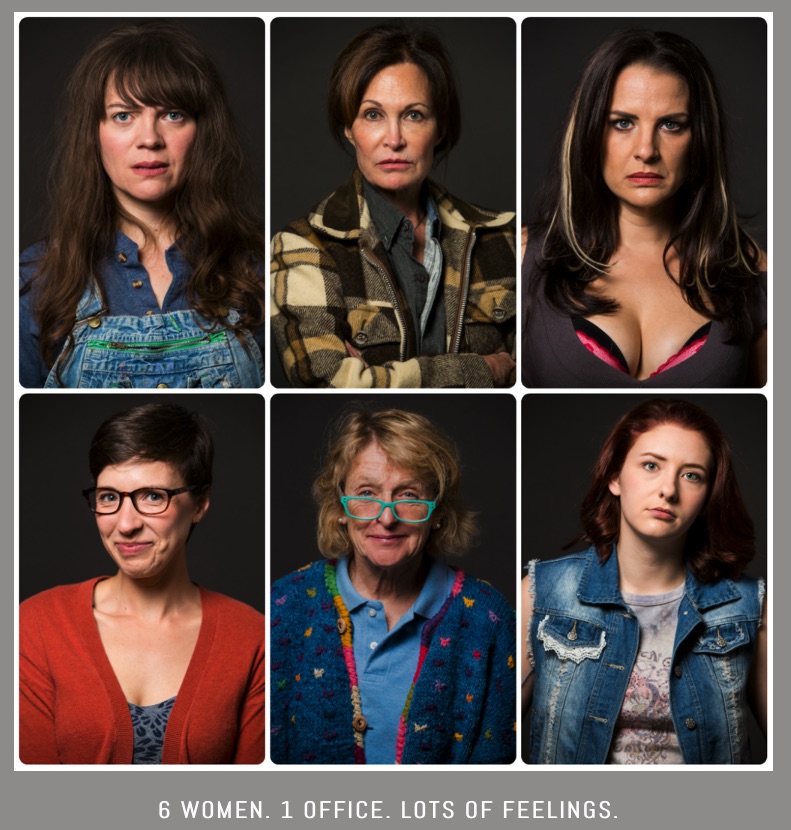 The cast is a veritable assembly of Austin all-star actors. Babs George as Ruby is both relentless and calm with a strict intellectual and emotional compass that drives her character through the increasing high tides with an admirable tenacity. Regan Goins as April is George's counterpoint in many ways but the moments where the two connect on stage are irresistible. Susan Myburgh as Janelle racks up repeated laughs from the audience as she has managed to magnificently channel the comic strip favorite Cathy. Amber Quick as Lorie is always a joy to watch and reason enough to see any play that she's in; here her personification of the 'redneck woman' is, amazingly, both hilarious and frightening. Liz Beckham as Lorie's cousin, Brandy goes above and beyond the description we hear about hear in one scene: whatever you do, stay away from Brandy! When Brandy comes on stage and announces that she has a list of people "I know that deserve to be shot" she has captured dark humor in its purest form. Elise Ogden plays Shirley, the school secretary, with a multi-faceted and multi-personality-d finesse that ties the entire show together. Hers is the character that seems to float through every one of the play's major themes with a careless ease but turns out to be as calculated and cunning as a predatory feline.
An argument can be made that Schmidt's The Secretary falls into the genre of magical realism. The story is set in a very forthright and realistic version of small-town Americana but some supernatural things may be happening. The crux of this argument is not whether these things really are happening but the fact that at least half of the characters truly believe down to their immortal souls that these things are indeed happening. Which brings us to the quote at the beginning of this article: just because you stop believing in reality doesn't mean it goes away. Or--even more to the point--if everyone around you refuses to recognize reality then is it actually real anymore? This highlights Schmidt's central thesis as envisioned by Lavery. By presenting this work from the emotional core of its characters rather than by assembling and verifying the facts (which sadly seem too easy to argue into non-existence these days) they have presented a world all the more accurate in its fantastical elements. Because the world as it is exists, exists in the eyes of the beholder and (also sadly) in the eyes of the gun holder.
---
The Secretary
by Kyle John Schmidt
Theatre en Bloc
Fridays-Sundays,
March 23 - April 08, 2018
Rollins Theatre
Long Center
701 Riverside at South First,
Austin, TX, 78704
Performances Thursdays - Sundays at 8 pm
The Secretary will be presented in Rollins Studio Theatre for a three-week run of eleven performances, beginning March 23 and ending April 8.
Pre-sale tickets are available for Long Center Members starting Wednesday, February 14, and single tickets will go on sale Friday, February 16 at 10 a.m.
Tickets for The Secretary will be available at TheLongCenter.org or by calling (512) 474.LONG (5664). Also available at the Long Center's 3M Box Office located at 701 West Riverside Drive at South First Street. For groups of 10 and more, please call 512-457-5150 or groupsales@thelongcenter.org.
[photo by Errich Petersen]