Jan. 06 - Mar. 03
Saturdays
Is "Annie" your jam? Is "Newsies" the soundtrack for your life? Does "Oliver!" speak your truth?
Then you're gonna love "Orphans! The Improvised Orphan Musical" Saturdays at 8pm!
Video by Magic Spoon Productions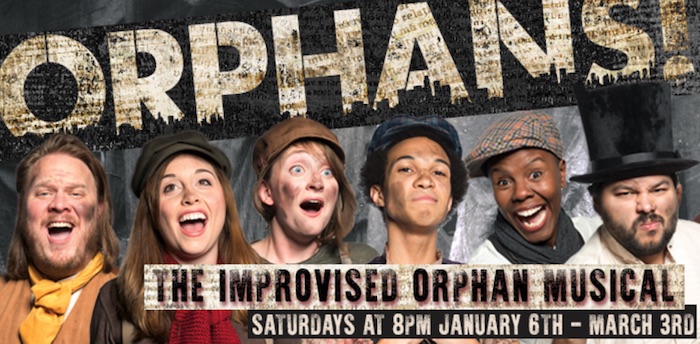 Orphans have taken oveer Saturdays at The Hideout Theatre!
Orphans! The Improvised Orphan Musical follows a ragtag group of grime-streaked and adorable orphaned kids and teens at the turn of the 20th century as they navigate a filthy industrial world filled with snarling coppers, careless caregivers, and vengeful villains.
Co-directors Bridget Brewer and Kaci Beeler were inspired to create Orphans! when they discovered their mutual love of the stage and cinematic musicals featuring plucky orphans like Annie, OLIVER!, and Newsies.
Tickets are $15 plus service fees. Buy online via The Hideout Theatre.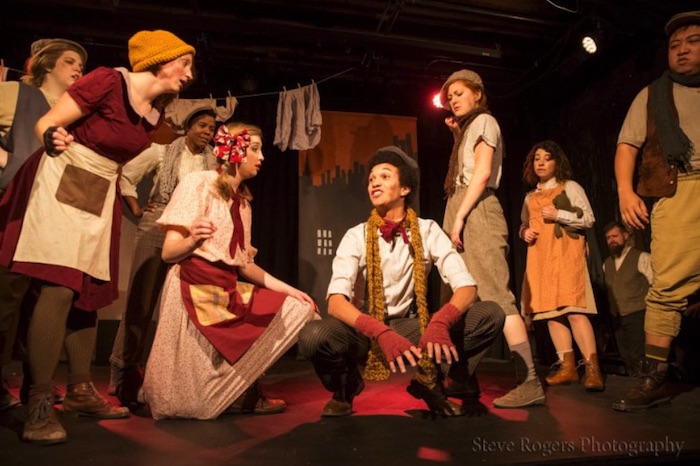 Every performance will feature a different big city and new orphan occupation (see the inspiring line-up below) and yes, each show is completely improvised on-the-spot, *including* the high-energy song and dance numbers.
With a talented cast of 16 of Austin's very best improvisers, actors, comedians, and singers led by our B. Iden Payne award-winning musical directors Ammon Taylor and Tosin Awofeso, backed by our technical improvisers in the booth, ORPHANS! is an upbeat and memorable musical spectacular that's not to be missed!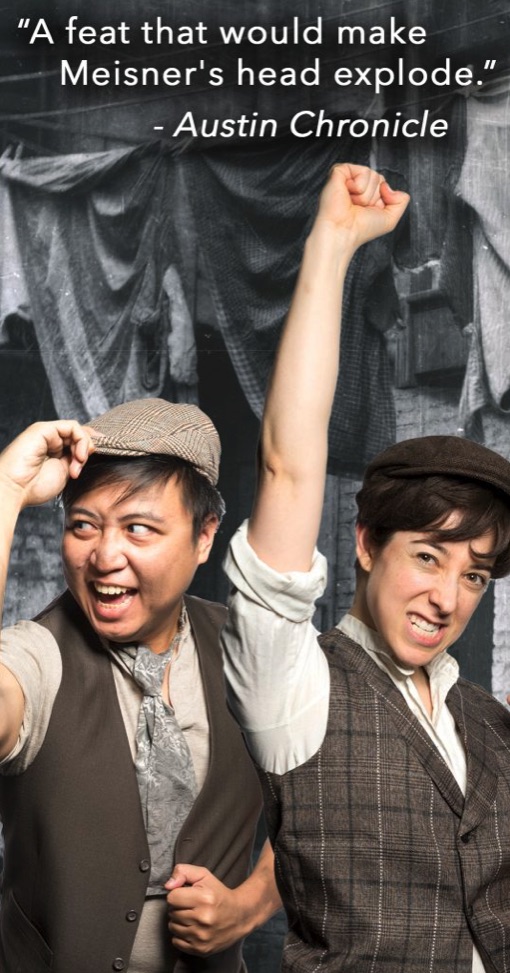 ORPHANS! – SATURDAYS AT 8 PM
JANUARY 6TH – MARCH 3RD
January 6th
Street Cleaners of New York City
January 13th
Chimney Sweeps of London
January 20th
Factory Waifs of Chicago
January 27th
Catacomb Children of Paris
February 3rd
Mudlarks of London
February 10th
Convent Orphans of New York City
February 17th
Guillotine Cleaners of Paris
February 24th
Breaker Boys of London
March 3rd
Pickpockets of New York City

Directors – Bridget Brewer and Kaci Beeler
Musical Directors – Tosin Awofeso and Ammon Taylor
Acting Ensemble – Kaci Beeler, Bridget Brewer, Rachel Elaine Creason, Katie Dahm, Shannon Dale Stott, Cat Drago, Tyler Groce, Courtney Hopkin, Margaret Rose Hunsicker, Jordan T. Maxwell, Erin Molson, Frank Sánchez, Mallory Schlossberg, Marc Jalandoon, Rob Yoho, J.R. Zambrano
Technical Team & Costumers:
Technical Director – Lindsey McGowen
Light Design – Jay Mahavier (Lead), Greg Blank
Sound Design – Michael Yew (Lead), Andre K. Buchanan
Costume Design – Carolyn Gjertsen
Costume Builders – Cindy Page, Danielle DaVerona
Stage Managers – Shay Millheiser and Joey Neugart
Graphic & Scenic Design – Kaci Beeler
Photography – Steve Rogers
---
Orphans!
by Hideout Theatre improv team
Hideout Theatre
Saturdays,
January 06 - March 03, 2018
Saturdays at 8 p.m.