Jan. 05 - Jan. 28, 2018
Thursdays-Sundays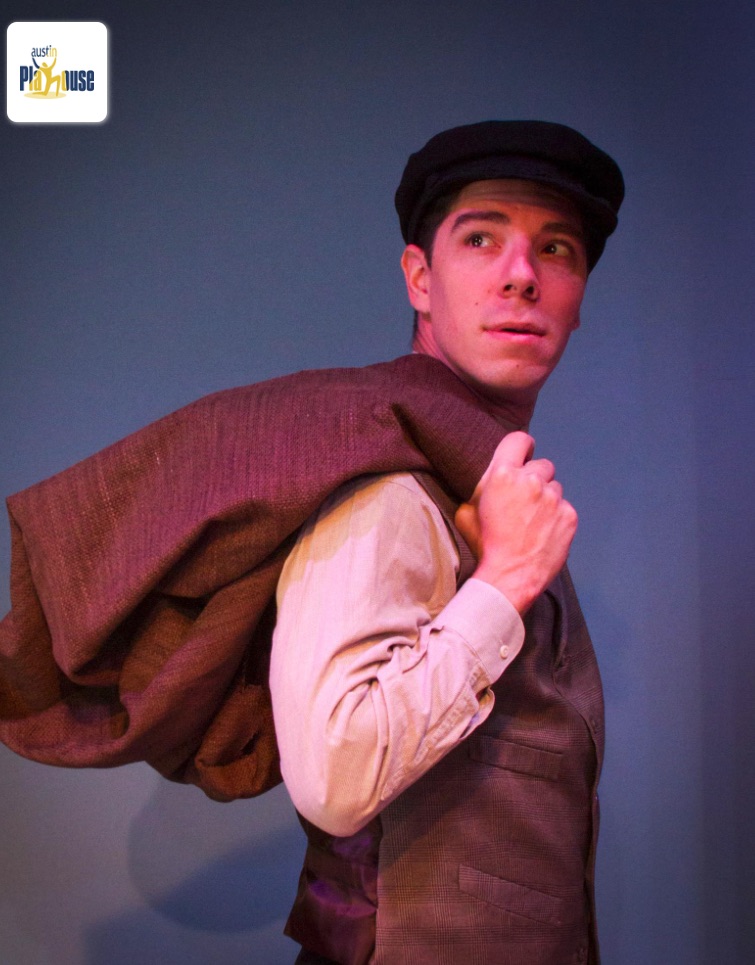 After more than 25 years, Austin Playhouse and Producing Artistic Director Don Toner are delighted to revisit Mark Harelik's The Immigrant in January 2018. Based on the true story of a young Russian-Jewish couple who entered America through the port of Galveston, this moving play opens with Haskell Harelik seeking refuge in the tiny town of Hamilton, Texas in 1909 (population: 1,203, no Jews). With only a fruit cart and a few words of English, his open heart and hard work win him a helping hand from Milton and Ima Perry. Eventually, Haskell saves up enough money to send for his wife, Leah, and the couple plants their roots in this strange land and nation of immigrants. Religion meets religion, culture meets culture, fear meets fear, and love meets love in this Texas playwright's tender tribute to his grandparents.
"With all the anti-immigrant rhetoric coming out of the White House these days, it is good to be reminded that this country was built by immigrants who came to the United States seeking a better life for themselves and their families. Their diversity, hard work, and love of country are truly what makes us great," says Don Toner, who will be directing The Immigrant for the second time.
The show will star Austin Playhouse Acting Company Members Huck Huckaby as Milton Perry and Cyndi Williams as Ima Perry with Joseph Garlock as Haskell Harelik and Estrella Saldaña as Leah Harelik. The design team includes Mike Toner (set design), Diana Huckaby (costume design), Don Day (lighting design), and Joel Mercado-See (sound design).
Austin Playhouse's 2017 – 2018 season opened with Austin playwright Steven Dietz's poignant comedy about missed connections, This Random World, September 8 – October 1, 2017, followed by Lauren Gunderson and Margot Melcon's Miss Bennet: Christmas at Pemberley, an effervescent holiday story inspired by Jane Austen's Pride and Prejudice, December 1 – 23, 2017. Kicking off 2018 will be a revival of the Texas classic by Mark Harelik, The Immigrant, January 5 – 28, 2018. In the spring, Austin Playhouse will present the beloved romantic piece of historical fiction, Shakespeare in Love, based on the screenplay by Marc Norman and Tom Stoppard and adapted for the stage by Lee Hall, March 23 – April 22, 2018. The season will conclude with Curtains, a hilarious backstage murder mystery musical with a book by Rupert Holmes, lyrics by Fred Ebb, and music by John Kander, May 25 – June 24, 2018. In addition, Austin Playhouse will treat Austin families to two free theatre for young audiences (TYA) productions: a charming adaptation of Oscar Wilde's classic story The Selfish Giant written by Kristin Walter with music and lyrics by Larisa Bryski, September 11 – 24, 2017, and Miriam Gonzales' The Smartest Girl in the World, a heartwarming new play about family and the bravery of a third grader, April 2 – 14, 2018. In the spring, Austin Playhouse's second new play festival will run April 26 – 29, 2018.
Austin Playhouse is a professional theatre in its 18th season. Under the leadership of Producing Artistic Director Don Toner and Artistic Director Lara Toner Haddock, Austin Playhouse has grown from a three-play season on the campus of Concordia University, to a year-round operation producing an average of eight plays a year. Austin Playhouse is currently performing at the Austin Community College Highland campus.
---
The Immigrant
by Mark Harelik
Austin Playhouse
Thursdays-Sundays,
January 05 - January 28, 2018
January 5 – 28, 2018, Thursdays - Saturdays at 8 p.m. and Sundays at 5 p.m.
ADDED matinee on Saturday, Jan 27 at 2 PM
Austin Playhouse at ACC's Highland Campus, 6001 Airport Blvd., Austin, TX 78752
WEB: austinplayhouse.com
TICKETS: $32 Thursday/Friday, $34 Saturday/Sunday, $36 Opening Night and final Friday, Saturday and Sunday
Tickets $16 - $32 plus service fees. Click HERE to go to TicketLeap.
BOX OFFICE: Call 512.476.0084 or email boxoffice@austinplayhouse.com
DISCOUNTS: All student tickets are half-price. $3 discount for Seniors 65 and up. Group rates available.
[Poster design by Five and Four, Austin]