Mar. 04 - Mar. 25, 2017
Saturdays-Sundays
Chaddick Dance Theater's annual winter concert showcase is Meetings of the Mind. Inspired and choreographed in concert with the architectural design of Austin City Hall, this year's theatrical dance piece will explore the physical, emotional and spiritual aspects of the search for the next direction on the path of life; the ego's attempts to let go of its desires and longings on the quest for the heart's next honest direction.
Accompanied by dynamic instrumentals and lighting design, the cast of seven modern dancers will emote a wave of feelings from intimacy to humor, fear to anger, and hope through three vignettes set on the plaza, mezzanine and amphitheater of City Hall.
"There is a constant battle between our social identities and role-playing against the pursuit of the elusive goal of true personal inner fulfillment," says choreographer Cheryl Chaddick. "This work illuminates this struggle between the controlling ego that demands constant validation and the spirit calling us to move forward to find our true selves."
Meetings of the Mind will be free to the public to experience with donations to support Chaddick Dance Theater, your local arts, in advance at Indiegogo or on site at the performance.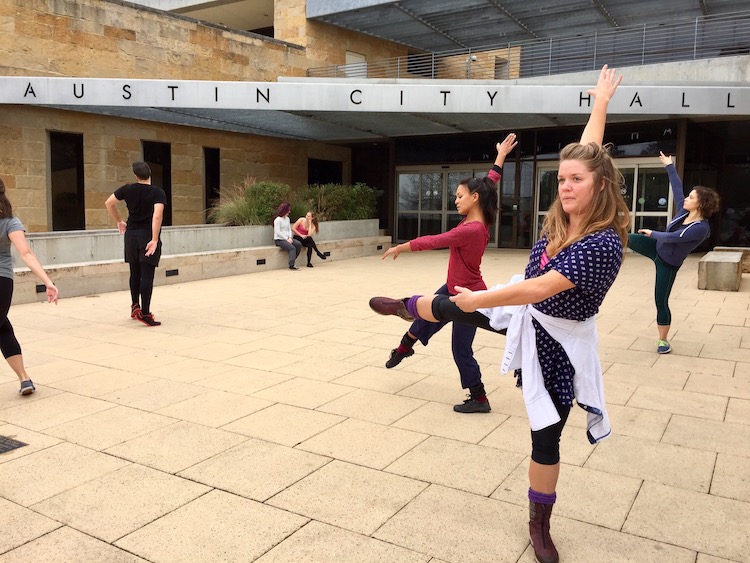 Choreography: Cheryl Chaddick
Dancers: Devon Adams, Angela Benz, Cameron Oefinger, Esther Bramlett, Kayla Brown, Katie Mae Hebert, Christine Wong
ABOUT CHADDICK DANCE THEATER Founded in 2007, Chaddick Dance Theater is an Austin-based, modern dance company led by choreographer and dancer Cheryl Chaddick. The performances explore themes of identity and individual truths driven by personal research and exploration. Through movement-centric choreography, Chaddick and her dance company tell stories of human elements. www.chaddickdancetheater.com
---
Meetings of the Mind
by Cheryl Chaddick
Chaddick Dance Theater
Saturdays-Sundays,
March 04 - March 25, 2017
Saturday, March 4th, 2017 at 7:00 pm & 9:00 pm,
Sunday, March 5th at 7:00 pm
Satruday, March 24 at 7 p.m. and 9 p.m., Sunday March 25 at 7 p.m.
at Austin City Hall,
301 W. 2nd Street,
Austin, TX 78701
(performance outside on the plaza, mezzanine and amphitheater)