Feb. 15 - Mar. 05, 2017
Wednesdays-Sundays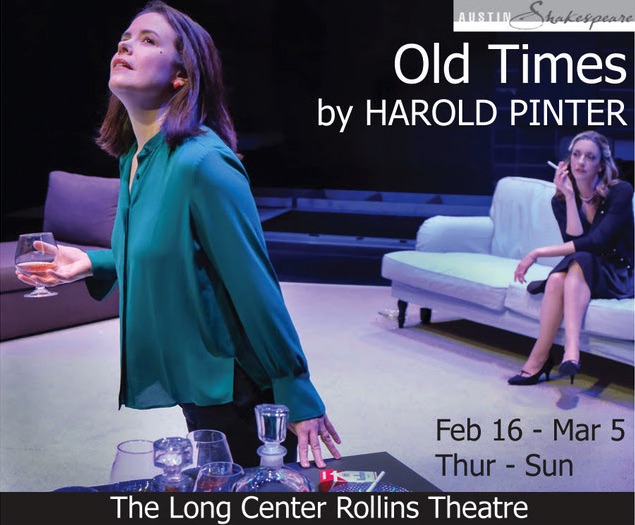 Austin Shakespeare seats the audience in the round for Harold Pinter's work at The Rollins Studio Theatre at the Long Center for the Performing Arts. This sensual, poetic and deeply unnerving drama is the 33-year-old company's first Pinter production. Performances will run at 8 pm on Thursday - Saturday and 3 pm on Sunday from February 16 - March 5, 2017 with a preview performance on Wednesday, February 15.
Old Times takes place in the rural home of filmmaker Deeley and his wife of 20 years, Kate, who are visited by Anna, a mysterious friend of Kate's younger days. What begins as a trip down memory lane quickly transforms into a seductive battle for power, as the memories become more than just stories. As Anna says, "There are some things one remembers even though they may never have happened. There are things I remember which may never have happened but as I recall them so they take place."
Artistic Director Ann Ciccolella commented, "Like contemporary playwright Tom Stoppard, Pinter has actors use language to engage, attack and attract each other. In Old Times, a sexy trio creates a mysterious and ironic dance of desire that is, at moments, electric with silence."
The professional resident company of the Long Center will bring three experienced Austin actors to this mesmerizing triangle: Jill Blackwood (Anna), Nancy Eyermann (Kate), and Ben Wolfe (Deeley). Blackwood leaves behind her recent "Mary Poppins" image from the recent ZACH hit musical to return to the kind of dramatic work she has done in the past with Shakespeare and Bernard Shaw. Ben Wolfe, a company member at Austin Playhouse, has been popular with Austin Shakespeare audiences as Henry VIII in a staged reading of Wolf Hall and as Polixenes in The Winter's Tale in the Free Shakespeare in Zilker Park production. Nancy Eyermann is also beloved by audiences for her outstanding performances as Hermione in The Winter's Tale and Liz Cromwell in Wolf Hall, and has served as a vocal coach and Young Shakespeare co-director.
Runtime: 1 hr 15 min including one intermission
ABOUT AUSTIN SHAKESPEARE: Founded in 1984 and the only professional classical theater company in Central Texas, Austin Shakespeare presents professional theater of the highest quality with an emphasis on the plays of William Shakespeare, bringing to the public performances that are fresh, bold, imaginative, thought-provoking, and eminently accessible, connecting the truths of the past with the challenges and possibilities of today. In the fall and spring, Austin Shakespeare also produces plays by Shaw, Schiller, and Stoppard at The Long Center for the Performing Arts Rollins Studio Theatre. Austin Shakespeare's ongoing "Shakespeare Aloud" reading group and "Artist's Way" sessions invite new participants weekly. Austin Shakespeare's education program 20/20 sends professional actors into the schools to encourage love of language.
Wikipedia:
Old Times is a play by the Nobel Laureate Harold Pinter. It was first performed by the Royal Shakespeare Company at the Aldwych Theatre in London on 1 June 1971.
The play begins with married couple Kate and Deeley smoking cigarettes and discussing Kate's old friend Anna, who is coming to visit them. Kate says that Anna was her only friend, but Anna had many friends. Deeley says he's never met Anna, and is surprised to hear that Kate and Anna roomed together 20 years ago. Kate says that Anna occasionally stole her underwear.
In the next scene, Anna arrives, talking incessantly about the fun times she and Kate shared in their youth.
---
Old Times
by Harold Pinter
Austin Shakespeare
Wednesdays-Sundays,
February 15 - March 05, 2017
Rollins Theatre
Long Center
701 Riverside at South First,
Austin, TX, 78704
Tickets start at $18. To purchase tickets, visit http://thelongcenter.org/event/old-times/ or call The Long Center's 3M Box Office at (512) 474-LONG (5664), TTY (800) 735-2989.
Call the Long Center Box office (512) 474-5664 (LONG)