Review: Old Times by Harold Pinter, Austin Shakespeare
by David Glen Robinson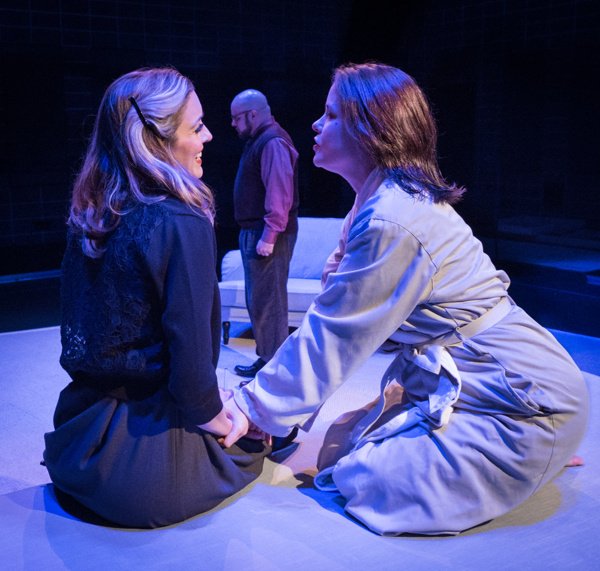 Old Times is about conversations among the post-imperial British ennui class of the 1960s. A couple who've made it well enough to live in a country home fairly close to the coast have in for a weekend an old girlfriend of the wife's to reminisce about their old times as young and carefree Londoners.
That's it. Yes, seriously, that's all there is of plot in this Pinter anthology play.
One gathers in a hurry that the play is not about plot, action, or strenuous discourses on the issues of the day.For that Austin currently has The Great Society by Robert Schenkkan, which goes from screaming, cursing civil rights marches to the screaming, cursing Oval Office of LBJ and back again. Within that storm we look for kernels of insight on the Trump Administration, appropriately or not.
Instead of that, Pinter's piece is one of poetic language and imagery worthy of D.H. Lawrence.There is also something about truth, time, and memory. Especially memory. The characters have it all fractured, as with all humanity, and they collectivly piece together time as past actuality while protecting those deep, seared-in truths they don't want revealed.
Pinter shows us well about partial truths and carefully constructed truths. Of course, we today know that the complements of constructed truths are fake stories. We have to deal with that and the deeper insight that identified reality exists on a spectrum ranging from fake stories to conspiracy theories to urban legends. And the rules have changed, so that nobody stands on one point of the spectrum and digs in.No, the tricksters tie the whole spectrum into a pretzel so that there are no real penalties for lying to the Vice President, and maybe only Vlad Putin knows what's really going on. Against this contemporary backdrop, Pinter's mid-century insights on truth seem almost naïve.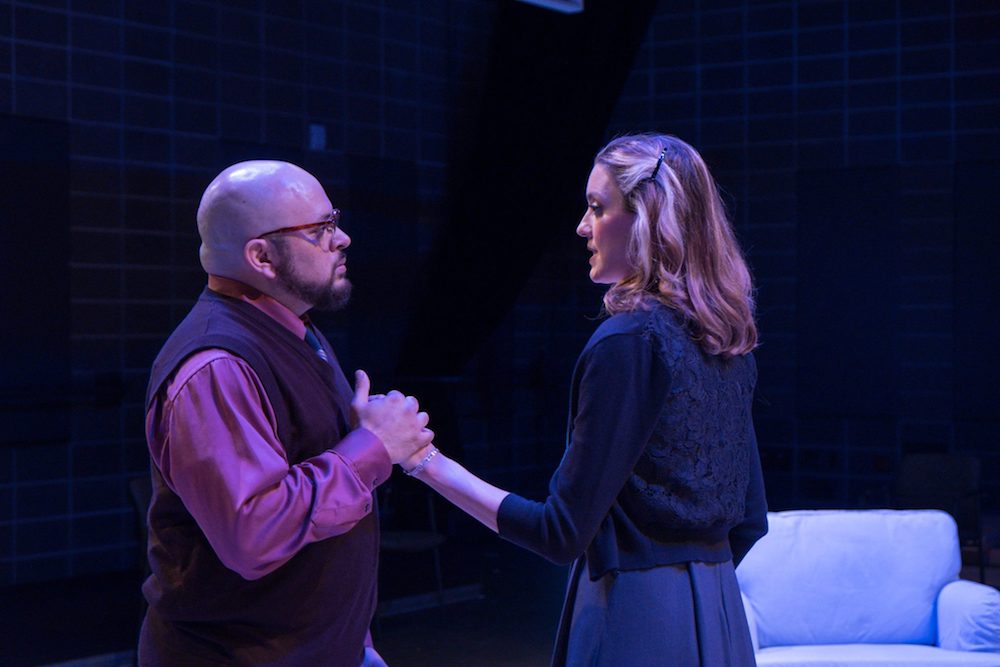 The fine set of actors Jill Blackwood, Nancy Eyermann, and J. Ben Wolfe, handle their English accents very well and do not fall out of them in the more intense passages of the second act. Not all of them show a full set of British mannerisms to go with the accents, however. In a dialogue play such as this one, those physical elements can be critical. Nevertheless, director Ann Ciccolella is to be applauded for her finely focused approach to direction, facilitated by a small cast as in Old Times.She clearly enjoys this approach.Perhaps her finest touch, at least in Old Times, is simply giving J. Ben Wolfe the iberty to continue his explorations of character as fully and finely as always. Well done by all.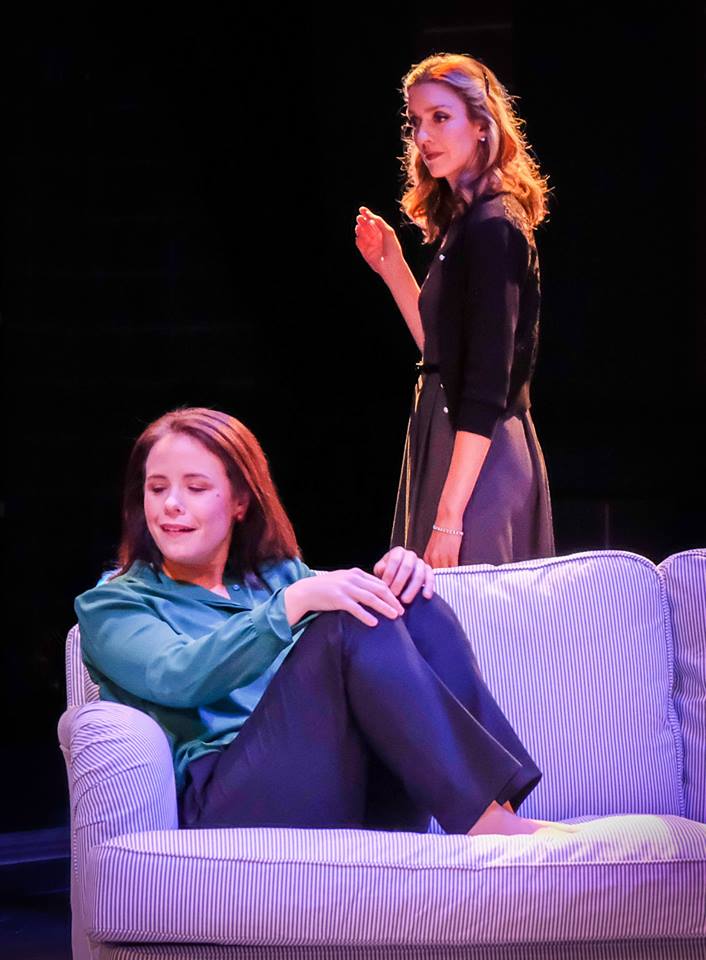 One of Pinter's trademarks is silence, the "Pinter pause," and Ciccolella and Austin Shakespeare handle it very well. In the first act that device falls exquisitely upon us, but later uses are a bit too obviously set up and don't last long enough. Done right, a winning silence is a profound letting go, a wild releasing, very much like that moment of weightlessness at the top of a roller coaster ride when, with arms in the air, one doesn't know if one is falling or coming, but for sure it is just right. So it is in Pinter, when the lines and words fall away, the cigarette smoke rises, and between them opens an abyss that can take you away, away. Odd how sometimes no words at all can make the play.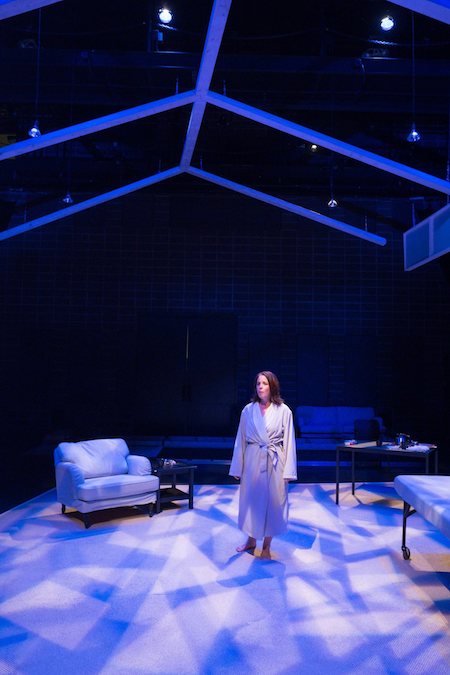 The single design field that facilitates most the atmosphere of silence and transport is the lighting by Patrick W. Anthony. He has discovered something mysterious about high windows and the way they filter all the moody light of day and night down onto a stage of living action.Don't tell us your secret, Mr. Anthony, just keep showing us. Anthony also receives credit for set design. The best element of the living room/bedroom set is the carpet supporting it all. The absorbent fabric of any carpet improves measurably the acoustics of the space above it. Would that this non-secret would filter out to the many other theatre companies in town who never seem to consider the quality of their casts' spoken sound.
Harold Pinter may have lost some relevance to today, but Austin Shakespeare has not. Old Times is recommended for adults who wish to add to their collection of Pinter plays in performance.
The play runs at the Rollins Studio theatre at the Long Center, South First and Riverside Drive on Lady Bird Lake, central Austin, February 15 to March 5, 2017.
---
Old Times
by Harold Pinter
Austin Shakespeare
Wednesdays-Sundays,
February 15 - March 05, 2017
Rollins Theatre
Long Center
701 Riverside at South First,
Austin, TX, 78704
Tickets start at $18. To purchase tickets, visit http://thelongcenter.org/event/old-times/ or call The Long Center's 3M Box Office at (512) 474-LONG (5664), TTY (800) 735-2989.
Call the Long Center Box office (512) 474-5664 (LONG)