Review: Waiting for Lefty by Street Corner Arts
by Michael Meigs
This isn't history. It's emotional time travel, back to the desperate depths of the mid-1930s when the near collapse of our economic system was grinding up honest working men and their families like hamburger. Street Corner Arts' blistering, riveting production at the Hyde Park Theatre puts the audience directly into a shabby union hall where drivers debate whether to go out on strike for wage hikes. In a series of scenes on that same platform, the company presents the miseries and injustices that lay behind the debates.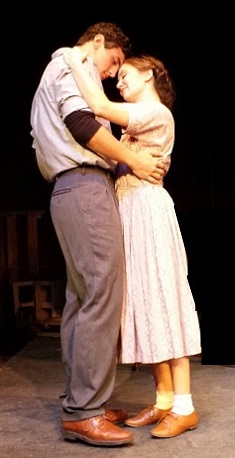 Waiting for Lefty is an experience to be lived and embraced rather than a performance simply to be watched. Director Benjamin Summers has enlisted a 16-member cast featuring some of the very best in Austin's theatre world, an achievement all the more impressive considering that these sixteen actors are literally working for tips. Your spare bills deposited after the show or cash donated through the website will be split up among a cast that deserves Equity pay and more. That's an entirely appropriate device, considering the burning social message of the play and the continuing struggle of artists and small producing companies in their mostly unsubsidized creation of art.
They're all around you in the Hyde Park space, reinforcing the concept that you are one of them, a hack driver unable both to meet the rent and to put food on the table with your meager weekly pay. You'll hear cat calls, applause and comments from all corners of the seating space, and you're invited to voice your own reactions.
Zac Thomas as Joe, the most hectic of the advocates for a strike, faces those cries and a bristling union management. The stage is shabby, light is harsh and the setting is realistic, until with only a minimal shift of attitude and lighting we are hearing him trying to convince his wife Edna (Molly Fonseca) that a strike will never work. Her response is furious and fierce, driving him both with logic and with emotional blackmail to push for a walkout. There's an eerie feeling as we hear other cast members murmuring in reaction to a scene that they could never have witnessed. Our inner sense of reality reels, pushing us firmly, deeply into the ranks in that union hall.
Michael Stuart, a big gentle man much appreciated for sympathetic roles, cycles over the course of Waiting for Lefty into incarnations of the all the evils of the economic and social system that suffocates these folk. As rough-and-tumble union boss Henry Fatt(!) he argues against the strike and scorns its proponents; as the unctuous industrialist Fayette he offers a gifted woman chemist (Katie Kohler) a raise and a promotion -- if she'll work in a lab that formulates poison gas and will agree to file covert reports about her supervisor; and in an actor's dream revenge casting, he appears as a tired, irritated wealthy stage producer who dashes the hopes of a starving young actor (David Higgins, all smiles and desperation, unable to feed a wife and child).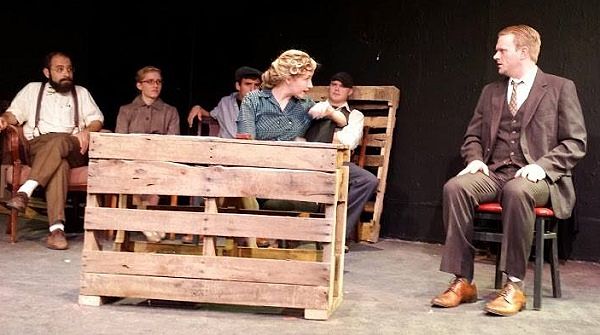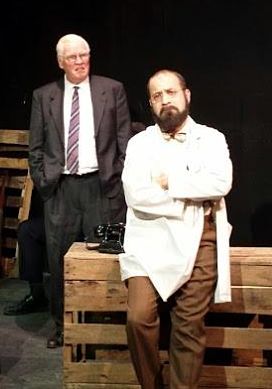 One vigorous, delicious scene succeeds another. Sid (David Scott) is courting Florrie (Claire Grasso), even though
her brother Irv (Jeremy Brown) warns her that he's worthless because as a cab driver he'll never be able to support a family. Anguished senior physician Dr. Barnes (Garry Peters) has to relieve Dr. Benjamin (Michael Ferstenfeld) from a case because an incompent relative of a senator has been assigned, and Benjamin is being discharged because he's Jewish.
There's such a profusion of talent that Derek Jones is largely wasted as the pushy tough trying to muscle the strikers into passivity.
Waiting for Lefty was a huge success in 1935 because the Group Theatre, working out of the apartment of director Harold Clurman, made vivid the plight of the ordinary breadwinner. It was performed across the nation, and the windfall revenue from this piece of 'social theatre' provided funds for Clurman and associate Cheryl Crawford to travel to the Soviet Union for five weeks of intense theatrical contact.
The tension in the play is less between capitalism and socialism than between employer exploitation and the employee's simple living wage. Clurman recalled that an audience member at the Broadway presentation of Waiting for Lefty asked him, "Do they mean it?" Clurman commented sourly It was O.K. if it was merely an ebullient pastime.
Group Theatre company members included Stella Adler, Eli Wallach, Elia Kazan, and Sandford Meisner (all names familiar to students of American acting technique), as well as Odets himself. Clurman commented that the impact of the play came less from its political message than from Odet's ability to dramatize the human elements. The playwright acknowledged that he knew virtually nothing about the 1934 strike or the accompanying political maneuvers.
Clurman considered Odet's one of the leading U.S. dramatists of the 1930's:
The question Odets constantly asks is: What helps a man live? Since we are citizens of the twentieth century, we may translate this as: What today injures man's spirit? What enhances or diminishes the creatively human in him? 'It's tryng to be a man on the earth," a young boy confesses naively in Waiting for lefty. All Odets is a variant on this theme, while the childlike pathos of its utterance reveals the odetsian touch at its most naked. . . . His plays strike home; they touch us where we live. Though they often shout, they are powerful because, in fact, they speak quietly to our hearts.*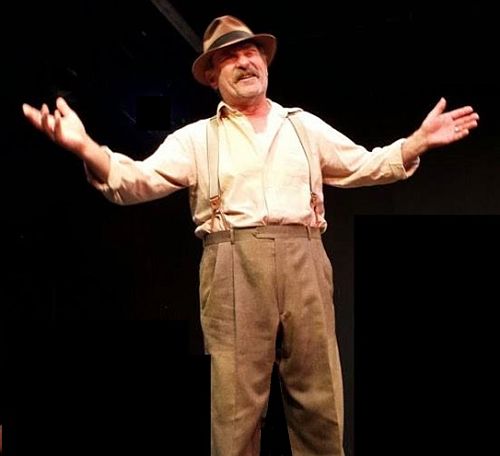 Waiting for Lefty has the impetuous impact of a propaganda poster, but the vivid portrayal of human dilemma overrides the stereotypes. In a performance running scarcely more than an hour the audience is assaulted and swept away by the power of the performers. After Lefty fails to appear, the piece closes with the electrifying tableau of the vote on the strike. And if you're not on your feet with the shambling grim Travis Dean as old timer Agate when he summarizes the case for a strike, you'll be one of the few.
* The Collected Works of Harold Clurman (Applause Books, NY: 1994)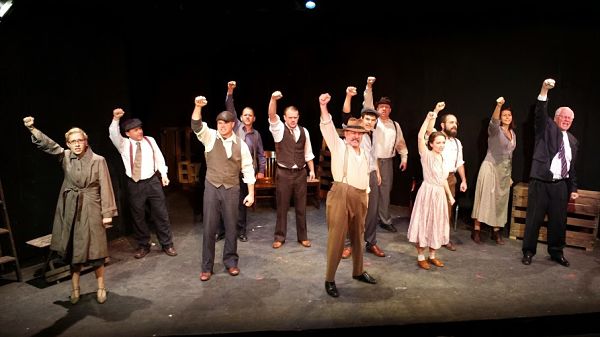 ---
Waiting for Lefty
by Clifford Odets
Street Corner Arts
December 05 - December 20, 2014
All shows at 8 p.m. -- running time approximately 1 hour
Tickets: $20 General Admission, $15 Educators & Students
Click to purchase online at BuyPlayTix or visit www.streetcornerarts.org or call (512) 298-9776