Review: The Totalitarians by Theatre en Bloc
by David Glen Robinson
Comedies about tragedies have extra bite. Schadenfreude wells up from within the audience and pours out on the hapless, ridiculous characters on stage. In The Totalitarians by Peter Sinn Nachtrieb, the laughter is giggly, a little embarrassed, and masked until the second act when audience members yield to their impulses and fall into unabashed guffaws and cheering. After that they see what a tragedy is unfolding before them. Perhaps a few think back to an earlier throwaway line by a character with a terminal disease: "Life is pain." Even his doctor pays little attention to him.
The Totalitarians begins with an inarticulate rant by a terrorist in a red balaclava. He gets little sympathy from the mocking audience. Then in great contrast, the scene shifts to that intimate intersection of married life, the king-sized bed in the master bedroom. A couple might be preparing to go out for dinner. But Francine, played by Elizabeth Doss, is scribbling in her notebook and spouting, sometimes screaming, three- and four-word phrases. She's brainstorming, seeking the perfect campaign slogan; she has a political job as campaign manager for a statewide race in Nebraska. Her doctor husband Jeffrey, played by André Martin, indulgently throws in humorous comebacks and other nonsense. Francine appreciates none of it, for she's intent on achieving political success and recognition as the perfect manic, soulless political hack. Martin's Jeffrey establishes quickly at least a degree of guilt for dragging an attractive business-management-type wife to Nebraska—a perfectly fine state—where she doesn't fit in temperamentally. That and their disagreements over having a baby (a life choice that should have been decided long before the action of the play) show us the centrifugal forces in their marriage.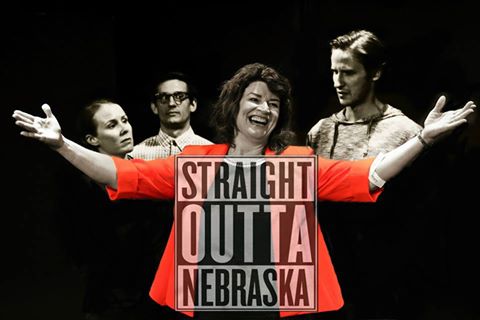 Francine's passions are all for the vanity campaign of Penelope Easter, played by the incomparable Barbara Chisholm, who orates a verbal kaleidoscope of stories about herself and other characters, notably her businessman husband who gave her four or five children but now prefers to go out trolling for boys twice a month, with Penelope's permission. All the while she careens back and forth across Nebraska between speaking events, revealing her ignorance -- her charming ignorance -- at every hand. She declares defensively: "I know it's the Huskers." This goes on, with sexual revelation after sexual revelation, until we believe fervently that Nebraska is one helluva swingin' place. It also confirms our cynical belief that behind closed doors politicians and their staffs are really in it only for the multifarious sex.
It seems so natural to add in conspiracy theorists, who always seem to demand their share, feeling left out. The violent, threatening, balaclava-clad Ben (Aaron Johnson) brings it on with a vengeance, and we do mean vengeance. In the examining room and subsequently late at night on park benches he suborns Dr. Jeffrey to his cause: stopping totalitarian takeover of the Nebraska state government. But don't use Ben's name, because THEY are listening and watching. He denies his identity in this paranoid way until it is far too late.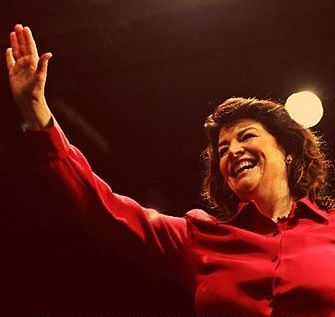 Barbara Chisholm performs a great and memorable role as the driving, power-grabbing, darkly inflected, ultimately daffy Penelope. And don't forget trisexual: try anything sexual at least three times. Chisholm does more than embody her characters. They seem to radiate from her skin, hair, eyes, and fingertips. She has another quality that seems almost ineffable to this reviewer -- her artistic sharing of herself with all of her colleagues onstage. She gives her art to the actors and the entire audience like immense radiant energy. Selfishness ain't allowed on her stage. Theatre en Bloc is one of those companies that employs postcard-sized programs sans actor bios, so it may be useful here to point out Chisholm's recent triumphal transits of roles in Fixing King John and Fixing Timon of Athens for the Rude Mechanicals. Much farther back, Chisholm played the stage manager in Thornton Wilder's Our Town for Jim Fritzler's now legendary Big State Productions.That group was one of the spawning pools for Austin artists such as Janelle Buchanan, Marco Perella, Aralyn Hughes, and Amparo Garcia-Crow.
Director Jenny Lavery gave plenty of room for the oration of Nachtrieb's texts by the other cast members, each of whom had at least two powerful monologues in the second act. Doss easily conveyed a character with conflicting cross-currents: disappointed wife, political operative becoming soulless robot, vengeful crusader. André Martin surprised us as an inhibited medical doctor who is imperceptive almost to the point of being clueless. Low probability but high funny. Aaron Johnson portrayed with masterful control a character thoroughly out of control. His and Martin's dialogues were sharp and precise without losing the quality of actual conversation.
Theatre en Bloc has presented another excellent and timely production that is yet another cautionary tale about all politicians.Nachtrieb's play avoids outright absurdism or surrealism. The play seems, brilliantly, to prefer the screamingly funny potential of day-to-day irrationality. The playwright mines a rich vein in so doing. The small touches are well appreciated: the paper transfer tattoos at the beginning and the soundtrack speeches by Malcolm X, Barbara Jordan, and Donald J. Trump. The design work exuded the wizardry of Blake Addyson, who created a seamless sound design and worked collaboratively on the set design and construction with Chris Conard. Built-in surprises, not to be revealed here, transformed the stage more than once.
The play garners one ding from a reviewer who grew up watching too many Western movies. A character is wounded by a firearm and by the next scene shows no effects of the gunshot. This is a note for the director and possibly the playwright. At least have the character wrap the wound in fabric and limp for the rest of the play. And yes, the gunshot was loud, but there was no warning notice in the too-brief program.
Notwithstanding those dings, The Totalitarians is a terrifically funny dark comedy, but it is for adults only. All such are encouraged to attend yet another brilliant production by Theatre en Bloc.
The Totalitarians runs September 8-25, 2016 at the Off Center 2211 Hidalgo Street, off 7th Street, in east Austin.
EXTRA
Click to view Theatre en Bloc's program leaflet for The Totalitarians
---
The Totalitarians
by Peter Sinn Nacthrieb
Theatre en Bloc
Thursdays-Sundays,
September 08 - September 25, 2016
Off Center
2211-A Hidalgo Street
near Robert Martinez and E. 7th Street, behind Joe's Bakery
Austin, TX, 78702
Thursdays - Sundays at 8 p.m. at the Off Center
Tickets sliding scale $0 - $35, available via 512 522-4083 or via www.TheatreEnBloc.org.
WEEK ONE
8:00 PM | Thursday, Sept 8 | Preview (SOLD OUT)
8:00 PM | Friday, Sept 9 | Official Opening
8:00 PM | Saturday, Sept 10 | Rock-the-Vote Pre-Show
8:00 PM | Sunday, Sept 11 | Post-Show Discussion

WEEK TWO
8:00 PM | Thursday, Sept 15 | Post-Show Discussion
8:00 PM | Friday, Sept 16 | Post-Show Discussion
8:00 PM | Saturday, Sept 17 | Post-Show Discussion
8:00 PM | Sunday, Sept 18 | Post-Show Discussion

WEEK THREE
8:00 PM | Thursday, Sept 22 | Post-Show Discussion
8:00 PM | Friday, Sept 23 | Post-Show Discussion
8:00 PM | Saturday, Sept 24 | Post-Show Discussion
8:00 PM | Sunday, Sept 25 | Closing Night
---
SEATING IS LIMITED - DON'T WAIT TO BOOK YOUR TICKETS!
---