Review: The Realistic Joneses by Hyde Park Theatre
by Michael Meigs
Will Eno writes funny characters. And they're not funny ha-ha; they're funny strange. Disconnected. Earnest, inept and trapped in cold joyless individual worlds that bounce off one another as if they're walking around inside invisible force fields.
I was baffled when Ken Webster and Hyde Park Theatre regulars presented Eno's Tragedy: A Tragedy in 2013, and it's just as well that I had another CTXLiveTheatre reviewer to cover it. I told myself then that the imaginary local TV news crew was parodying a world view and vernacular with which I, televisually unplugged, was simply unfamiliar. In earlier reviews of Eno's first play the 2005 success The Flu Season, one of a 2009 staging by Austin Community College and the other of a 2013 production by Oh Dragon Theatre Company, I commented that Eno's work was 'aggravating.' That's a Southernism used to describe behavior that is egotistical, rudely mischievous and intentionally provocative.
Eno hasn't changed his Weltanschauung with The Realistic Joneses. If anything, he has refined it, paring away the misleadingly whimsical settings. The Flu Season was set in a mental asylum and Tragedy: A Tragedy used the media double mirror of TV news broadcasts observed live. The Realistic Joneses occurs in a suburban back yard, the kitchen of an adjoining suburban home and a corner of that kitchen initially dressed as a spot in the local grocery. Mark Pickell's set, divided between the two households, is economical and realistic. Two couples, both named Jones, occupy those dwellings, and we observe their interactions in blackout scenes that cover an undefined lapse of time. Perhaps weeks; perhaps months or even years.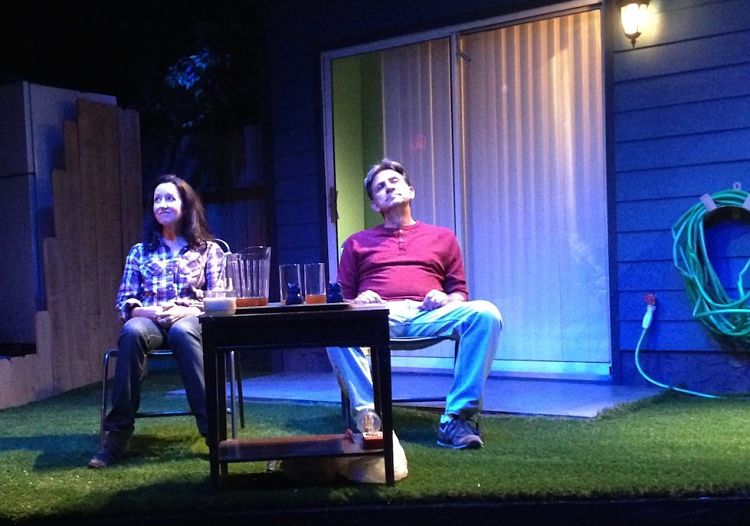 And that 'realistic' in the title is not a description of events or attitudes of the characters. It's Eno's insistent thesis that the portrayal of the frustrations, alienations and traumatized existences of these individuals is a true representation of the plight of living in middle America. Eno has confirmed to interviewers his predliction for Samuel Beckett. One could suggest that in intent at least this work resembles a Waiting for Godot without the veiled promise of Godot.
It's telling that although the play premiered at Yale in 2012 and went to Broadway in 2014 it's set in an undefined time period, perhaps the late twentieth century, in an undefined small town probably in middle America, and in near total isolation from prevailing popular culture. No talk of sports or television; nothing digital; no cell phones. Assuming Sartre was right in asserting that hell is other people, there's no refuge from hell for these folks.
Aggravating? Hell, Eno has brought me to float unplanned references to Heidigger, Beckett and Sartre in the first 400 words of my reflections on the 90-minute one-act now taking place onstage at the Hyde Park Theatre. That's downright embarrassing when one has the option of flinging out a few empty words of enthusiasm via Facebook. (Stellar! Great! Loved it!) Let's say 'provocative' instead.
Bob and Jennifer Jones sit in their backyard at night. She tries to chat, to converse, to bring Bob to respond to her. He replies courteously but absent mindedly. There's something wrong here but we can't quite put our finger on it before there's a clatter offstage. A young couple intrudes. John and Pony (also Joneses) unapologetically confess that they were eavesdropping from the alley. These loud strangers blurt out the empty happy talk you might expect at a newcomers' reception. Full of themselves, they transgress the bounds of social conversation and the physical boundaries of personal space. Ken Webster as the tactiturn involuntary host Bob Jones doesn't hesitate to slap them down verbally, while Rebecca Robinson as the high strung Jennifer Jones appears to welcome this rescue from the sterile non-conversation she's been having with Bob, whose health has been somehow deteriorating for months.
The following seventy minutes will ring changes on that quartet. Benjamin Summers as painfully blustering John Jones will literally corner Jennifer in the grocery store. The young Joneses will dialogue in their kitchen and reveal signs of illness and papered-over mutual distrust. John keels over off-stage while tending a fireworks display and Jennifer rushes off to his rescue. Jess Hughes as Pony Jones will go into a manic rant while alone in the back yard with her male neighbor. The men will confront one another in the younger couple's back yard without resolving anything at all, their motionlessness dramatized by the on-and-off glare of the motion-detecting security light. Both are suffering from the unexplained Harrison Leavey syndrome. Adultery occurs and all four are aware of it. Emotion is expended into thin air, and the final scene is that of all four Joneses ranged across the stage, looking up at a night sky brilliant with stars, unable to name even one of them.
There is a story of sorts in The Realistic Joneses but it's not wrought in conventional form. Eno and these actors under Webster's direction bring you to care very much about the characters' courage, whether reluctant or otherwise, in meeting the adversities of their shared existence.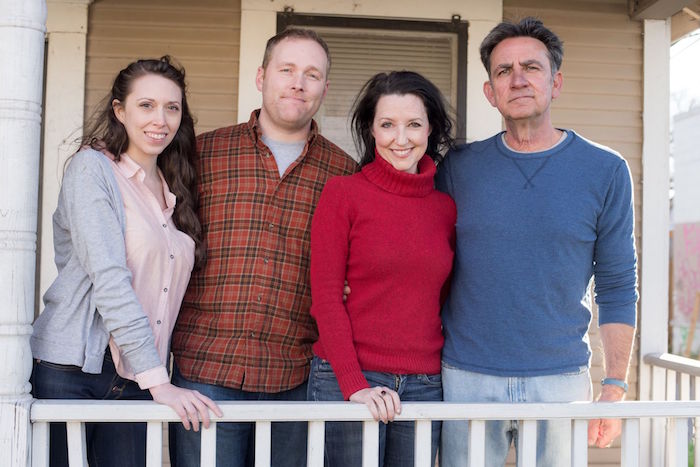 You've seen all of these actors before if you have even a casual knowledge of the coherent artistic brilliance of the small and scruffy Hyde Park Theatre. Director Webster has a deep bewildered calm as Bob Jones, a phlegmatic stoicism about his deteriorating health; Rebecca Robinson quivers with intensity, yearning for contact. Benjamin Summers gives John Jones a brusque callow exterior and an inner child threatening to emerge at every moment as his own mental and physical states deteriorate because of the rare medical affliction. And with angular expressiveness Jess Hughes inhales your heart. Eno's script has incongruities, confessions, socially unacceptable outbursts and surprising changes throughout. These do provoke some laughs. More importantly, though, the complexities of concept and writing provide each actor the means to achieve authenticity and depth. I was on the edge of my seat throughout.
This is the sort of theatrical creation you want to see again. And perhaps a third time.
EXTRA
Click to view the program of Hyde Park Theatre's production of The Reluctant Joneses by Will Eno
Promotional video by Eric Graham published February 28, 2016
---
The Realistic Joneses
by WIll Eno
Hyde Park Theatre
Thursdays-Saturdays,
February 25 - March 26, 2016
Feb. 25 - Mar. 26, 2016
Thurs. Fri. & Sat. at 8 pm

Thursdays are pay-what-you-can nights at the door. For the first four weeks (February 25 - March 19) Friday tickets are $22 and Saturday tickets are $24. For the final weekend (March 24 - 26), Friday tickets are $24 and Saturday tickets are $26 .
$2 OFF for students, seniors, military, and Austin Creative Alliance members ever Friday and Saturday
OR CALL (512) 479-PLAY (7529) FOR RESERVATIONS