Review: The Importance of Being Earnest by City Theatre Company
by Michael Meigs
Oscar Wilde's The Importance of Being Earnest is so exquisitely written that it will probably never fall out of fashion. Wilde mocks fashion and the fashionable; he presents us with chaps who are guileful but goodhearted deceivers and young ladies dizzy with self importance and good manners. And of course there's Aunt Agatha, the ultimate dragon lady, arbiter of all that's good taste and acceptable in polite society.
The script is balanced, well plotted, vivid and full of clever quips. That's a fearsome task for a director and a company, and probably another reason it will stay in the repertory. Director Fritz Ketchum and her cast at the City Theatre keep the plates of cucumber sandwiches spinning, the repartee and ripostes flashing, and the absurdities entirely believable.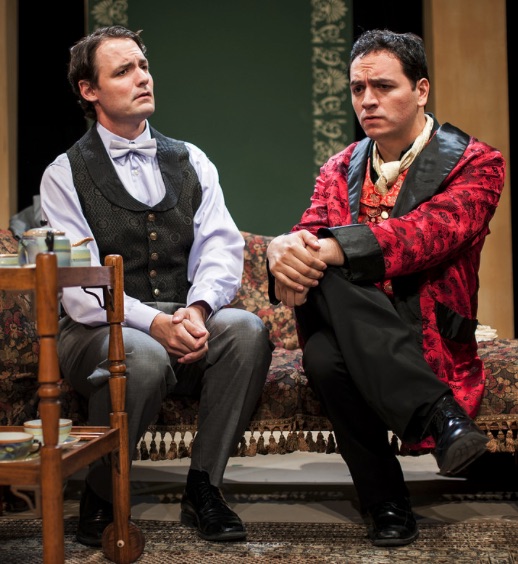 Jack Worthing presents himself as 'Ernest' while in London. He drops in on his friend Algernon Moncrief, who's expecting his Aunt Augusta (Lady Bracknell) for tea. These eligible but frivolous bachelors on the fringes of London society spar verbally a bit and then reveal to one another that each resorts to subterfuges and disguise to escape from London obligations.
Wilde is so generous with the witticisms that sometimes these two are played as twin Bertie Woosters. In casting and direction Ketchum makes them quite distinct. Robert Slack gives his character Algy a goodly dose of Oscar Wilde's DNA, for he's exuberant, talkative and teasing. Clay Avery as Jack aka Ernest is contained and at first somewhat distracted, because he's quite concerned about his uncertain prospects for obtaining Lady Augusta Bracknell's consent for him to court her daughter Gwendolyn. Slack's happily florid delivery rubs nicely throughout against Avery's dryer and frequently somewhat vexed personality.
The ebullient Algy will eventually go down to Jack's country place in Hertfordshire disguised as the non-existent Ernest to discover and court Jack's ward the heiress Miss Cecily Cardew.
Thence the title: both young men are sailing under false Ernest flags when they attract the affections of those young ladies. Gwendolyn (Jessica Riley) and Cecily (Jesselyn Parks) are both sweetly capricious and demanding. They're so similar in character that it's helpful that Riley and Parks are as dissimilar in height as Helena and Hermia in A Midsummer Night's Dream. The young ladies' fluttering frivolity and inexplicable attachment to the name 'Ernest' cause them initially to bristle at one another in icy politeness but to change that attitude in a flash when it becomes clear that they must ally against their beaux to keep the young men quite under control.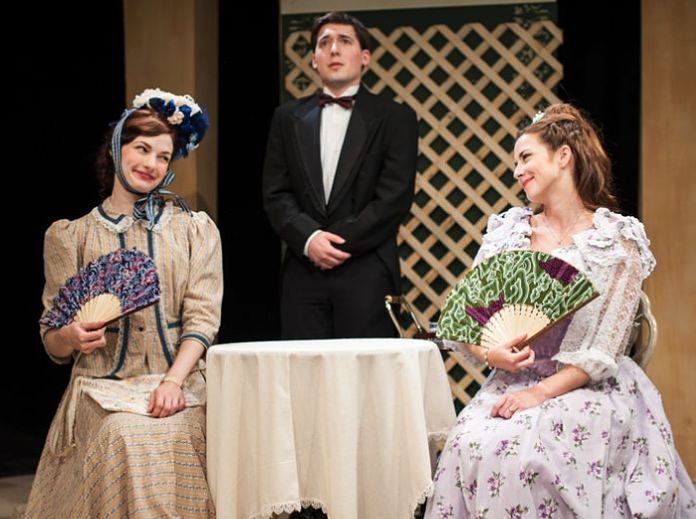 The social anchor in this froth, the voice of unquestionable authority, is Lady Bracknell. It's a choice role. I was forever marked when I first saw Earnest in a dim and scratchy print of the 1952 film with Dame Edith Evans in that role. Imagine, if you will,Tenniel's illustrations showing the wrinkled pug-faced arrogance and foolish authority of the Red Queen in Alice in Wonderland, and you'll come close. Lady Bracknell is so dominant and decisive that companies frequently place a man in drag in that role -- Rick Roemer bustled (quite literally) through Austin Playhouse's 2011 staging and David Suchet, better known for the Hercule Poirot films, is currently touring the UK in the role.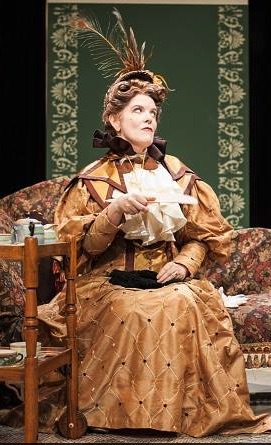 Kara Bliss quite fills those petticoats and high-button shoes. Her Lady Bracknell has just the right no-nonsense insistence along with the humorlessness that makes the character so comic. While the cast members all benefited from fine dialect coaching from Amanda Cooley Davis, Bliss particularly shines, as much for her decisive phrasing as for her vowels and consonants. She's a younger and more comely Lady B than I'm used to seeing, and in fact she scarcely seems of an age to have a daughter of Gwendolyn's age. Bliss gives us an Aunt Augusta/Lady Bracknell whose word is law and who will never change her mind; unless, of course she learns unexpectedly that Algy's sweetheart Cecily has an inheritance of 130,000 pounds.
It's nice to see Steve Lawson, often on stage at the Gaslight Baker in Lockhart, taking the indeed quite earnest although somewhat confused role of the vicar Reverend Chasuble.
The pre-performance sound design included some familiar Gilbert & Sullivan arias, which seems appropriate since the duo in fact even wrote one operetta featuring Wilde. There's a clumsy moment in mid-play when the young gentlement are singing G&S to one another, but let that pass. More of concern to me was the music meant to ease us agreeably through the two intermissions of this three-act play: it was seriously out of time and place, principally drawn from the United States of the 1920's and 1930's. That minor indiscretion was forgiven as soon as the lights went down and the wit began flying again.
EXTRA
Click to view program excerpts from City Theatre's The Importance of Being Earnest
---
The Importance of Being Earnest
by Oscar Wilde
City Theatre Company
Thursdays-Saturdays,
June 12 - July 05, 2015
Thursdays - Saturdays at 8 p.m., Sundays at 5:30 p.m.

General Seating $15. Guaranteed Front/2nd Row Reserved $25.
Students $12. Thursday all seats $10. Group discounts are available.
Reservations 512-524-2870 or info@citytheatreaustin.org