Review: The Importance of Being Earnest by Austin Playhouse
by Michael Meigs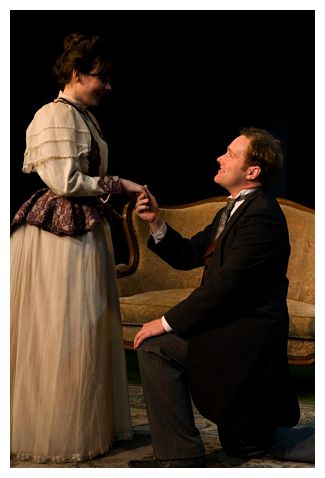 This "Trivial Comedy for Serious People" opened in 1895 and it was the last shining moment for Wilde's career as writer and dramatist. Soon afterwards he found himself in court, accused of immoral behavior and then sentenced to gaol. Because of that scandal the original production closed after only 86 performances. Since then it has become one of the most dependable and regularly revived comic satires on the boards.

Wilde's earnest young men show themselves of strenuously conventional Victorian morality in society but entirely subversive in their private lives.
Both Algernon Moncrieff (Jason Newman) and Jack Worthing (Benjamin Summers) have secret identities. Algernon goes "Bunberrying," using the excuse of a mythical ailing relative to escape from unappealing social engagements and to sail off on devil-may-care exploits. Jack uses the excuse of his mythical brother "Earnest" to get away from the tedium of the country and the responsibilities of his guardianship for the fetching but bubble-headed Cecily, his ward and the daughter of his deceased benefactor. Masquerading as "Earnest" while in London, Jack is courting Algy's cousin Gwendolen.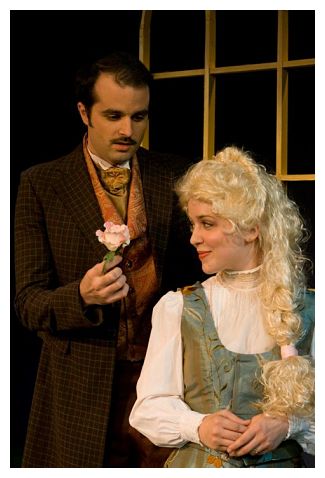 Oscar Wilde has a fine time mocking conventional society, using two young gentlemen, thoroughly irresponsible, two young ladies entirely frivolous, and a quartet of secondary characters: Hans Venable as two patient but put-upon servants, Bernadette Nason as Cecily's governess Miss Prism, and Michael Stuart as the simple-hearted parson Rev. Chasuble, D.D.
The lioness of the piece, however, is Lady Bracknell, Algy's august "Aunt Augusta." Rick Roemer's decisive yet demure cross-dressing performance alone is worth the price of admission.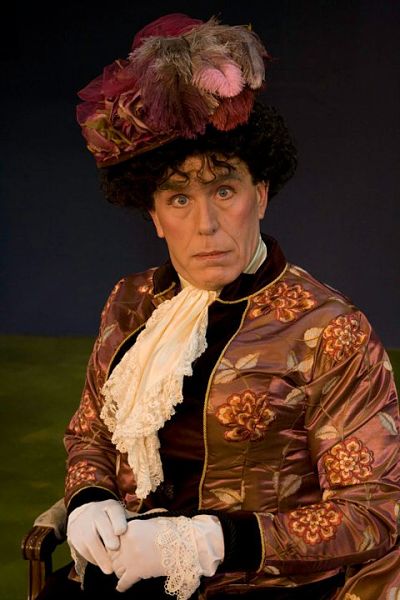 Filing his wit to cutting fineness, Wilde joined a conventional Victorian setting to wild improbabilities resembling those of the ancient stage. Disguises and mistaken identities, courtships initiated, frustrated, and then reinvigorated, Jack's mysterious origins -- he was discovered as an infant in a bag in the cloakroom at Victoria station -- and revelations of unsuspected family relationships. . . . this is very like the stuff of New Greek Comedy, Plautus, and Shakespeare.
The Importance of Being Earnest -- the title is a pun to itself -- is safe programming, for Wilde's wit and quibbles still shine today. Imagine young ladies who make marriage decisions solely upon the appeal of a name, young men who scramble to get themselves re-christened, and a society matron who categorically refuses to accept a family relationship with a handbag! The faces are familiar, regulars all, and the only real surprise is Rick Roemer's enchantingly starchy and autocratic dignity as Lady Bracknell. The Playhouse reported that ticket sales were brisk, and for our Friday evening the house was essentially full.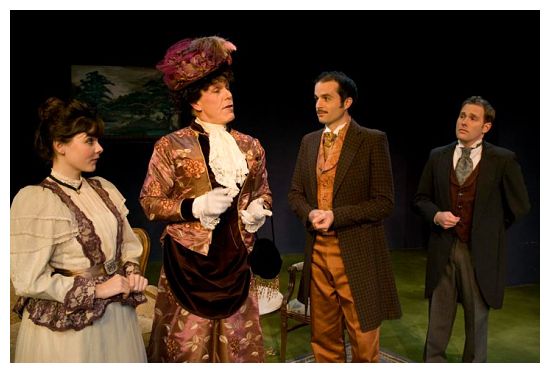 Don Toner and his casts at Austin Playhouse are used to the movement challenges in their three-quarter round, and he usually guides them to float unobstrusively so that no one in the audience loses the faces for long. Even so, sitting along the aisle at stage right, I was dismayed to find sightlines badly blocked on two occasions. Toner brought on Michael Stuart's great mass as Rev. Chasuble and planted him with his back to us at downstage right for what seemed an interminable time, obscuring the meek divine and everyone else as he made calf eyes at Miss Prism (the primly droll Bernadette Nason). During Cecily's reception of Gwendolen at the country manor, written as a very amusing, poisonously sweet exchange of social chat, Gwendolen wore an impossible hat and sat at deep center stage turned to her hostess, so that we lost her face for almost all of that conversation.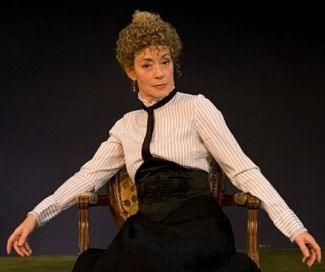 Never mind that. This is Oscar Wilde and you could sit there with your eyes closed and still enjoy the nonchalant whip and sting of his dialogue. Our conventionally unconventional young persons are saved from themselves and paired up. The good Dr. Chasuble and flighty Miss Prism become the third couple, and we're happily satisfied with an ending of romance for all, presided over by the imposing Aunt Augusta.
Review by Lois for the Austin Post, January 16
Review by Ryan E. Johnson at examiner.com, January 21
Review by webmaster, TheatreAustin, Yahoo groups, February 4
EXTRA
Click to view the program of The Importance of Being Earnest by Austin Playhouse
Hits as of 2015 03 01: 1676
---
The Importance of Being Earnest
by Oscar Wilde
Austin Playhouse
January 14 - February 13, 2011