Review: SWEENEY TODD by Steven Sondheim and Hugh Wheeler, Woodlawn Theatre
by Kurt Gardner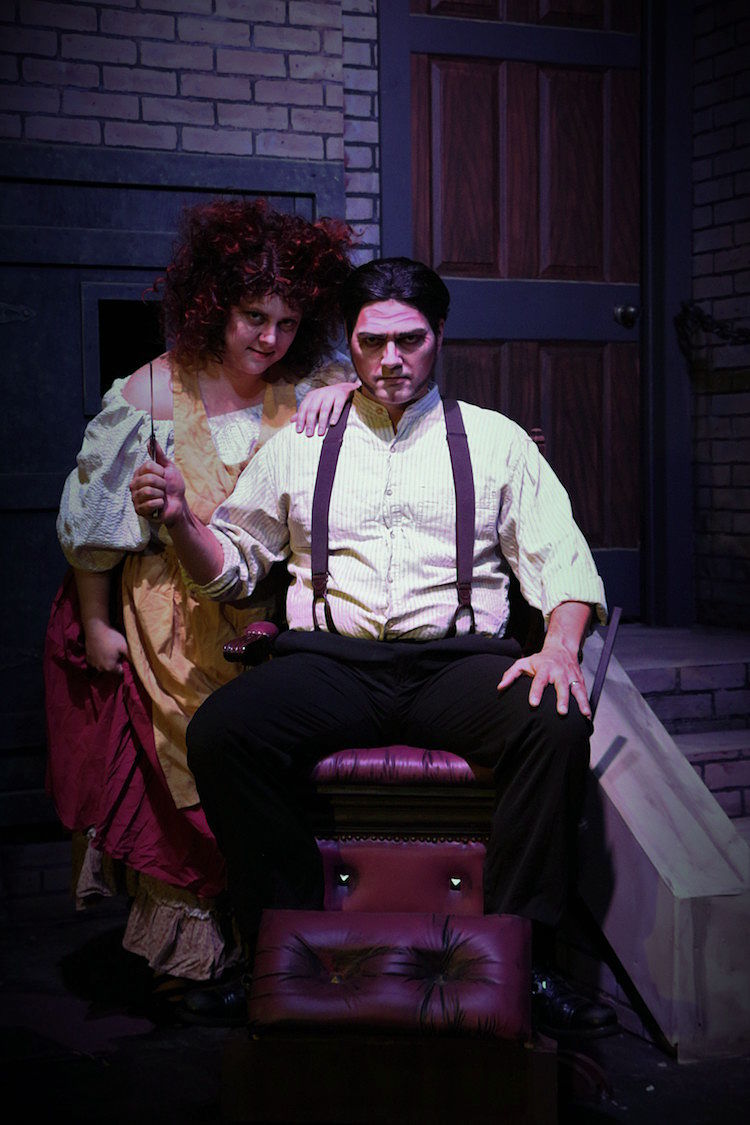 One of Sondheim's finest and darkest musicals is now playing at the Woodlawn Theatre — and it's a knockout.
Since its Broadway premiere in 1979, the story of the homicidal barber and his pie-selling partner in crime has been thrilling audiences in numerous stage and (big and small) screen adaptations. Inspired by the "penny dreadfuls" of the Victorian age, it offers up a grim picture of London of that period — a filthy, disease-ridden city whose air was dark with smoke and crime was rampant.
Benjamin Barker, a naive barber who'd wrongly been shipped off to an Australian penal colony by a corrupt judge who lusted after his wife, manages to escape confinement and make his way back to the city. Now known as Sweeney Todd, he encounters Mrs. Lovett, who recognizes him as the man she'd secretly adored before. She also has his precious barber tools stashed away in the vain hope that he'd return some day. It doesn't take long for her to realize he's out for revenge, and they arrange a quid pro quo. He can feel free to slit the throats of untraceable victims in his tonsorial parlor above her pie shop as long as she can grind up their hides to bake into pies to sell to her unwitting customers.
Such is Sondheim's genius that this grisly scenario is set to music — and wonderful music, at that.
Sweeney Todd is a very complex show to produce. Besides all of the moving parts onstage, there's also Sondheim's score, which is one of the most complicated he's ever written. It involves operatic voices, intricate harmonies, and an ensemble as talented as the leads. The Woodlawn production, directed by Rick Sanchez, manages to accomplish it all.
The cast is superb. Roy Bumgarner is excellent as the title character, raging and brooding in equal measure. He is well-matched by Sara Brookes as Mrs. Lovett, who makes the most of the comedy in the role. Joshua Goldberg is perfectly evil as Judge Turpin, as is Rene Sandoval as his toadie, Beadle Bamford.
Zach Heywood and Kathleen Langford are enormously appealing as the young lovers, Johanna and Anthony. Mary Morrow is funny and poignant as the Beggar Woman, and Adam Zuniga is hilarious as the flamboyant Pirelli, who hits all the appropriately hammy notes. James R. Welch also impresses as the innocent man-child Toby, and his performance of "Not While I'm Around" is spot-on.
Production specs are topnotch across the board, from Kurt Wehner's set design to Benjamin Farrar's sound, Chris Muenchow's lighting and Michelle Petri's costuming.
If you're a Sondheim fan — or are simply looking for some ghoulish fun this Halloween season — hurry to the Woodlawn for this wonderfully entertaining production.
Sweeney Todd: The Demon Barber of Fleet Street plays Friday and Saturdays at 7:30 p.m. and Sundays at 3:00 p.m. through November 6 at the Woodlawn Theatre, 1920 Fredericksburg Road. Reservations can be made online or by calling 210-267-8388.
Kurt Gardner's theatre reviews also appear at www.BlogCritics.com.
---
Sweeney Todd
by Stephen Sondheim
Wonder Theatre (formerly Woodlawn Theatre)
Fridays-Sundays,
October 07 - November 06, 2016
October 7, 2016 - November 6, 2016
Fridays & Saturdays at 7:30 PM, Sundays at 3:00 PM
Woodlawn Theatre, 1920 Fredericksburg Rd. San Antonio, Texas. 78201
Ticket cost: $17 Child/Student,$23 Senior/ Military, $26 Adult
Sweeney Todd the Demon Barber of Fleet Street TEEN plays October 23, 24, and 25 at 8:00 p.m. Preferred seating is $15 and general seating is $10.
Tickets are on sale now at
woodlawntheatre.org
, or by calling the box office at 210-267-8388. All tickets are subject to a $3 service fee. Groups of 10 people or more receive a 20% discount. This show is for mature audiences only and is not recommended for children.