Jul. 29 - Aug. 07, 2022
Fridays-Sundays
Thomas, a beleaguered playwright/director, is desperate to find an actress to play Vanda, the female lead in his adaptation of the classic sadomasochistic tale Venus in Fur. Into his empty audition room walks a vulgar and equally desperate actress—oddly enough, named Vanda. Though utterly wrong for the sophisticated part, Vanda exhibits a strange command of the material, piquing Thomas' interest with her seductive talents and secretive manner. As the two work through the script, they blur the line between play and reality, entering into an increasingly serious game of submission and domination that only one of them can win.
In partnership with Leanderthal Distilling, Way Off Broadway Community Players is proud to present "Venus in Fur" by David Ives. Produced and Directed by Nick Wigg & Johnny Revicki.
Featuring
Thomas Novachek - Jonathan Marmon
Vanda Jordan - Randi Prudence West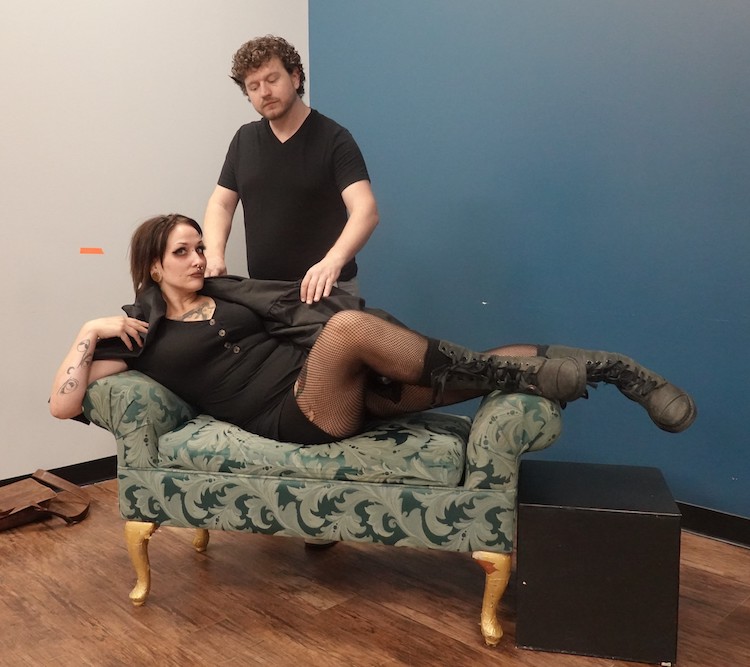 ---
Venus in Fur
by David Ives
Way Off Broadway Community Players
Fridays-Sundays,
July 29 - August 07, 2022
Performances will be on July 29-31 and August 5-7, 2022 (Friday and Saturday evenings at 7 p.m., as well as Saturday and Sunday matinees at 3 p.m. both weekends) at Leanderthal Distilling in Leander, TX.
Every ticket purchased allows entry for one person. There is limited bar seating and table seating. You will be sharing tables with other ticket holders if you do not have 4 people. Since the venue serves alcohol and due to the subject matter of the play, audience members must be 21 years of age.
Seating will start 1 hour prior to the start of the show. You are welcome to bring food into Leanderthal Distilling's lounge. However, please make arrangements to have your food inside the lounge prior to the start of the show. In addition to cocktails made with the distillery's products, soft drinks, juice, and coffee will be available.
Tickets are $35 and are available at wobcp.org or on Eventbrite.