Review: She Stoops to Conquer, Austin Playhouse
by Michael Meigs
Things do go a little crazy out in the countryside at Hardcastle manor.
Hardcastle's oafish stepson Toby Lumpkin (the happily leering Stephen Mercantel) instigates the confusion when he solemnly assures a couple of visiting London dandies that the place is really a country inn run by an eccentric host. But that's only the beginning of the comic deceptions.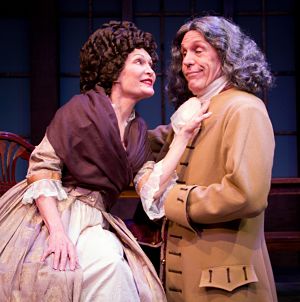 Oliver Goldsmith's 1773 theatre piece is still going strong, unlike so many of the Covent Garden comedies staged then and earlier. It offers an appealing mix of city vs. country, eccentric rural squiredom vs. London aristocratic sophistication, ardent young lovers out to conquer hearts and, of course, Lumpkin as the bumpkin clown. The playwright fills the stage with types so distinctive that they might reasonably assert kinship with the Italian Commedia dell'Arte, and Don Toner serves up gleeful familiar faces from the Austin Playhouse to fill those roles.

It's madness -- or sublimest sense -- to cast the gracious and sometimes ethereal Babs George as Mrs. Hardcastle, a Londoner's nightmare vision of the self-deluded and vain country matriarch. Give the lady credit for pluck, initiative and thespianism, for without bothering with caked-on makeup or doddering movement, she brings alive one of the foolishest creatures alive: petty, open-hearted, quite daft and devoted both to her boorish son and to her doughty second husband Mr. Hardcastle. Rick Roemer in that role has quite as much fun as Babs. He maintains fine control of his growing perplexity and annoyance at his visitors' dismissive attitude as they assume him to be nothing more than an uppity inn keeper; even his eventual end-of-the-rope admonitions to them are delivered with high dudgeon and fine courtesy.
The young ladies of the piece offer a nice contrast, as well. Claire Grasso beams and cajoles as the daughter of the house, Miss Kate Hardcastle, happy to tease the London visitors by pretending to be a poor relation employed at the imagined inn. Indigo Real is more familiar to us as a lean and dangerous presence in black comedies at the Hyde Park Theatre, but she cleans up nicely as Miss Constance Neville, would-be eloper scheming to make off with the casket of jewelry that's rightfully hers by inheritance (come to think of it, maybe Indigo has got a thing for larceny and shady dealing going in her acting career).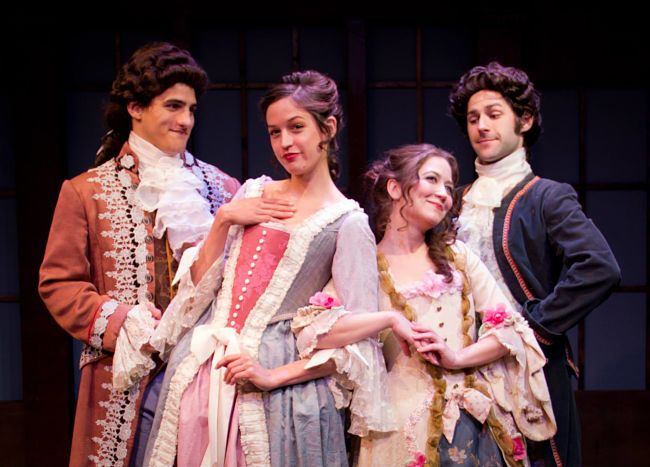 Andrew Bosworth again makes a strong, brainy impression as Charles Marlow, recommended to the Hardcastles as a potential suitor for Miss Katherine. Socially, however, he's the absolute opposite of his Peer Gynt with Last Act Theatre Company, for Mr. Marlowe is paralytically shy in good company. He has no problem with wenching, however, and by pretending to be far below her own class, Kate soon has him all but eating out of her hand. David Scott as Marlow's friend George Hastings is determined to whisk away Miss Neville, with or without the jewels.

Goldsmith gives us types, clowns and shenanigans, and he eventually brings it all to a satisfactory conclusion, complete with a couple of pending weddings, Hardcastle seniors more than reconciled to the prospect, and inheritances put into the delighted greedy hands of those entitled to them, whether or not they deserve them. There's a lively rhythm to all of this.
Desiderio Roybal's set is spacious and functional, and the fun is boosted by Diana Huckaby's elaborate wigs and Buffy Manners' clever costuming (in her array of special finery Babs is a lifesize comic valentine).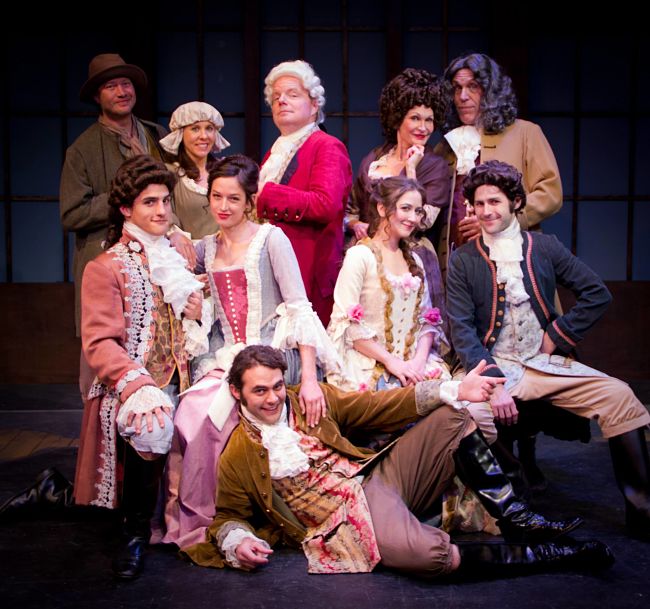 The Austin Playhouse production of She Stoops to Conquer plays one more weekend, Thursday - Sunday, closing after the March 8 performance.
EXTRA
Click to view the program for She Stoops to Conquer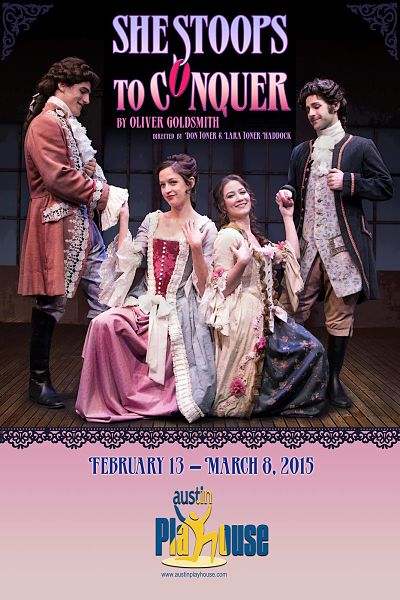 ---
She Stoops to Conquer
by Oliver Goldsmith
Austin Playhouse
February 13 - March 08, 2015
Thursdays - Saturday at 8 p.m., Sundays at 5 p.m. with a special 7:30 p.m. performance on Thursday, March 5 to celebrate Amplify Austin
TICKETS:$28 Thursday/Friday, $30 Saturday/Sunday, $35 Opening Night
BOX OFFICE: 512.476.0084 or online at: www.austinplayhouse.com
DISCOUNTS: All student tickets are half-price. $3 discount for Seniors 65 and up.
THURSDAYS: Limited Pick-Your-Price Rush tickets will be available at the box office one hour prior to show time for each Thursday performance.