Review: Romeo and Juliet by The Baron's Men
by Casey Weed
The Baron's Men finally put up Romeo and Juliet and I was in the rare position last evening of being in the audience with no other stake in the show than simply hoping for an entertaining performance. I was rewarded with much more than that.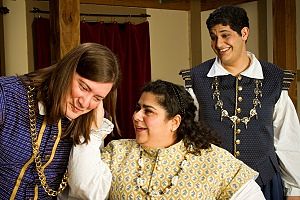 So often in Austin we're subjected to fussified Shakespeare tarted up with gimmick props and political or social agendas that cloud up the plot and characters and make the pure play indiscernible and unrecognizable. Obscure settings, bizarre costume choices, and alien props and set pieces seem to abound in recent prominent productions that leave the storytelling sitting in a dungeon somewhere beneath Zilker Park. Not so here.
So what makes the core of a great performance? 1. Can I hear them? 2. Pace- does the thing move? 3. Does the action fit the text? 4. Do the actors know what they're saying?
Yep. Yep. Yep. YESSS.
Words, appropriate costuming, and a dash of live music fuels the engines of this text, calling to you from your junior high school literature handbook but this time around it's filled with all the filthy jokes and morbid humor you never remembered. The prize role of Mercutio is deliciously filthy - thank you, Eva McQuade - and the nurse (Laura Stokes Trezise) is allowed to be more than a little randy herself . Our lovers aren't the perfect twittering birds from film versions; instead, Casey Jones and Lindsay Michelle Palinsky show off some of the flaws in teenage love to a point of making us groan at their adolescent whinings, authentic to the last eyeroll.
Chris Casey's acting has come along so far that his scene as Lord Capulet disciplining Juliet will absolutely tear any parent apart. (The second act is less even but I expect it will come together later in the run). It helps that the cast is so deep - thank you, Leanna Holmquist, as his scalding scolding counterpart Lady Capulet.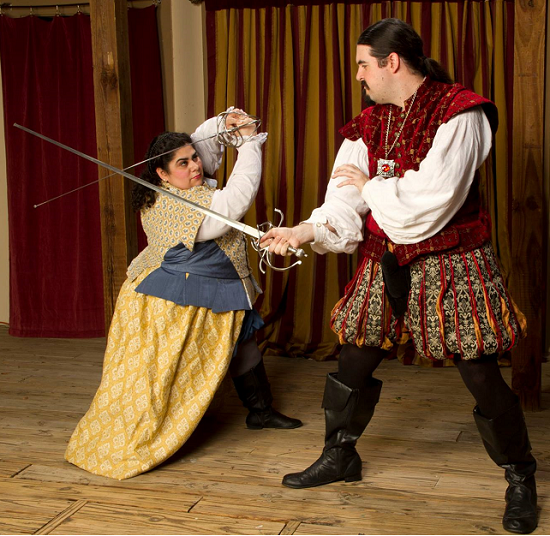 The fighting has matured in this troupe- it was crisp and exciting and I was left agasp at Mercutio's bitter end.
Costumes are up to the usual high standard of the Baron's Men, which makes sense, as Dawn Allee - B.Iden Payne award winner and expert historical costumer - is in the cast.
If you're up for a damn good, damned pure performance of R and J... see this one. No, really... see it!
---
Romeo and Juliet
by William Shakespeare
The Baron's Men
April 04 - April 26, 2014
April 4 – 12 (Friday – Saturday) and April 17 – 26 (Thursday – Saturday) at 8 p.m. Pre-show market opens at 7 p.m.
Ticket prices:
Thursday nights: $10;
Friday & Saturday nights: $15
For the first time, we will be offering hot and cold food options that can be pre-ordered online. Hot-plates are available by pre-order only.
For tickets and for more information visit www.thebaronsmen.org