Review: Proof by Trinity Street Players
by Michael Meigs
David Auburn's Proof plays with the audience, cannily withholding elements essential to the story taking place before our eyes in a back garden, adjacent to the University of Chicago. The first of those elements arrives after a lengthy gentle conversation between a relaxed, reassuring professor of mathematics and his earnest, worried daughter. Similar to an instruction to divide by the square root of -1, it obliges new rules upon us, sending us off into the world of the imaginary.


Auburn does it again at the close of Act I, when the young woman applies an operator that's similar to [*-1], giving our results a smart shake that turns our received knowledge inside out. And since in good storytelling tradition surprises come in 3's, he situates the opening of the second act not in n but rather in [n - x] where x = 4 and the units are years.


Leaving math play aside for a moment, one intriguing aspect of Auburn's story about the frontiers of mathematics and the far reaches of human rationality is how little of mathematics appears in it. Of course, your ordinary audience would probably sit glassy eyed at any serious intent to explain a major postulate or proof. We who are largely innumerate take the existence of higher mathematics largely on faith, and we're perfectly satisfied when Auburn withholds the mumbo jumbo of technical terms for the the final seconds of the piece when the stage lights are going down. Catherine, granted credence by her aspiring suitor the graduate student in math, is about to take his adoring attention into those mythical realms where we can't follow.


Proof only hints at mathematical proofs, exercises in a closed and shining world where everything fits incontrovertibly. More importantly, it offers us the search for proof in a more judicial sense -- the messy accumulation of facts, testimony and human interactions intended to establish in our fallible minds, beyond a reasonable doubt, a version of reality.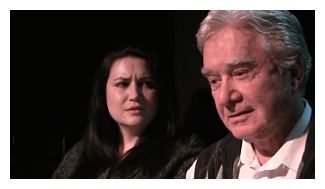 The predominance of memory and imagining reminds one in some aspects of Tennessee Williams' The Glass Menagerie. Proof plays in a single set. The story is a relatively simple one involving an overshadowing parent, two siblings and a gentleman caller. It features only four characters: Catherine, the young woman who doubts herself and fears that she may have inherited a tendency to schizophrenia; her father Robert, a trailblazing professor of mathematics at the University of Chicago, now in decline; his admiring graduate student Hal, enthusiastic but stuck in Ph.D. research that threatens to extend asymptotically toward infinity on the y axis (time); and Bridget's sister Claire, the one who escaped, now a no-nonsense New Yorker come back to extract Catherine from Chicago, moody memories and idleness.
You may well be familiar with the story, considering that Proof won the the Tony award as well as the Pulitzer Prize in 2001 and a film version with Gwyneth Paltrow and Anthony Hopkins came out in 2005. And it has been done all over the neighborhood -- starting at the State Theatre back in 2002. Austin Community College did a fine staging in 2008 at its Rio Grande campus, one of the first theatre pieces that I reviewed in Austin. In early 2011 Proof was presented almost simultaneously at Austin Playhouse and at Leander's Way Off Broadway Community Players. The Gaslight Baker Theatre in Lockhart staged Proof in April and May of last year.
Why go see Proof again? And why, particularly this production of Proof?

Because this production is essentially flawless.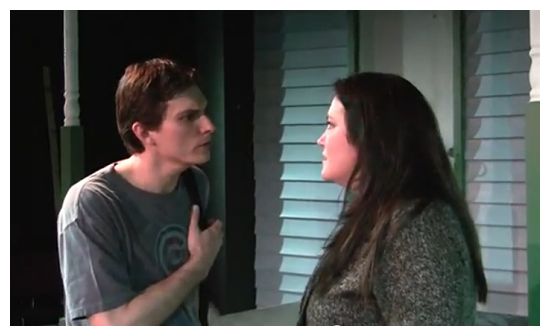 It's very well cast, to begin with -- the actors, all of appropriate age, are invisible within the characters. Bridget Farias is fretful, impulsive and preoccupied; Gary Clarke as her father Robert conveys the man's intelligence, wit and skepticism. He also makes evident his deep concern both for his daughter as she struggles and for his mind as he feels it slipping stealthily away from him. Director David McCullars in the role of Hal has the puppy-like enthusiasm of the aspiring eternal grad student, joined with emotional vulnerability. He has an almost petulant insistence on facts -- both on specific mathematical proofs and on evidentiary proof. Circe Sturm portrays sister Claire with lean New-York-learned directness, impatient with Catherine's self doubts and claims. The story never lags.
The black box theatre used by the Trinity Street Players up on the fourth floor of the First Baptist Church is a playing space more intimate than any other in town, now that Austin Playhouse is no longer using the shabby Larry L. King space at Penn Field. It's clean, well equipped and well laid out -- a nice touch, for example, is the silhouetted projection of the TSP logo on the floor of the aisle just inside the entrance. Four or five rows of comfortable seats are positioned on three sides of the shallow thrust stage, so that the action is rarely more than 15 or 20 feet from the spectators.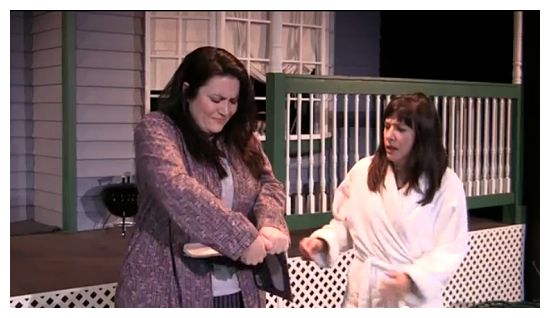 The set designed by director David McCullars is simple, representational and solid. We see the back porch of a frame house, with a miscellany of backyard stuff set under the windows and a garden table and chairs in the yard closer to us. Twice, under the press of emotion, characters go into the house, slamming the door with a satisfying whack. There's not a quiver in the structure. McCullars is listed as the master carpenter; he's also credited for the sound design, which is evocative and subtle, with passages of acoustic music bridging scenes as if heard from a radio far away.
And least of all, there's the price. Trinity Street takes reservations but sells no tickets, for admission is free. One leaves a voice mail at (512) 402-3086 or sends an email to reservations@trinitystreetplayers.com. At the registration table and just outside the entrance you'll see couple of tall clear vases strategically placed, bearing the legends "DONATIONS - Thank you!"
Quality and dedication speak for themselves. The reception of this Proof has been so positive that the company is about to announce that they're adding two more performances on an additional weekend: Friday, March 9 at 7:30 p.m. and Saturday, March 10 at the same hour.
EXTRAS
Click to view the ALT article with the promotional video for this production of Proof
Michael Lee does a two-minute feature for KUT-FM, February 13 (click to go to KUT.org)
Click to view the program for Proof by the Trinity Street Players
Hits as of 2015 03 01: 2729
---
Proof
by David Auburn
Trinity Street Players
February 16 - March 10, 2012
Trinity Street Players
Black Box Theatre, 4th floor, First Baptist Church
901 Trinity Street
Austin, TX, 78701