Review of Proof, by Austin Community College
by Michael Meigs
This is a beautifully engineered production with a high level of acting, and it deserves to be seen beyond the purely internal circuit of Austin Community College.

It plays this weekend and next at the tiny third-floor Gallery Theatre at ACC's Rio Grande campus, in the building that once upon a time was Stephen F. Austin High School.

It occurred to me as I watched the play unfold on opening night that I was probably the only one in the room who didn't know how the story was going to turn out.

Proof by young playwright David Auburn was performed in New York in 2000, where it won Tony awards for best play and for best leading actress. In 2005 it was done as a motion picture with Gwyneth Paltrow in the lead. Anthony Hopkins and Jake Gyllenhall were in the cast.

But I was serving in the Caribbean at the time, and the local cinemas generally didn't get up to that level of Hollywood culture.

In my capacity as a truly naïve test audience, I was properly intrigued by the story of 23-year-old Catherine, who has devoted the last four years of her life to caring for her increasingly psychotic father, Robert (Paul Mitchell Wright),a fiftyish University of Chicago mathematician known for revolutionary discoveries at an early age.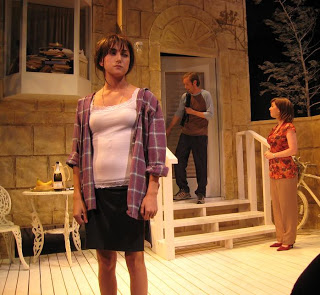 It's a coming of age story, with the sharp, despairing Catherine (Hailey Tuck) doing battle with her father and with his ghost, with an admiring young assistant professor (Dusty Doering), and with her take-charge sister Claire (Emily Robinson).

My instinct suggested to me that this was going to come together by the close as a well-built play in which our heroine would come through reinforced and justified, which she did.

Both of my offspring have been undergraduates at the University of Chicago. That's why I was the only one who laughed aloud at certain of the references or the digs ("Northwestern – but that's so far away!"). But never mind that -- the play transplants well.

The set designed and lit by Peter Sukovaty is gorgeous. The meticulous craftsmanship, atmosphere and lighting are superior by far to most of Austin's productions, with the possible exception of some of those at the Zach Scott theatre.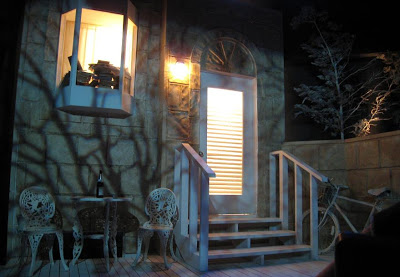 Above, for the opening the night time scene is done in a luscious blue light with shadows of imaginary trees. The bay window is a nice touch; the exterior walls of the house and the garden wall are carefully worked and textured to suggest real stone.

Later in the production another night scene gives one the opportunity to appreciate the grayed-out bicycle and wicker table, as well as the evocation of trees and street beyond the wall. At one point the police are called, sirens are heard and those trees are lit from below by a rotating red beacon to suggest the arriving patrol car.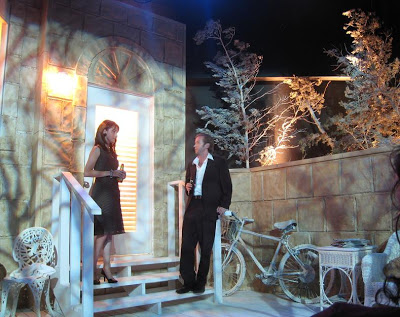 Sound design and costuming are equally high quality supports to the action.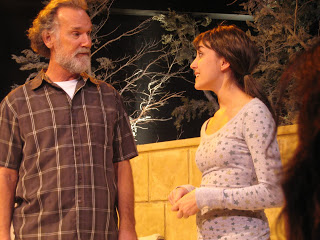 The leads here are Catherine the devoted daughter,who has a gift for math but is unable to continue her education, and her father Robert, whose presence in the opening scene is revealed to be that of a hallucination appearing to his daughter in the days following his death.

Hailey Tuck has fine command of her role. Given Catherine's legitimate discontents and her angry repudiations in the first act, it would be all too easy to make her a frankly disagreeable character. Tuck softens Catherine, giving her at times the self-absorbed lassitude of the truly lost. We never share her expressed apprehension that she might be tipping over into madness, as her father did; her behavior and speeches don't suggest such a falling away.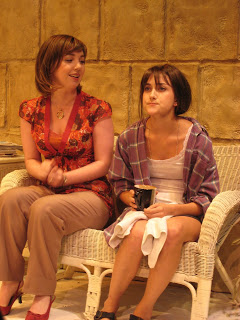 Catherine is sharpest with her older sister Claire (Emily Robinson) but that can be read as legitimate annoyance and the mutual goading of siblings. Robinson plays Claire with a curiously flat tone throughout, as if her younger sister had inherited all the emotional range in the family.


Dusty Doering carries well his role as the nice guy admirer of Robert and, gradually, of Catherine. He doesn't have quite the heft of a 26-year-old academic, but that's no fault of his. His is a fairly vanilla role, a necessary mechanism in the plot as Catherine pulls free of her father and moves to establish herself. We like him and we understand why Catherine turns to him.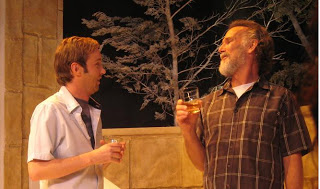 Paul Mitchell Wright as the distracted father, Robert, modulates between extremes -- on the one hand, the affectless intellectual unable to express his affection directly, and on the other, the recovered schizophrenic who realizes with patent horror that he is tipping back into the abyss.

Wright teases us a bit in his program bio, challenging us with a word problem involving tearing and stacking sheets of paper (let's see, that would be, um, .003 inches to the 51st power, wouldn't it?). He says that he's a professor of mathematics (like the character he plays). What he doesn't reveal is that he's an actor based in Austin with a lengthy resumé including TV work and theatre acting at most of the town's principal venues.

This is real theatre, worth a whole lot more than the $6 price of admission to the general public. Thanks to director Shelby Brammer for bringing together this cast and crew.

It prompts me to look forward to ACC's next undertaking, the November 14 – 23 production of Euripides' last work The Bacchae, a study of the extremes of religious intoxication that one critic has called "rich, strange, and in places horrifying." Now, THAT will be an interesting stretch!

---
Proof
by David Auburn
Austin Community College
Fridays-Sundays,
October 10 - October 19, 2008