Review: Memphis, the musical by Woodlawn Theatre
by Kurt Gardner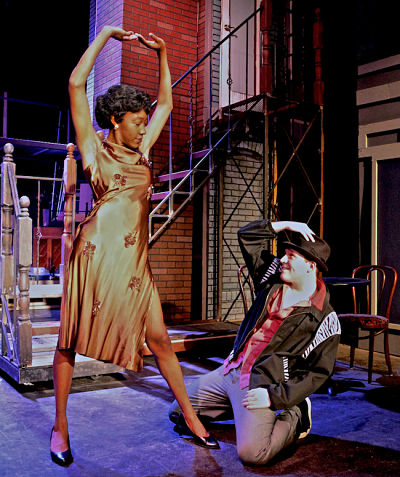 Continuing its ongoing tradition of tackling big Broadway musicals, the Woodlawn Theatre brings the sprawling, Tony-winning musical Memphis to its stage, marking another success for this ambitious company.
Set in the titular Tennessee town in the 1950s, this is the story of Huey Calhoun, a white high school dropout who parlays his love of rhythm and blues into a career as a boundary-breaking DJ at a time when African-Americans were still treated very much as second-class citizens.
Huey infiltrates the black community and gradually gains its acceptance, even winning the affection of Felicia Farrell, a beautiful singer he promises to make famous. Although they're bound to face many challenges from prejudiced folk on both sides of the color line, including Huey's own mother, it's all about the music.
Joe DiPietro's by-the-numbers book lays out this plot as efficiently as possible in order to get to said music, composed by Bon Jovi's David Bryan with lyrics by Bryan and DiPietro. This show's got plenty of it –- 22 numbers, as a matter of fact, and if it eventually feels like too much of a good thing, the attractive leads and high-spirited performances help to maintain a level of energy that rises above the clichés.
Brian Hodges, last seen onstage at the Woodlawn in Rock of Ages, is endearingly charismatic as Huey. He is well-matched by the fabulous Marie Warren Bunch as Felicia. Also good are Edward Burkley as Felicia's protective brother, Delray, and David Blazer as Mr. Simmons, the radio station owner who gives Huey his first break. Anna Gangai is fun as Huey's mother, Gladys, who is at first horrified by his actions but gradually becomes a believer. Kenny Patterson and Walter Sanders III round out the leads with solid performances.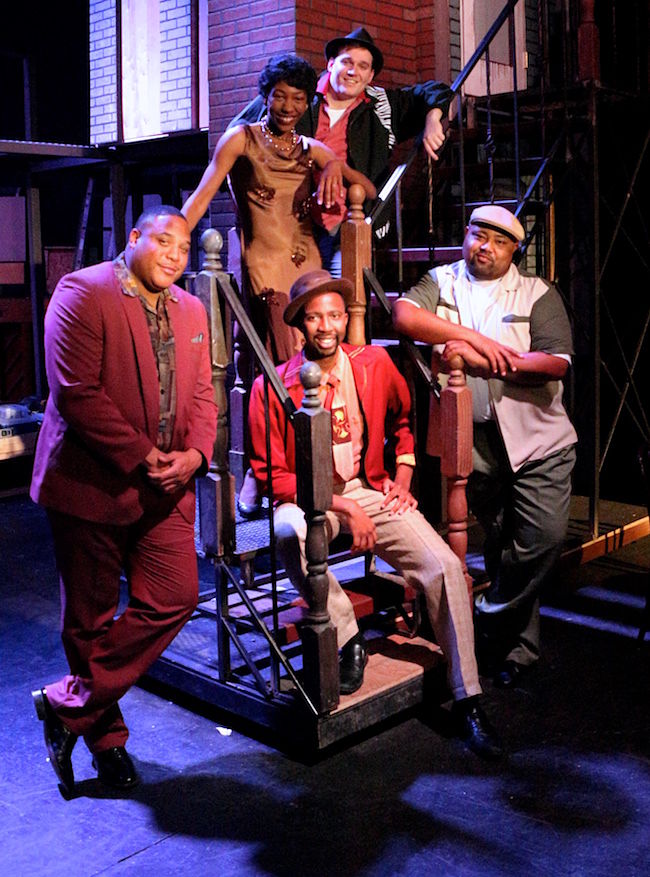 Rebecca Trinidad directs the complex show with a capable hand. Josh Pepper's eight-piece orchestra provides rich accompaniment, and the Woodlawn's solid ensemble is well choreographed by Alonzo Corona. Visually, it's a stunner. Kurt Wehner provides an evocative, modular set that cleverly adapts for scene changes, and Rose Kennedy's period-perfect costuming is terrific. When the performers are assembled onstage under Chris Muenchow's moody lighting design, it all comes together like a living work of art.
Memphis plays Fridays and Saturdays at 8:00 p.m. and Sundays at 3:00 p.m. at the Woodlawn Theatre, 1920 Fredericksburg Road. Tickets can be obtained online or by calling (210) 267-8388.
Kurt Gardner's reviews also appear in www.BlogCritics.com.
---
Memphis, the musical
by David Bryan and Joe DiPietro
Wonder Theatre (formerly Woodlawn Theatre)
Fridays-Sundays,
April 08 - May 08, 2016
To purchase tickets visit www.woodlawntheatre.org/tickets or call 210-267-8388. Box Office is open Tuesday - Friday 10 AM - 5 PM and an hour before showtimes.
April 8, 2016 - May 8, 2016
Where: Woodlawn Theatre
Address: 1920 Fredericksburg rd. San Antonio, Texas. 78201
Times: Friday & Saturday at 7:30 PM, Sunday at 3:00 PM
Ticket cost: $17 Child/Student,$23 Senior/ Military, $26 Adult
Phone 210-267-8388