The Paper Chairs theatre collective has a reputation for innovative and experimental productions. In almost six years of existence the company has gained skill and recognition in the Austin theatre scene, and MAST by Artistic Director Elizabeth Doss may prove to be its strongest edge-dancing production yet, and artfully produced.
The play has at its core incidents and relationships in Doss's family tree in World War II and the generation that followed, but one wouldn't call this a family play. It's more about characters moving into and out of relationships, apparently mostly by accident, and coming unstuck on the planet through the course of their lives. Avoiding the overused theme of the scattering of lives in global war, Doss uses the ocean as her overarching metaphor. Lives drift, drown, sail or find new lands.
Character and dialogue in this world are unavoidably surreal and not by accident. In a recent interview, Doss explained her approach: "…in my writing I'm interested in this idea of surregionalism, this idea that particular regions and places evoke or elicit this feeling of their own language, their own vocabulary, their own vernacular and dialect. And feeling the peculiarities of a time and place is something that historically Paper Chairs has always been interested in."
MAST achieves a measure of success in this ambitious approach to playwriting. Dialogue scenes float on this ocean or slightly above it to create the island of Dominica, New York, or wherever. Part of the success is due to Director Diana Lynn Small's aesthetic sense: "The concept is similar to those times we've all had when we open a family photo album, and there are four photos on the album page; it's the same people, but they are in different places: Grand Canyon,a living room birthday party, at the pool, the trip to Nicaragua. So you're seeing the scope of a life, but in a really diverse arrangement of events. That's what will be happening on stage—different scenes totally dependent on one another, moving furniture from room to room. And also totally changing."
The play is wedded to surrealism in a fresh way. Scenes seem to float in and out, as in one's own memory. And for those not particularly fond of surrealism in any way at all, there's good news: the scenes change smoothly, without any stultifying delays to provoke clock watching and thoughts about that next glass of wine. This is a credit to Small's directing. While MAST follows the new Austin fashion of having the actors change the set pieces and props between scenes, in MAST these changes are performed in integration with the scenes as dialogue is delivered. All too often in other productions our disbelief has been disrupted when actors drop character after finishing their speeches so they can lug the couch off the set in full view of the audience. Kudos to MAST and Paper Chairs for finding a better way.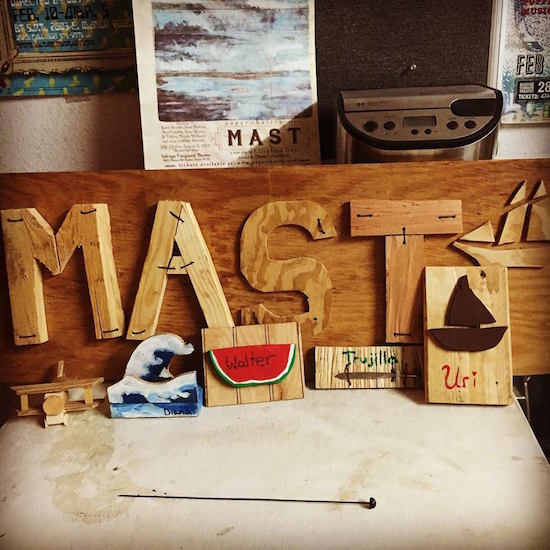 The creatively efficient cast is led by Katie Bender, who plays the central character, Ann, with commitment, skill, and nuance. Noel Gaulin portrays Rafael Trujillo, the monstrous mid-twentieth century dictator of the Dominican Republic, with the high gift of creative movement that never telegraphs the next gesture. Gaulin's performances constantly surprise and never rely on stock movement repertoires. Jesse Bertron, Sean Francis Moran, and Tiffany Nicely-Williams complete the talented cast.
Playwright Doss, author of the very well received Murder Ballad Murdeer Mystery (Tutto Theatre, 2009), is currently in the MFA playwriting program at the University of Texas at Austin. Lisa Laratta designed and built the imposing, space-defying set with the assistance of Technical Director Mason Baker and Hank Schwemmer (full disclosure: this reviewer was an assistant scenic painter on the set).
Outwardly simple, the set presents a vista of the ocean; and above it reaches an immensely deep, luminous, and somewhat turbulent sky. The titular mast projects from the waves stage left. The set concept materialized first as the painting that became the poster illustration for the show. The water as represented owes much to Anselm Kiefer, the German abstract artist who deliberately seeks to address unresolved issues in history in a style termed New Symbolism. As Laratta explains it: "It started out as this idea of Ocean. And it came from a lot of Anselm Kiefer paintings; he does a lot of water pictures. I was interested in his textures, his painterly textures of water. And so I just kind of jammed on that. But I also wanted it to look not at all new. I also wanted it to look sort of like an old map, yes."
Whatever the start, the finished set gives the audience the sense of being able to see from the Dominican Republic to west Texas and the idea of the ocean as the solvent of all issues of personal and world history. Playwright Doss agrees: "I think this is why you can say literally and figuratively and physically that this play is all over the map."
Natalie George uses naturalistic lighting sets that shift to the surreal, from sunny Dominican beaches to electrical storms that simultaneously illuminate the seas and the interiors of characters. George exercises her powers deftly. Numerous surprises senlighten us all the way to the final searing scenes, but they always match the emotional tone of the action, never leading it or straying from it. Similarly, Mark Stewart provides his live performance of the music he composed for this surreal show. Stewart prefers bass undertones to complement the action, creating an often portentous atmosphere, with the occasional storm. Altogether, the design fields showed excellent artistic choices and skillful realization.
MAST will satisfy all varieties of theatergoers, and it will win new friends for surrealism in the theatrical, literary, and visual arts. All of this is in addition to providing a darn good night of theatre.
MAST runs until August 8th at the Salvage Vanguard Theatre on Manor Road in east Austin.
---
MAST
by Elizabeth Doss
Paper Chairs
Thursdays-Sundays,
July 23 - August 08, 2015
Thursdays - Sundays at 8 p.m.
$15-$25 sliding scale general admission
ticket link, facebook, & more - coming soon!
or call 512-686-6621