Review: Hamlet by Sam Bass Community Theatre
by Michael Meigs
Why climb a mountain? Because it's there.


Sam Bass Community Theatre in Round Rock is a small, hard working group of friends who know their public and regularly serve up dramatic fare that's been tested and approved in the community kitchens across the country. Those Futrelle sisters of the mythical small town of Fayro, Texas, imagined by the trio of Hope, Jones and Wooten, for example; or other kinder and more thoughtful staples of middle class dramatic life. The company does a good job on their tiny stage and the familiar faces satisfy and console.


About once a year they stretch. Not a little, but a lot. In 2008 with Romeo and Juliet and in 2010 with Waiting for Godot, Samuel Beckett's mid-20th century absurdist existentialist masterpiece. In 2011 with Frank Benge's magical steam-punk Tempest Project, memorably designed by Kevin Scholtes. This year director Lynn Beaver takes on the Mt. Everest of English-language theatre, the story of the much-wronged and much-haunted prince of a Denmark whot never really existed except in imagination.


In the compiled version that has come down to us, Hamlet is Shakespeare's longest text, more than 4000 lines of unforgettable verse that takes more than four hours to play entire. Just about everyone knows the story. The language, expressions and imagery live deep in the shared culture.
Beaver's version at the Sam Bass plays start to finish in two hours, including an intermission. Key scenes are there but in order to achieve that concision the text has been amputated again and again. Those who know it only vaguely won't be disturbed, for the story remains as strong as ever, but devotees of Shakespeare's language may experience the gaps as disconcerting.
This text begins in the throne room with I, ii, where Frank Benge as Claudius dominates with mien and presence of a man-mountain. He and Susan Poe Dickson as Gertrude pronounce Shakespeare's lines for the royal couple with a grace, scansion and spontaneity that ennobles both them and the verse. They achieve here and throughout the text a level of mimesis that demonstrates deep understanding of text and character.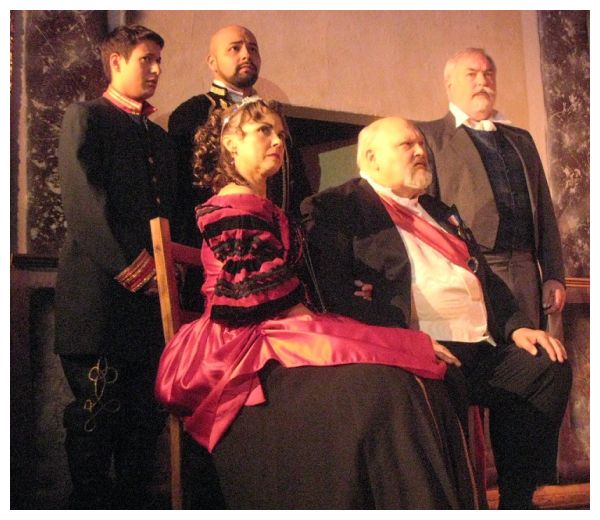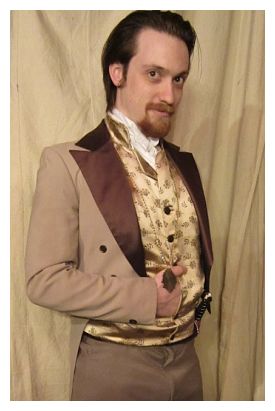 Kevin Scholtes' Hamlet is a puzzle. He has his lines down pat but he delivers them in rushed contemporary prose. In a play that at its heart is about uncertainties and indecision this Hamlet has the bounce of a Marvel Comics hero. No 'inky cloak' for him and never the slightest touch of black, either; costume designer Veronica Prior has given him a luscious set of Edwardian threads in tans and creams, including a voluptuous silk waistcoat.
Nathaniel Reid as the ghost of Hamlet's father appears as a shimmering white apparition back-projected live on the curtain deep stage cente. It's a fine effect.
Anthony Bain and Greg Garcia as Rosencrantz and Guildenstern give us good account of those well meaning comrades, as does Justin Elliot as Laertes. The much appreciated Gene Storie is a predictable old duffer of a Polonius, stressing self-important foolishness. Though Ken Ramsey's role as the gravedigger clown has been greatly reduced, he does an affable job of it.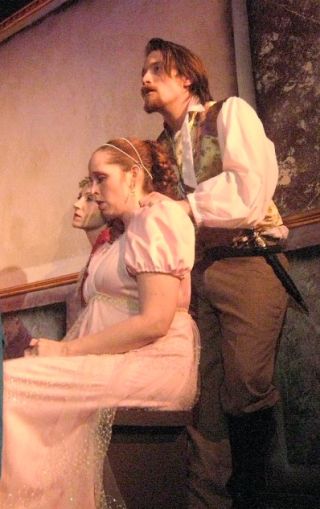 As Ophelia, Dyan Green is watchful, disappointed both by her father Polonius and by that smooth-talking rascal Hamlet. She is vulnerable and appealing, qualities that show most strongly in the 'Mousetrap' scene and in the mad scene. Shakespeare's verse flows sweetly from her lips.
Returning to the opening question: what, exactly, is Hamlet? Why do Hamlet?
UT philosophy professor Paul Woodruff in his 2008 book The Necessity of Theatre from Oxford Press begins his treatise with a similar question, pushing it to absurdity by positing a Hamlet put on by middle school children, one that's modernized, altered and performed in somewhat haphazard fashion. He's seeking to identify the essential elements of theatre. After eleven pages of entertaining discussion, Woodruff posits that Hamlet, the theatre piece, consists of four essential elements. Summarizing these:
The player performs in a measured time and place. This makes the event a theatre piece.
Although the tradition of Hamlet has been broken, repaired, invented, the performance is causally linked to Shakespeare's production of the play.
Hamlet must show someone who is in a certain situation that calls for choice (a plot). . . .The player must take action, on the basis of choices shown on stage.
Hamlet must be performed as a character and must be granted a certain kind of attention from the audience indicating its willingness to see the actor as the character in the full sense.
The Sam Bass production meets and indisputably far surpasses those admittedly indulgent criteria. This evening at the old railroad depot on Lee Street, however short, is certainly Hamlet and it's an effective, gripping presentation of the great archetypical drama.
The question that interests me more is the other one: why does a community theatre do Hamlet? With limited resources, available talent and a community audience, they cannot hope to equal the great performances, many of which are available on film.
Certainly, there's a laudable teaching aim, the desire to acquaint their audience and supporters with this enduring piece of dramatic art. But that's not everything, and I think that it's probably not the essential motivation.
Doing Hamlet, doing Macbeth, doing Romeo and Juliet, doing Waiting for Godot -- these are immensely rewarding experiences for an acting company. Assimilating oneself with these characters, with their plights, their struggles and their emotions can become transcendent. There comes a time late in rehearsal and then in performance when the company enters that sacred space.
And then, ducdame, ducdame, by a pricking of our thumbs, something wonderful this way comes. The Sam Bass company is there, Thursdays through Sundays, through March 3.
EXTRA
Click to view the program for Hamlet by the Sam Bass Community Theatre
Hits as of 2015 03 01: 1522
---
Hamlet
by William Shakespeare
Sam Bass Theatre Association
February 10 - February 03, 2012