Review: Field Guide by Rude Mechs
by Michael Meigs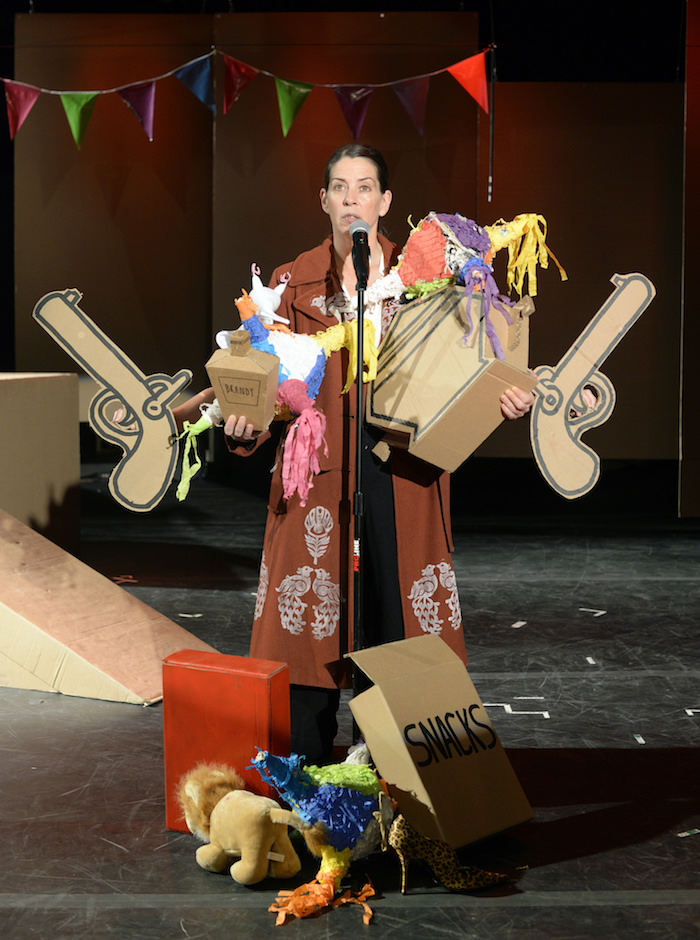 Field Guide is odd and arrogant, qualities with which the Rude Mechs are entirely comfortable. On a commission from Yale, they've undertaken to interpret in MechStyle the classic metaphysical thriller of the Western canon: Fyordor Dostoyevski's The Brothers Karamazov. And as Lowell Bartholomee breezily avows, most of them haven't bothered to read the whole novel.
What you get is a sort of SNL/Idiot's Guide enactment of Dostoyevski's plot done with animated cardboard set pieces and two-dimensional cut-out props with labels,. The narrative is prefaced, interrupted and epilogued with grimly unfunny first-person solo numbers by company members. And loud music for disco dancing and karaoke.
The Rude Mechs are aficionados of irony -- remember their Method Gun with its creation of the mythical theatre company that had stripped all the principal characters out of A Streetcar Named Desire? Compared to this beta 2.0 version of Field Guide, that was a subtle intellectual exercise. For this outing they grab that big brooding intellectual Russian novel, rip off the covers and send it sailing across the room.
What's going on here?
It looks to me as if the Mechs are sassing the whole of current American and Western popular culture.
Dostoyevski was grappling in fevered isolation with the enormous issues of good and evil, the holy and the degenerate, faith and nihilism, free will and predestination, family duties and selfishness, sex and death. His voluminous novel pushes those huge themes and many others in your face in a long and convoluted account. It includes not only a patricide but also the famous tale-within-a-novel The Grand Inquisitor in which the ecclesiastical avenger rebukes the returned Christ as an unneccessary obstacle to the work of the Church.
Even Wikipedia notes that The Brothers Karamazov "has been acclaimed as one of the supreme works of world literature," in case you need the authoritative judgment. It was the novelist's last work and his last word, for he died four months after finishing it.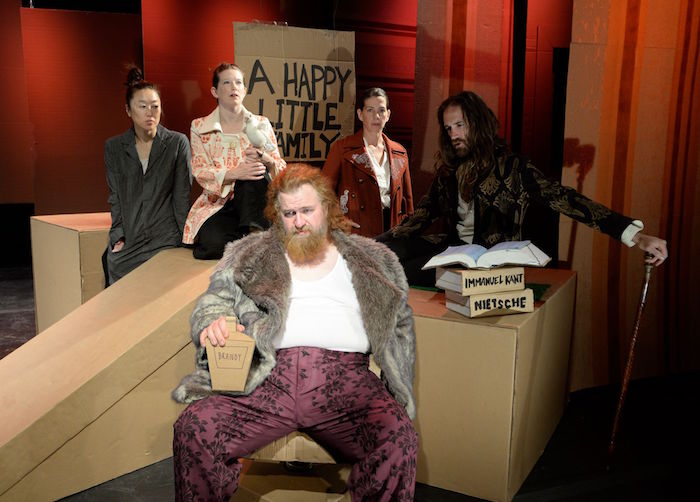 So when's the last time you contemplated those huge issues? Or any one of them? Say -- have you even read The Brothers Karamazov?
Gotta admit to you that I have just enough fingers on one hand to sum up the decades that have passed since I groped my way through the grim passions of Dostoyevski's fictional world. And that's only if I use most of my thumb for the calculation.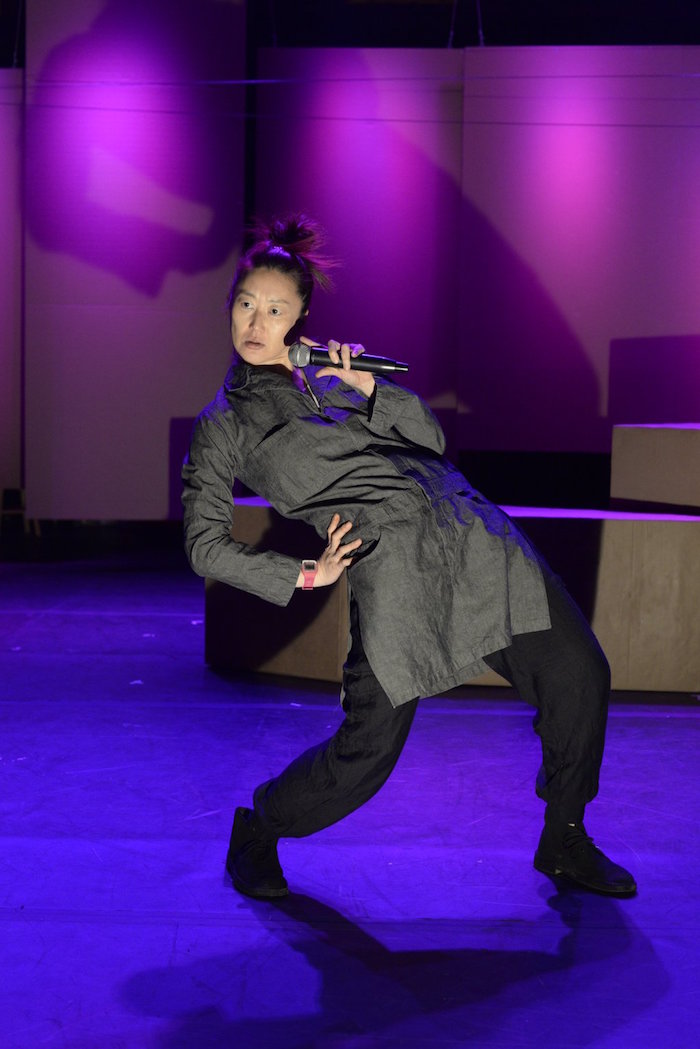 Hannah Kenah opens your sojourn in quasi-Karamazov land by taking position at center stage and delivering a lengthy live-mike routine, frozen-faced and with uninflected voice, offering some grimly awful first-person stories that sound like comedy club jokes dying on their feet. Later on you'll get periodic additional first-person interruptions. Robert S. Fisher gives an affable solo making fun of Brits and sings a bleak little ballad. Bartholomee comments on the Rudes' preparations for the show and his own appearances as the degenerate father and as the unexplained man in a bear suit. Mari Akita mangles a truly deplorable joke about Jesus and masturbation, recites a lengthy passage in an Asian language and does an elaborate karaoke number to Latina-hot stage dance. Lana Lesley winds it up, huddling against the wall at stage right and speaking as if she's in the deepest, blackest well of depression.
Those numbers interrupt their acting out of major plot events from the novel. Rude style is wild and the cross-gender casting can be confusing. Kenah, so grim in the opening moments, appears both as the quietly earnest youngest Karamazov Alyosha who's a novice in a monastery and also as the loud, dizzy and gleeful party girl Grushenka, focus of both father's and sons' violent carnal passions. Thomas Graves, the cerebral, rational Ivan, also appears as a lean and barely clad go-go boy in one of the dancing numbers. Graves gives a relatively straightforward recounting of the tale of the Grand Inquisitor, one of the few passages that's pretty much faithful to the novel. He does so while seated in a hot tub with Alyosha, spotlighted and with his face framed by a circular cardboard frame. Lana Lesley appears as Dimitri the sensualist.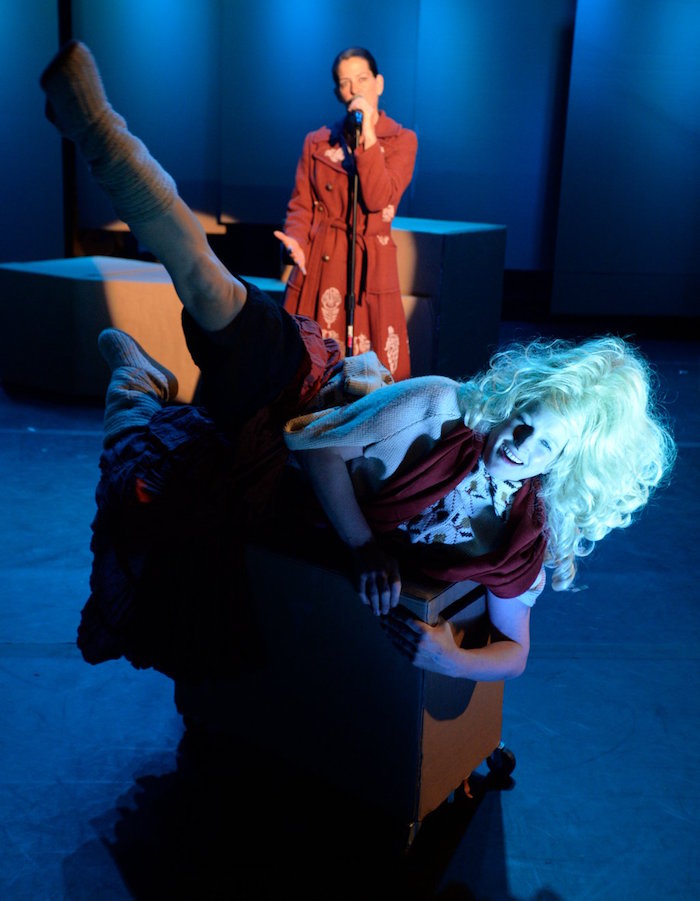 You can settle into your seat and just catch it as they fling it at you, but I suspect that these gremlins are really trying to make you think. Maybe not about the Big Issues themselves, but certainly about the pathetic preoccupations so typical of our everyday. They mirror our shallow narcisscism and our willingness to give attention and approval to glib patter, flashy movement and self-absorption.
Field Guide is less a Baedecker of the soul than an evisceration of Dostoevski's lengthy, coherent and challenging examination of it. There's no map here, unless you grasp for their cartoon versions of the Karamazovs; what the Rudes are demonstrating to you is the unavoidable truth that an unexamined life is really not worth living. And that we're examining our own lives almost not at all.
EXTRA
Click to view the program for this second workshop version of Field Guide by the Rude Mechs
---
Field Guide
by Rude Mechs ensemble
Rude Mechs
Thursdays-Sundays,
April 07 - April 30, 2016
Off Center
2211-A Hidalgo Street
near Robert Martinez and E. 7th Street, behind Joe's Bakery
Austin, TX, 78702
Presented Thursdays - Sundays at 8 p.m.
Field Guide's opening weekend, April 7 – 10, is presented by Fusebox Festival. Fusebox Festival events are free to attend (yes!). You can make your reservation for Field Guide, or any of the other amazing festival events and performances through their website.
For the rest of the run, April 14 – 30, you can get your tickets right here.
Tickets are $25 on Fridays and Saturdays.
Tickets are Sliding Scale $5 to $25 on Thursdays and Sundays.
You will receive a receipt via email from support@artful.ly. Check your spam folder. If you did not receive a receipt, you do not have a ticket. Email us if you want us to check for you. It's easy. We are happy to.
A waiting list will begin in person at the box office one hour prior to each performance. Unclaimed tickets will be released to the waiting list at 7:55pm.
We can refund tickets and we can exchange tickets for a different performance if there are seats available. We cannot do either of those things within 24 hours of the performance in question.
Your tickets are transferrable to another person – you just need to email us and let us know their name (the reservation will stay under your name). If we don't have the name, we can't let them use the ticket.