Review: Death and the Maiden by Sam Bass Community Theatre
by Jeremy Moran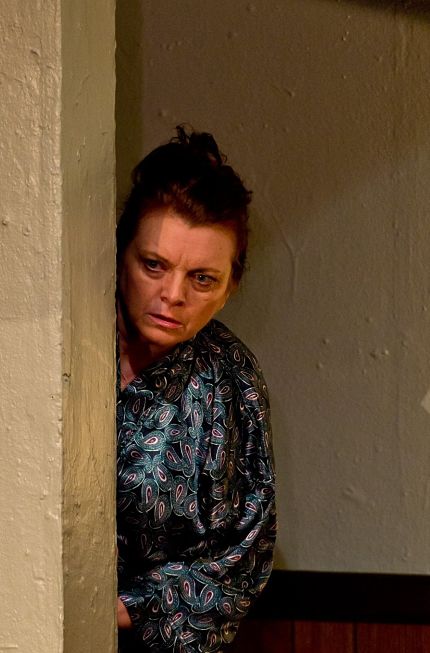 Ariel Dorfman's Death and the Maiden is not a literal ghost story, and yet there are ghosts hidden behind every corner of the action. These are the ghosts that linger in the lives of survivors of horrific human rights abuses the world over. They will forever hover over the life of Paulina Escobar (Cathie Sheridan), who was kidnapped, blindfolded, raped, and tortured by a sadistic, psychopathic doctor under a totalitarian government in an unnamed country (based on Chile). She can never again listen to the Schubert piece of the title because that was the music the doctor played as he violated her body. She lives in a constant state of fear and horror.
Now she finds herself in the horrifying situation of seeing her abuser's face for the very first time and in her own home, no less.Her husband Gerardo (Robert Stevens) has invited him to stay the night as a thank you for helping him out during a road accident. Paulina does not know what he looks like, as she was blindfolded throughout her captivity, but she;s terrified when she knows without a doubt that this is the guy. She knows his smell. She knows the feel of his skin. She knows his fondness for using weird phrases like "teensy­weensy." She knows that his name is Dr. Roberto Miranda (Frank Benge). This is absolutely the man who raped her fourteen times to Schubert's Death and the Maiden.
Rather than cowering in fear, she turns the tables on him. She ties him to a chair and symbolically stuffs her underwear down his throat. She then forces him to listen to her recital of every disgusting act of abuse that he inflicted on her. She refuses to let that torture destroy her. She cannot make the ghosts disappear, but she can defeat them.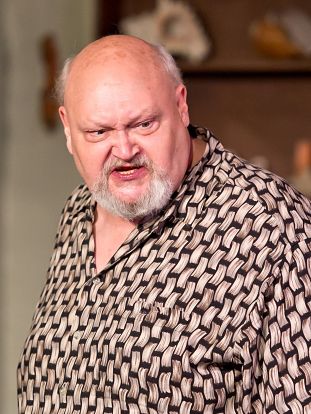 What follows is a brutal examination of a culture that seeks to disempower, discredit, and demean women. The setting may be based on Chile but that country is never explicitly named, and these events can happen everywhere. Her husband Gerardo, the only person to whom Paulina can go to about this, refuses to believe her and worries that this situation will affect his professional standing as a new member of the presidential commission. She can't go to the authorities. She knows that nothing would happen, particularly because Roberto is a powerful man. Nobody will believe her story or offer support. In this patriarchal society that protects those who use their power to abuse, Paulina must take matters into her own hands.
Cathie Sheridan summons rage from a deep pit as she portrays Paulina's determination to not be broken by her trauma. Never for a second does she allow Paulina to become an over-­the-­top madwoman. All of her extreme actions proceed logically out of her burning hatred of her abuser. She establishes this the moment that she turns a gun on Roberto and fires a shot into the wall. The weapon in her hand actually goes off and it's completely startling. The audience wonders if she has another shot in there as she continues waving it around, and we become fearful of what she is going to do next. In quieter moments Sheridan seethes as if slowly breathing out a deep, sad stream of rage that never ends. When she cries, her tears are not those of a weak being crumbling in the face of fear but those of an empowered person using every single thing she has in order to obtain justice. This is one of the most realistic and affecting portrayals of post-­traumatic stress syndrome that I have ever seen, particularly in the final moments where Sheridan's silent scream is in her eyes. She doesn't actually utter a word.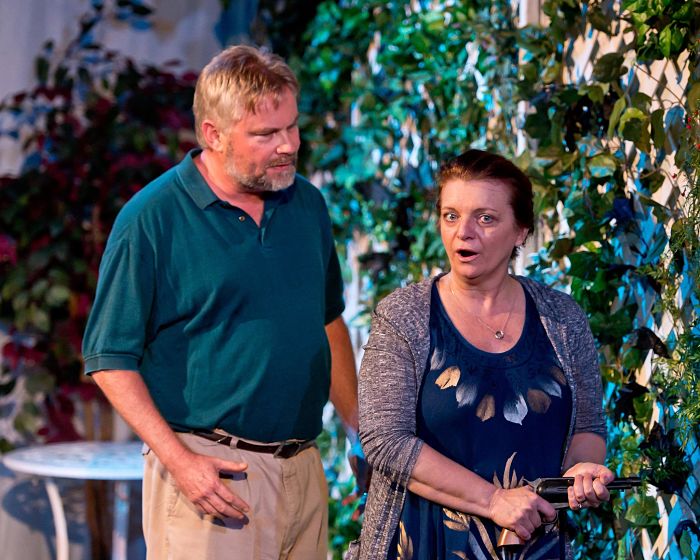 Robert Stevens plays Gerardo as a cowardly worm of a man so terrified of jeopardizing his life and career that he never dares takes a stand on anything. He attempts to discredit his wife yet cowers and crumbles when she demands retribution. He begins to side with Roberto when things become too threatening. Stevens' performance was uneven and there were times when he seemed to be struggling with lines and seeking appropriate emotional reactions. He does, however, provide the only moment of levity in this heaviest of shows when he half­heartedly uses a comically large steak knife to threaten Roberto into submission, simply because Paulina demanded him to do so. His attempts to be menacing when he is not a menacing person actually garner a few laughs, hollow though they may be.
As Roberto, Frank Benge has the least number of lines, which may seem strange, considering how much text there is in this three-­character play. Benge spends much of the show with his limbs tied up to a chair and his mouth gagged, and yet he uses the rest of his body to project true menacing. In one scene between Paulina and Gerardo, Benge can be seen in the background subtly attempting to work his leg free, and effort that adds an element of suspense and menace. Yet he also shows Roberto as a charming manipulator who conceals his evil side so skillfully that, you do think that yes, he must be innocent. This is a realistic portrayal. Actual abusers are never Snidely Whiplash figures of pure evil. Benge's booming voice makes his monologue toward the end particularly terrifying.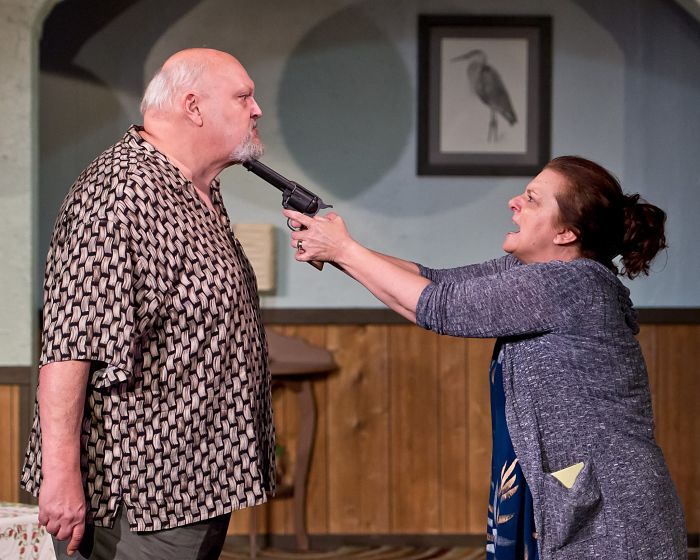 Director Veronica Prior keeps the action at a slow burn, building gradually to the big emotional beats rather than attacking them at full force. She uses light and minimal sound effects to create a relatively subdued mood. Ashley Sandel's lighting is very effective, illuminatinge Jim and Debra Mischel's detailed set with warm, restrained reds and oranges. Blackouts are often used to highlight drama, and some scenes are illuminated by candlelight in a very beautiful way. All of this makes the already small space that much smaller, creating a very intimate, harrowing experience.
I found it a very interesting choice to bring the lights up in full as assistant director/stage manager Lennon Loveday carried out scene changes. At first I thought it kind of weirdto highlight Loveday as she cleared tables and moved chairs, but over time it became a creepy motif. Loveday became a silent spectral presence existing outside the story yet physically changing the entire space for the characters. Am I reading too much into this? Maybe. Yet, the looming presence of Loveday has stayed with me as a haunting, sad image of that which is there when you wish it was not.
---
Death and the Maiden
by Ariel Dorfman
Sam Bass Theatre Association
Thursdays-Sundays,
May 27 - June 11, 2016
Thursdays - Saturdays at 8 p.m., Sundays at 2 p.m.
Info, reservations, tickets available at the website www.sambasstheatre.org.
Death and the Maiden will play the Sam Bass Theatre Old Depot Stage, located at 600 N. Lee Street in Round Rock, from Friday, May 27th thru Saturday, June 11th 2016. Performances are Thursdays, Fridays, and Saturdays at 8:00 pm and Sundays at 2:00 pm.
Tickets are $18.00 for adults and $15.00 for Students and Seniors. Tickets are also available for the opening night performance and gala for $20.00 and include a light buffet with champagne toast and cast meet and greet to follow the performance.
Please visit www.sambasstheatre.org or call 512-763-7228 to reserve seats.