Review: Cat on a Hot Tin Roof by En Route Productions
by Michael Meigs
Austin's May rains raised more mosquitoes that you'd find in a Louisiana bayou, so En Route Productions ran the first weekend of its subtly powerful Cat on A Hot Tin Roof at the Off Shoot, the Rude Mechs' rehearsal studio in East Austin. That wasn't as difficult as you might think. Tennessee Williams' 1955 Pulitzer Prize winner takes place in a single setting, and C.B. Goodman's simple box set was made to be portable. The production runs until the end of June, outdoors on the grounds of the Live Oak Brewery. It's not far or inconvenient, since the company's located just across Route 71 from Austin Bergstrom Airport, behind the Fast Park facility -- "seven minutes from taproom to terminal" is the company's website boast.
That follow-on location is likely to lend even more authenticity to the hot and sultry family doings that occur on a hot and sultry Louisiana cotton plantation long before air conditioning was commercialized. You're going to spend the evening in the upstairs bedroom of steadily drinking favored son Brick Politt and his wife Maggie. Secrets are hard to keep in this room. The walls are thin and the glassless windows over the bed at center stage give out onto the verandah. From time to time someone's inquisitive face will peer through them.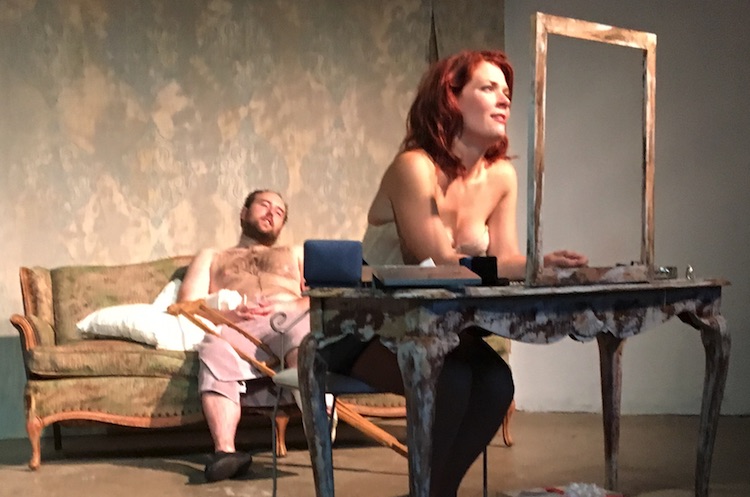 Williams' play is just as vital and gripping today as when he wrote it in Tangiers, Morocco more than sixty years ago. It seethes with emotion. When I first met it, both on stage and in the film version I was hypnotized by the sexual themes: Maggie's unashamed seductive carnality, Brick's numb impotence, the theme of love between men, and the suggestion of homosexuality that prompted Brick's closest friend Skipper to kill himself. Williams' own unapologetic homosexuality in a world of many closed closets added that much more exoticism.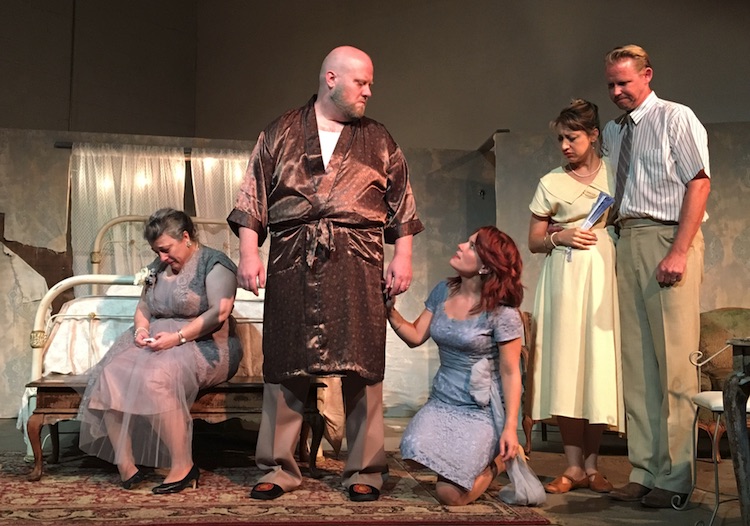 Although it's entirely subjective, seeing Cat on A Hot Tin Roof today, a good number of decades later, my attention is gripped by other themes. Maggie's still luscious and Brick is still crippled both by that broken ankle in a cast and by his existential misery, but I'm equally struck by the fumbling attempts of Big Daddy, angry and vicious most of the time, to find words to reach and counsel his favorite son. Big Momma, who previously seemed foolish and intrusive, becomes a figure of real tragedy in this production, moving from her attempts to conciliate members of this desperately divided family to the sudden unpitying revelation that death sits imminent in the fierce-tempered husband who rejects her. And lawyer-brother Goober and his pregnant-again wife Mae are less absurd and grasping to my eyes, for they're trying to bring some truth into this world of mendacity and move the rest of the family to confront hard decisions.
In the intimate setting of the Off Center and no doubt out there at Live Oak as well, there's a near-operatic pacing to this script. For much of the action Aaron Black as Brick is largely muted as others play extensively to him and against him. Williams gives Maggie the principal prose arias of the first act. Hannah Burkhauser gives us an energetic and playful Maggie, self assured and physical, a woman who delivers as jab or taunt a line that Elizabeth Taylor would have made a sweet-voiced sneer. We know that Maggie is self-interested, of course, but in her interactions with Big Momma she seems entirely sincere.
Zac Crofford's heft and glowering thrust as Big Daddy embody a man feared by all except his indifferent son Brick. Crofford appears considerably younger than the 65 years of the patriarch, but his enormous presence and power simply blow away that difference. In my new understanding of Cat on A Hot Tin Roof his lengthy interview with Brick is now the heart of the play. It is in fact a duet in which a father deceived as to his own health turns his attention to seeking to heal his son. This dialogue and the dynamic blocking of the action provide tough love, sudden reveals of background, a withering examination of immaturity and failure, revelations of secrets and a sudden glimpse of looming catastrophe. Crofford and Black are well matched here as irresistible force and immovable object.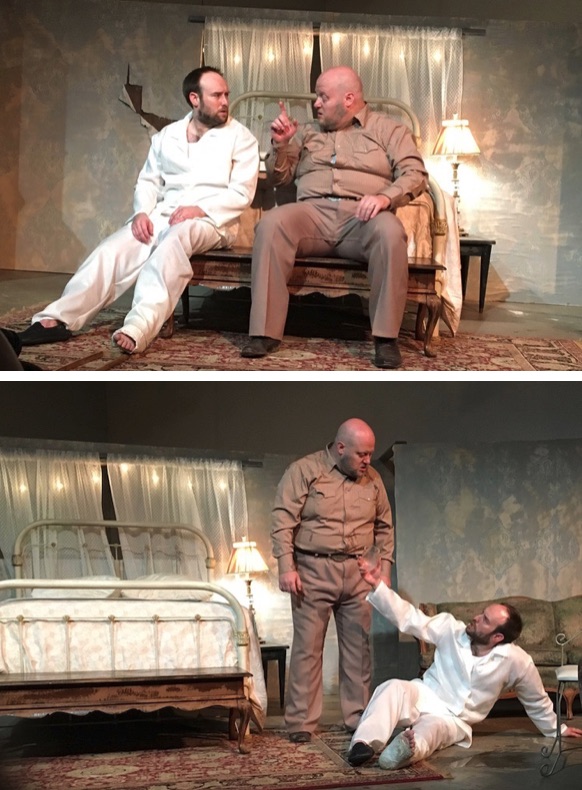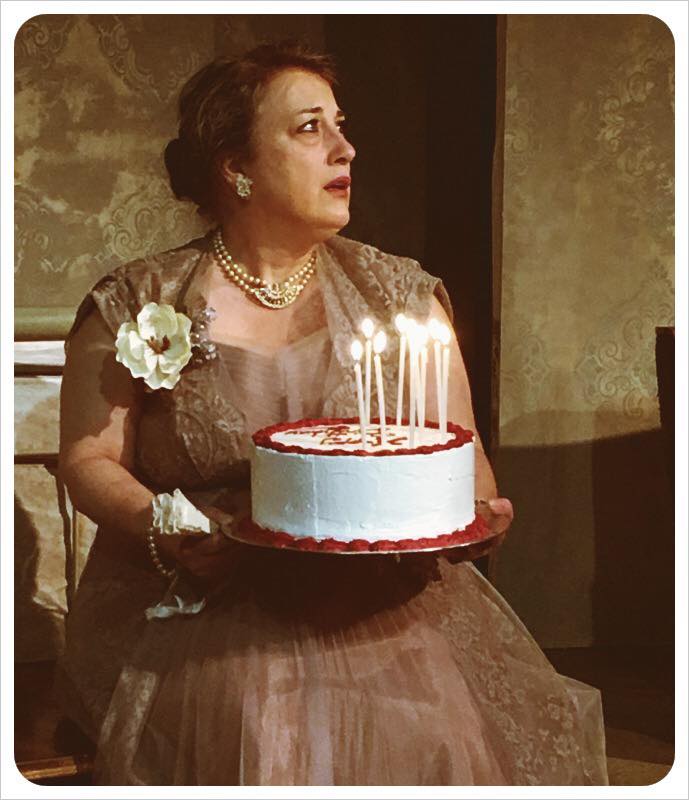 Ann Hulsman shows huge range in portraying Big Momma. Her affection and delight are thwarted but she works valiantly to keep the family occasion of Big Daddy's birthday on track. Later when Goober, Mae and Maggie sit her down for the truth about Big Daddy's medical condition, Hulsman goes through stages of confusion, anger, desperation and panic. It's a fine and deeply rooted performance, a scene in which she is center stage both literally and figuratively.
Goober and Mae, the less-loved son and his plain-spoken wife, are occasionally comic, particularly when they huff in frustration, but Dan Dalbout and Cassie Petersen make them no less real than other family members on stage. Petersen's inquisitive glances through the window say plenty about Mae. Dutifully tertiary and quick to disappear at the final crisis are Craig Kanne as the uncomfortable Dr. Baugh and Weldon Phillips as the Uriah-Heepish Baptist pastor.
Cat on A Hot Tin Roof is a close look at self-deception, deceit and regret, but not for an instant is it elegiac. Strong emotion and struggle sweep us up, for director Lindsay Doleshal keeps the action taut and compelling throughout. It's better than a job well done; it's a lost world brought to life and made acutely relevant.
Members of En Route Productions were associated with earlier Shakespeare-on-the-Farm productions offered for the past several years by Present Company at Rain Lily Farm in East Austin, and their first production was As You Like It at that venue. Producing artistic director Lindsay Doleshal aims high for this first contemporary outing, and this production is only the first half of it. En Route Productions will mount Williams' Sweet Bird of Youth in September at a location yet to be announced. Titled 'Southern Swelter,' this one-two Tennessee Williams punch is likely to leave a lasting impression on the Austin theatre scene.
EXTRA
Click to view En Route Productions' program for Cat on A Hot Tin Roof
---
Cat on a Hot Tin Roof
by Tennessee Williams
En Route Productions
Fridays-Sundays,
June 10 - June 26, 2016
Live Oak Brewing Company
1617 Crozier Lane
Across TX 71 from Austin Bergstrom International Airport
Del Valle, TX, 78617
Every Friday through Sunday in June, 2016; seating open at 7:30 p.m., curtain at 8 p.m.
Opening weekend June 3 - 5 at the Off-Shoot rehearsal studio at the Off Center, 2211-A Hidalgo Street; subsequent performances at Live Oak Brewery.
See En Route Productions Facebook page or enrouteproductions.com
Tickets $6.27 - $27.37 (fees included) via