Review: Belleville by Amy Herzog, Texas State University
by Michael Meigs
Amy Herzog's Belleville at Texas State offered a clever cross between an Innocents Abroad tale and a psychological thriller of deceit, confusion and crossed cultures. It's no sordid tale of crime; it's a story of loving too much and too blindly.
The protagonists are Abby and Zack, married during Zack's med school studies and now relocated to the mixed-ethnic eastern Paris suburb of Belleville. Zack disappears during the day for a residency with a French institute dedicated to children's diseases, while Abby, with very little French, does her best to stay occupied teaching yoga and shopping. They are in Paris, the city of romance, but they're strangely disconneced from it. Their only acquaintances are their landlords, French Muslims Aliouine and Amina.
Director Liz Fisher crafts Belleville in the round in the Texas State PSH Foundation Theatre. The short run last week was sold out from its Thursday opening on, due in part to the trigger warning circulated with its publicity: This play contains Partial Nudity, Violence, Sexual Content, Violence, Drugs, and Strong Language.
Well, what university student wouldn't want to get in on that action? I felt the same pull, but I had an additional motivation. I've followed Fisher's work for years, first as an actress and later as a capable and brainy director.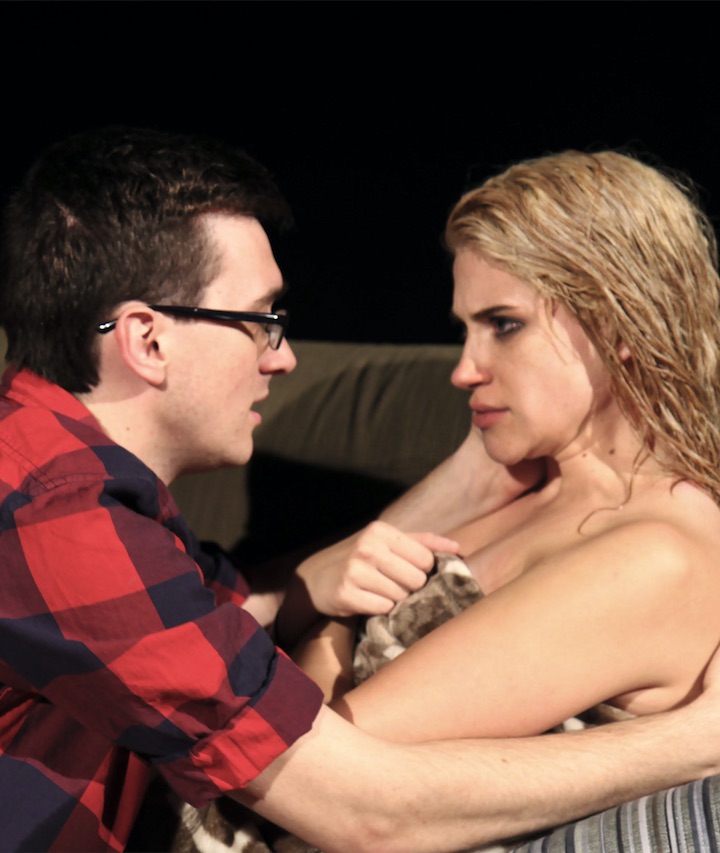 Stagecraft for a production in the round is radically different from the 'picture frame' composition necessary for a proscenium stage. With an encircling audience the director must lay out and motivate movements that disadvantage no sector of the audience. As an audience member you're going to have to accept that at times you're going to be seeing backs of heads, losing gestures and constructing your understanding of the action from a range of cues that must be more varied and complex than those presented within a picture frame.
Fisher guides her actors with assurance, and when emotion erupts toward the end, fight coordinator Toby Minor choreographs a thrilling struggle between Abby and Zack, both distraught and desperately co-dependent.
My only regret arises in part from those necessary techniques. No one in the audience is granted full admission to the astonishingly vivid acting of Kailey Hyman. Granted, her youth, form and energy make her attractive from any angle, and the costuming choices maximize those advantages. And the psychic breakdown of her character Abby takes its toll; the photo displayed here is from the concluding moments.
Hyman's deep investment in the role of emotionally fragile Abby was most evident in her face. Staging technique deprived us, for we could not continuously monitor the flickering of emotion in her eyes and features. In Belleville she demonstrated the charisma of an actress capable of evoking sympathy, pity, elation and panic in turn, all couched coherent in a character in search of resolution.
Jack William Rodgers as her husband Zack appeared at first as the earnest good guy, the solid foundation that would hold and protect Abby from all harm. But there's a disconnect and an evasiveness that grows more pronounced, particularly as the young couple deals with the landlord couple Alioune and Amina. Placing this action in France but excluding the typical French, playwright Herzog creates a double alienation. Anthony Hinderman as the landlord, wanting to be courteous but distressed by the couple's enigmatic status, was entirely convincing; Jordan Ford as his wife had the strength and impatience of a woman familiar with disappointment
With Herzog's ingenious plotting and delayed reveals, Belleville provides surprises and eye-opening shocks. None of them is related to the trigger warning; all arise from wishes and deceptions. Fisher and her capable cast and crew take us on a voyage into the far reaches of emotion. Hyman's final telephone call to her father in the States, spoken in tones completely drained and apathetic, closes the production with a moment of stony despair. . . after we have ridden with her on a long, wild ride.
EXTRA
Click to view the program for Texas State's prodution of Belleville
---
Belleville
by Amy Herzog
Texas State University
Thursday-Sunday,
November 10 - November 13, 2016
November 10 - 13, 2016
Showtimes are :
Thurs. Nov 10 - 7:30 pm
Fri. Nov 11 - 7:30 pm
Sat. Nov 12 - 7:30 pm
Sun. Nov 13 - 2:00 pm
PSH Foundation Studio Theatre

Individual tickets start at $15 for adults and $8 for students, and may be purchased by phone at 512-245-6500 or online at txstatepresents.com.