Review: Arden of Faversham by anonymous, City Theatre Company
by Michael Meigs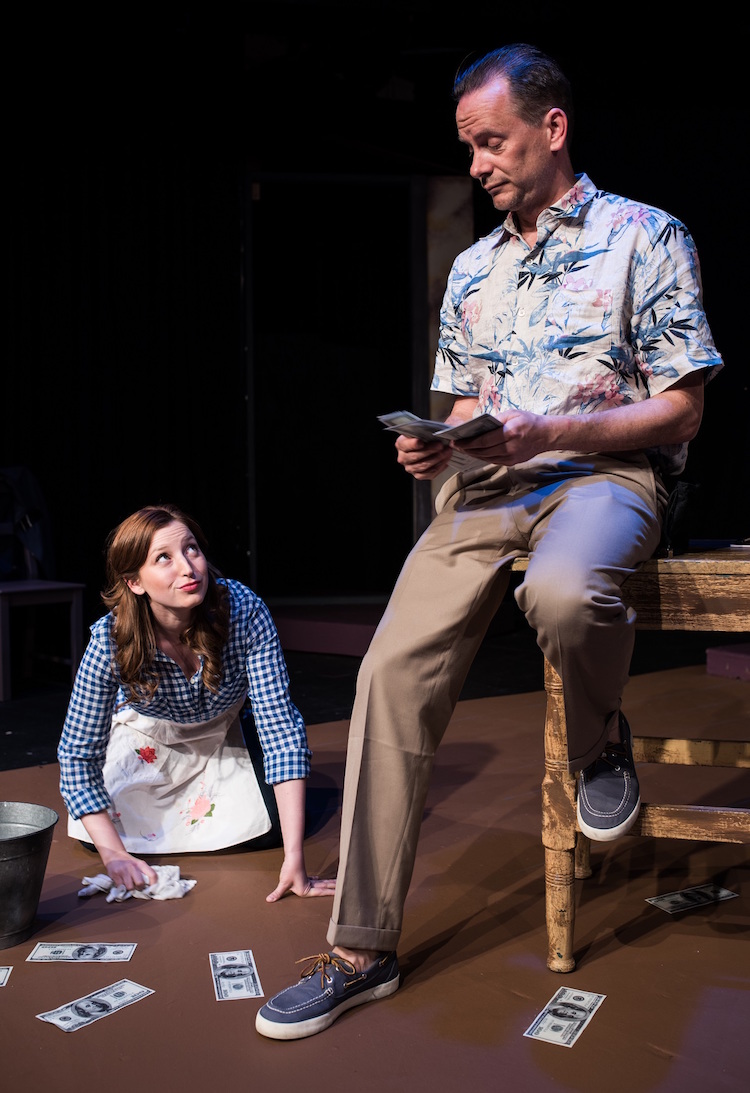 Wicked wives, stupid husbands, thugs and murder; what's not to like? Director Kevin Gates gives the 1592 drama Arden of Faversham a canny spin by setting it as a contemporary noir tale, accenting the timelessness of the theme. It was pulp fiction when printed in Elizabethan England, and it's even more pulpy now. The company plays it straight, giving it a wicked edge, keeping the comedy quiet but in plain sight as Black Will and Shakebag the hired murderers keep missing their target, Alice's prissy husband Arden.
Arden has the dark, salty-sweet flavor of a thick rope of licorice. Bridget Farias Gates is the beguiling and guileful Alice, earnest with her husband but deep in conspiracy with her lover. Her attitude makes sentimental sense, however wicked it may be. Arden, played by J. Kevin Smith, is querelous and neglectful of her. He has a curiously disconnected attitude, rarely meeting the gaze of any of the other players. Nolan Blair as Mosbie the lover is smoothly immoral; he imagines himself to be in control of the plotting, but Alice is the stronger character. Arden is a credulous fool as well. Early in the action husband and lover confront one another and exchange insults, coming almost to blows. Alice is so adept at dissembling and smoothing things over that Arden ends by inviting Mosbie to frequent the house while he travels to London.
The anonymous playwright gives us fantastical murder schemes and characters just as assorted to attempt to carry them out. The coffee poisoned by Alice is too bitter for her husband's taste. Mosbie finds a painter named Clarke (Levi Gore) who claims his art is so powerful that the very glimse of a portrait will kill the onlooker. House servant Michael (Cody Jenkins) tells his mistresses that he'll strike Arden down in London. Both Clarke and Michael have been promised the hand in marriage of Mosbie's sister Susan, played by Bailey Parker, as reward. A resentful landsman named Greene (Victoria Barton Rosenthal) plans to waylay Arden for usurping his property and collect a reward for murdering him.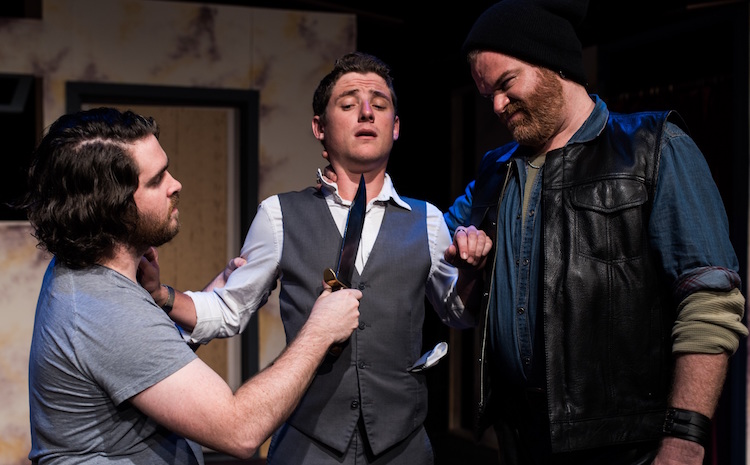 Beau Paul and Nathan Ford as assassins Black Will and Shakebag aren't picky about their methods, but they encounter plenty of obstacles that keep the murder plots humming along. Paul's voluble, imposing Black Will is the exact opposite of the quiet ole cowpoke he played this March in City's Bus Stop by William Inge, and the contrast shows he's a strong character actor. Ford keeps him company as the equally obstinate if somewhat duller henchman Shakebag.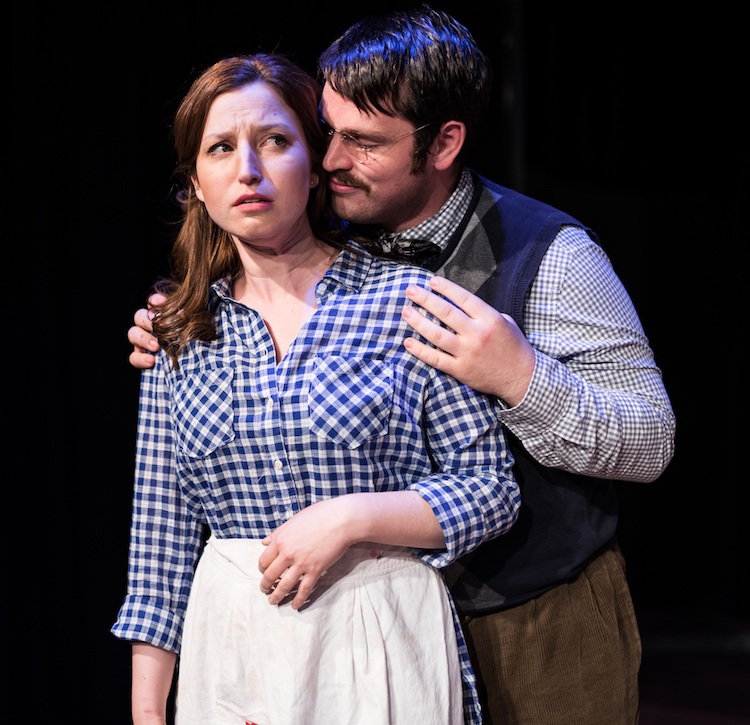 Arden is counseled and accompanied by his friend Franklin, and Gates adds some spice by casting Laura Ray in the role. This gives an entirely different flavor to Franklin's insistence to Arden that they'll 'lie together' in London and accordingly strengthens Alice's motive as a not so subtly scorned woman.
In keeping with public morals the playwright has to clean up the mess once Arden is finally done in. He resorts to the very late introduction into the plot of Lord Cheney, an acquaintance of Arden, who after the murder will become the examining magistrate. Robert Stevens as Cheney has little detecting to do, for the clues aren't scarce: blood on the floor, tracks in the snow, and even the fact that Arden's wounds begin to flow again when murderers come near. Cheney condemns to death just about everyone in Faversham, including one or two who are in fact innocent. Or nearly.
Elizabethan audiences were devoted to murder and revenge -- as, for example, in the contemporaneous The Spanish Tragedy by Kyd, done by the Baron's Men in 2013 with Stevens in the role of mad avenger don Hieronomo.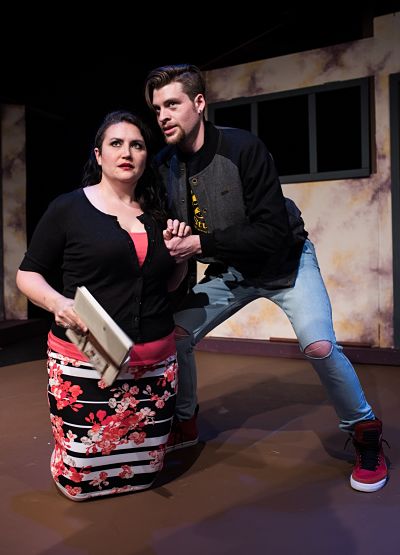 Arden of Faversham is a story of tawdry provincial intrigue based on a real and notorious 1551 murder mentioned in Hollenshed's Chronicles. It's full of incident that carries the story swiftly along. There's no mystery for us to solve since we're watching these plots from their inception, unless it's the puzzle of which effort is finally going to bring Arden down.
This is murder most foul, as in best it is. . . with no trace of Shakespeare in the plotting, character or language. Instead it offers a banquet of guilty pleasures and a dessert of the satisfaction of justice delivered.
EXTRAS
Click to view the program of City Theatre's Arden of Faversham

Click for the CTXLT review of the Hidden Room Theatre's 2014 staged reading of Arden of Faversham
---
Arden of Faversham
City Theatre Company
Thursdays-Sundays,
April 29 - May 22, 2016
April 29 – May 22. Thursdays - Saturdays 8:00 pm. Sundays 3:00 pm.
The City Theatre, 3823 Airport Blvd. Suite D. 78722.
General Seating $15. Front/2nd Row Reserved $20-25. Thursday all seats $10. Tickets at the door $20. Group and student discounts.
Advance tickets sales $18-$30 plus service fees, including VIP seat reservations, at