Apr. 29 - May. 22, 2016
Thursdays-Sundays
For the quiet, little town of Faversham, it never knew what was about to happen...
The City Theatre is thrilled to present the notorious - and hilarious – homegrown dark comedy thriller Arden of Faversham written by, well, we're not for sure. In fact, no one is, which makes the scandal that shocked a small England town much more fascinating. The production runs Thursday through Sunday, April 29 – May 22 at City Theatre, Austin.
"When was I so long in killing a man?" – Black Will
No one knows who wrote this deliciously dark and funny Elizabethan crime drama, though claims have been made for Christopher Marlowe, Thomas Kyd, and even the bard himself, William Shakespeare. Whoever it was, he (or she) appears to have been memorably bitter and twisted. Based on a real-life homicide that shocked England in 1551, the production chronicles an unfaithful wife who, in concert with a lover and two floundering hit-men, sets about murdering her powerful husband. Murder. Greed. Adultery. Lust. Colorful criminal conspirators. Do they succeed? No spoilers, if that's possible for a play that is over four hundred years old.
"Gentlemen, we hope you'll pardon this naked tragedy wherein no filed points are foisted in to make it gracious to the ear or eye. For simple truth is gracious enough, and needs no other glossing stuff."
This rarely performed production has been given new life! Fully staged and produced, and with a distinct contemporary twist - part Elizabethan theatre, part Tarantino and Coen Brothers – the show is led by guest director Kevin Gates. Gates is a member of the Texas State University Theatre faculty and directed CTC's production of Macbeth in 2013, which was honored as Best Production by BroadwayWorld Austin. He is joined by the incredible cast of J. Kevin Smith, Bridget Farias Gates, Nolan Blair, Laura Ray, Cody Jenkins, Courtney Bailey Parker, Victoria Barton Rosenthal, Beau Paul, Nathan Ford, Lorin Craft, Levi Gore, Robert Stevens, and Ameer Mobarak.
The City Theatre Company is excited to be celebrating its 10th anniversary season of live theatre entertainment in Austin. CTC is an Austin-based, not-for-profit arts organization and is sponsored in part by the Austin Creative Alliance and the Austin Cultural Arts Division. Founded in 2006, the company has been recognized by the Austin Critics Table Awards, the B. Iden Payne Awards, the Central Texas Excellence in Theatre Awards, Austin Live Theatre, and has twice been voted "Best Theatre Company" by Austin American-Statesman's Austin 360. CTC is dedicated in providing quality theatrical experiences and entertainment for Austin artists and its community and continues the commitment to making productions accessible for everyone. CTC offers its discount ticket program with $10 Thursday seats and $12 student seats for any show. The ticket discount is available throughout the 2015-16 summer season.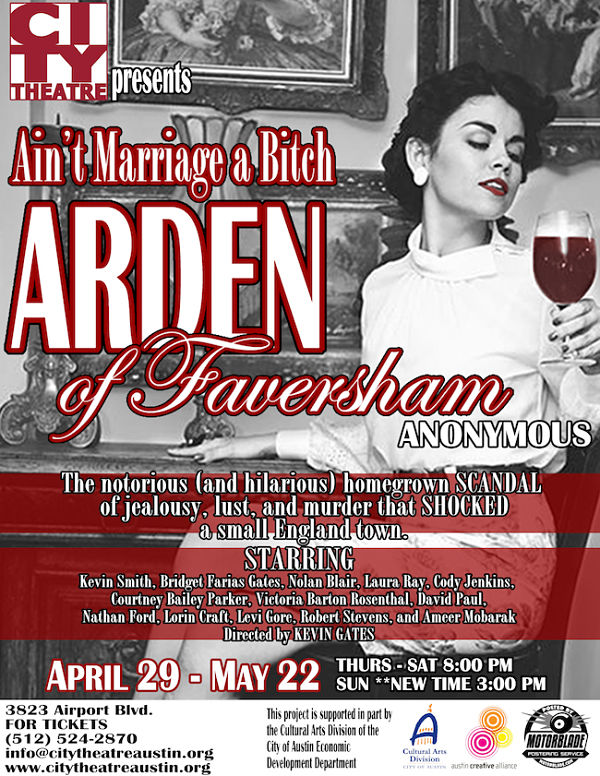 ---
Arden of Faversham
City Theatre Company
Thursdays-Sundays,
April 29 - May 22, 2016
April 29 – May 22. Thursdays - Saturdays 8:00 pm. Sundays 3:00 pm.
The City Theatre, 3823 Airport Blvd. Suite D. 78722.
General Seating $15. Front/2nd Row Reserved $20-25. Thursday all seats $10. Tickets at the door $20. Group and student discounts.
Advance tickets sales $18-$30 plus service fees, including VIP seat reservations, at