Review: 45 Degrees by TILT Performance Group
by Michael Meigs
The titles were intriguing -- both that for the performance piece 45 degrees that was presented four times in association with the 2014 FronteaFest and that of the new company's name 'TILT Performance Group.'

The conventions of geometry suggested that there would be something awry here, some difference not made explicit to the general public. Perhaps you needed to know the individuals or to have had dealings with their coordinators, actor-teachers Robert Pierson and Adam Roberts or executive director Gail Dalrymple?

On the evidence of the full houses at Murchison Chapel of First United Methodist Church downtown, a lot of people did. The place was crowded when I arrived twenty minutes before the start and there was a wait list. I was lucky that the box office had tagged a chair for me. The audience was excited and talkative, and it was clear that many knew one another well.

Pierson, whom I recognized as a witty and powerful actor with those very Austin performing ensembles Rude Mechs, Paper Chairs and Tutto Theater, is also an educator who teaches English, speech and theatre at the Texas School for the Blind and Visually Handicapped. That's how he'd gotten to know several of the young performers who constitute the TILT ensemble. Others had attended different schools or came from the wider Austin community.

All were eager to join Pierson and others in an exploration of the challenges in their young lives. Their process was a free-form exploration, initially based on questions. Pierson cites some of them: What are the five most amazing things about today's world? What are the five biggest problems in today's world? What are the five worst words in the English language? What was the funniest moment of your life? What makes you happiest? What is the most important lesson you have ever learned?

They hit upon the metaphor of the box, the one that everyone's always urging you to think outside of, and they devised a number of short, often humorous, often quirky scenes to illustrate their concerns. Twin brothers Gordon and Garret Roden, clad as telpathic superhero and top-hatted magician, introduced the presentation and provided transitions with humorous observations and invitations to the audience to join in momentarily by choosing an action from a list on the back of the program (for example, "Do telepathy man's gesture -- a hook 'em Horns beside your head," giggle, and "Introduce yourself to the person next to you").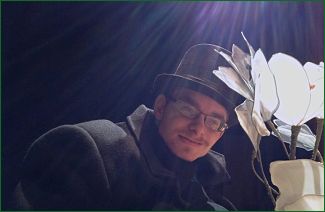 In the course of the hour's presentation this company of nine puzzled through life's enigmas, acted out their dreams and faced their fears. For example, Matthew Schiwart, slim, ironic and knowing, unleashed audience laughter with a couple of ad libs; Schiwart and Peter Richter provided carefree skits about sports that they dreamed of playing; Amy Flores appeared as a Latina singer of boleros, similar to the great Eva Garza.

Movement was quick and assured, divided into six segments corresponding to the sides of the metaphorical box. Within that framework company members appeared solo, in duos or larger ensembles, smoothly clearing the stage for one another and using three points of access to the playing area.

One of the most moving segments was a discussion of death, with Schiwart, so immediately alive earlier in the presentation, stretched out on the floor to represent a family member or acquaintance who had died and would never appear again.

Not knowing any of these young persons before this evening, I was struck by their evident self confidence despite the various 'tilts' that had occurred in their lives. They knew what they wanted to say, and almost none of it had to do with the various disabilities; and they said it well in narrative, acting and song. They brought down the house. I'll look forward to attending their next presentation.

In the meantime, the company invites you to visit their website www.tilt-theatre.org, and to donate to support the work of their newly established non-profit organization.

TILT Performance company members are Michael Brown, Amy Flores, Payton Green, Amy Litzinger, Diana Neal, Emily Newman, Peter Richter, Garret Roden, Gordon Roden and Matthew Schiwart.
Click here to view the program for 45 degrees.
Hits as of 2015 03 01: 899

---
45 Degrees
by TILT performance group
TILT Performance Group
January 24 - February 01, 2014
All performances at 8 p.m. at Murchison Chapel in the First United Methodist Church.
All tickets are $10.00.
To purchase tickets, visit https://secure.buyplaytix.com/hpt/reserve/45.html