Review: The Comedy of Errors by The Baron's Men
by Michael Meigs
Shakespeare probably wrote The Comedy of Errors in 1594, making it one of his earliest works, but it wasn't published until 1623. He crafted his script with lots of plot elements from Latin author Plautus's Menaechmi (The Brothers Menaechmus)—twin brothers separated at an early age, a comic servant, a jealous wife who mistakes one brother for another, a quack doctor who attempts to cure one brother from supposed insanity, tokens and money given to or by one brother and then requested from or by the other, and an eventual inevitable resolution when the two come face to face. No one knows how Shakespeare accessed Plautus; some claim the Latin text was standard fare in schools, others speculate that the playwright got his hands on a translation that was published the following year.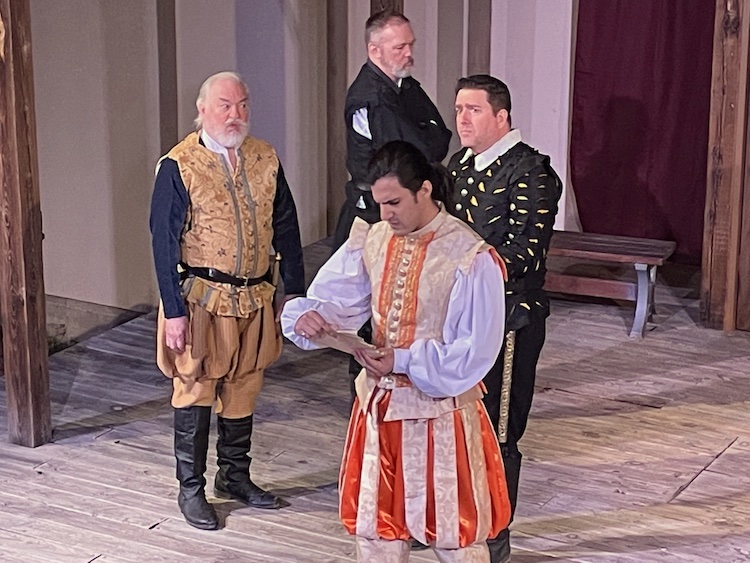 On opening night at the outdoor Elizabethan-style Curtain Theatre, we overheard a teacher tell her class sitting in the upper deck that though Shakespeare would again use the device of twins (in Twelfth Night), this was the only time he put two sets of twins onstage. Both masters are named Antipholus; both servants are named Dromio. Shakespeare's additionally elaborated plot creaks a bit in the set-up, during which the twins' father Egeon (the solemn Robert Stevens) has been taken prisoner in Ephesus. Facing execution as a citizen of the enemy state of Syracuse, he unburdens himself of the long and somewhat tedious tale of a tempest and a shipwreck that tore his family asunder long years before. That done, Egeon is mostly tucked away in the 'tiring house until the last act.
The emphasis in The Comedy of Errors, aptly captured by director Michael Osborn and the Shakespeareans of The Baron's Men, is upon confusion, consternation, and discovery. This one has none of the towering characters or tragedies of Shakespeare's later plays; instead, these two sets of twins bounce off one another in dizzying iterations like rebounding balls in a pinball machine.
The director's blocking puts plenty of spin on these characters. They use the entirety of The Curtain's broad thrust stage, and there's not a bit of any "plant, stand, and deliver" acting. Crowd scenes are dynamic, but so are the smaller character combinations. Osborne instills a Keystone Kops krazy from time to time, always appropriately, and the mistaken-identity comedy is particularly appropriate for mugging, particularly by the servants, both Dromios. In those roles Shannon Dodson and Renée Osborne are perfectly matched in costume and demeanor.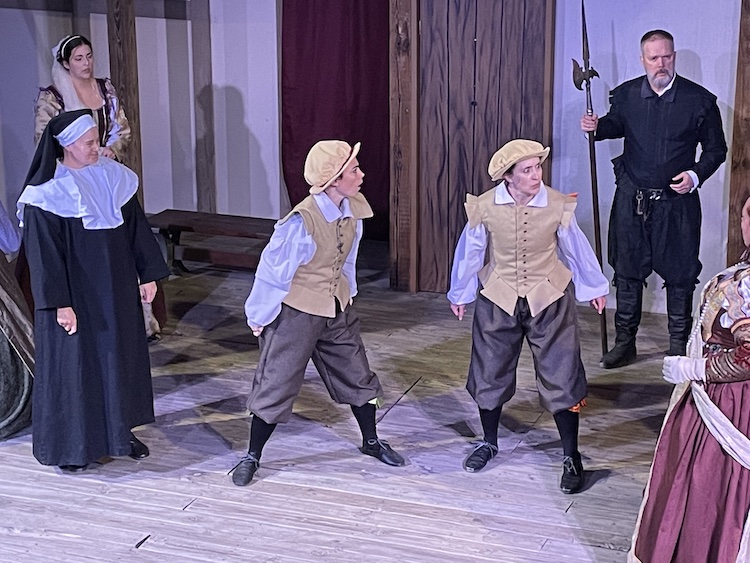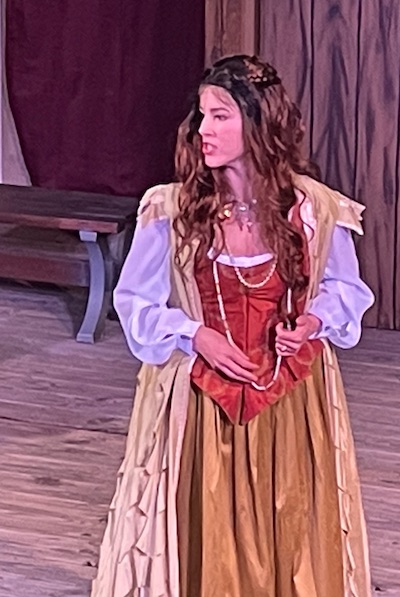 Costuming provides the key signals of twinships, but that's certainly not all. This company should be famous far and wide for its devotion to luxuriant Elizabethan garb. Meticulous detail in designs from Lindsay Palinsky, impressive resources and time invested by head draper and stitcher Dawn Allee and her crew of nine stitchers (many of them doing their own costumes for this production)—the feast to the eyes is as rich as Shakespeare's feast of language is to the ears.
When the comedy's clicking, as it was during most of the evening, this comedy's like a Georges Feydeau farce. Intricate timing, comic absurdities, romantic confusion, silly stock characters . . . there's even a door at center stage that gets slammed shut at crucial moments in the plot!
That comparison leads to further reflection. Feydeau gleefully and somewhat maliciously skewers characters for lechery and adultery; The Comedy of Errors does not.
The only sexually passionate character is slim and comely Adriana (Danielle Bondurant), the somewhat neglected wife of Antipholus of Ephesus. Adriana longs for her husband's presence, both at dinner and in more intimate settings. Her mistaken wooing of his identical twin flatters but discomfits that character (Julio Mella), who only just manages to avoid her bed.
In contrast, Adriana's real husband (Pablo Muñoz-Evers), finding his own front door barred to him, storms off to spend his evening with a nearby courtesan (Joanna Casey), presumably with all the implied favors. There's no explicit mention of infidelity, however, and unlike many of his contemporaries, Shakespeare avoids the theme of cuckoldry, both here and elsewhere in the canon.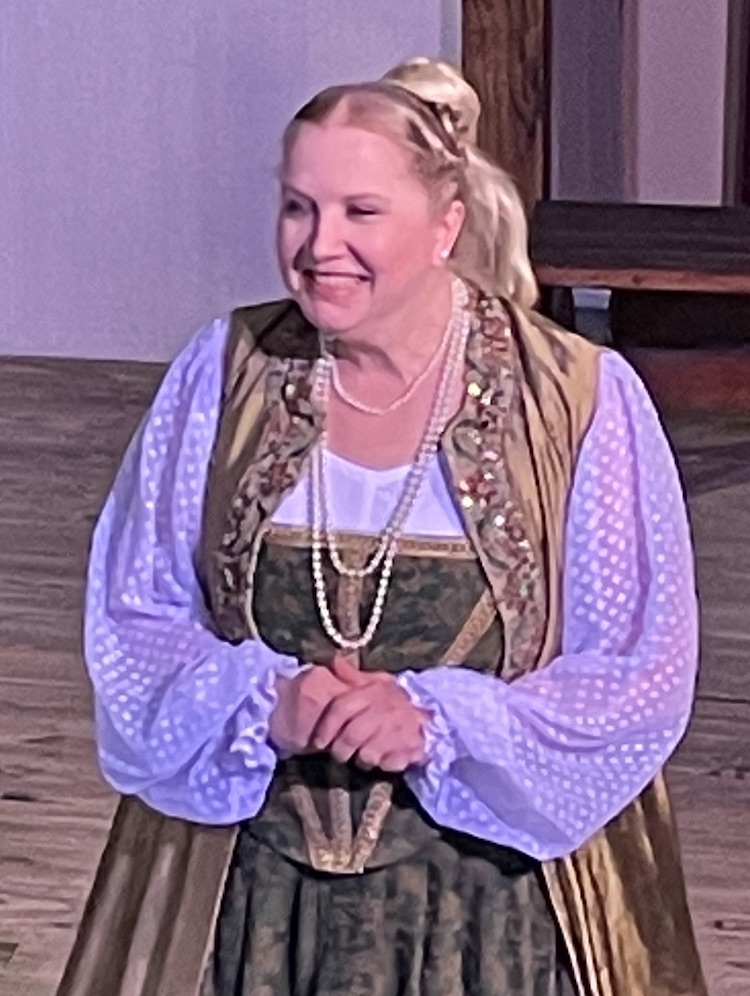 Victoria Kelly as Luciana, the earnest sister to frustrated Adriana, is alarmed, even somewhat anguished, when she reports that while admitted (in error) to the house, her putative brother-in-law has made ardent approaches to her. Kelly has a lovely little moment in the telling of this scandalous behavior, breaking into a big smile while remembering suddenly how agreeable those unacceptable comments were.
Of course, if you really want lechery, there's always our friend Sir John Falstaff, particularly in The Merry Wives of Windsor.
But that was yet to come, when the playwright had learned to lay on character with a trowel. This very early comedy delights in the tic-toc mechanisms of the plot and a Rube-Goldberg-style framework in which all impossibilities are resolved, all parties made happy, and all peccadillos forgiven. What's not to like?
EXTRA
Click HERE to view the online playbill for. The Comedy of Errors by the Baron's Men, Austin
---
The Comedy of Errors
by William Shakespeare
The Baron's Men
Fridays-Saturdays,
April 08 - April 30, 2022
Fridays and Saturdays, April 8 - 30, 2022.