Review: Macbeth by The Baron's Men
by Michael Meigs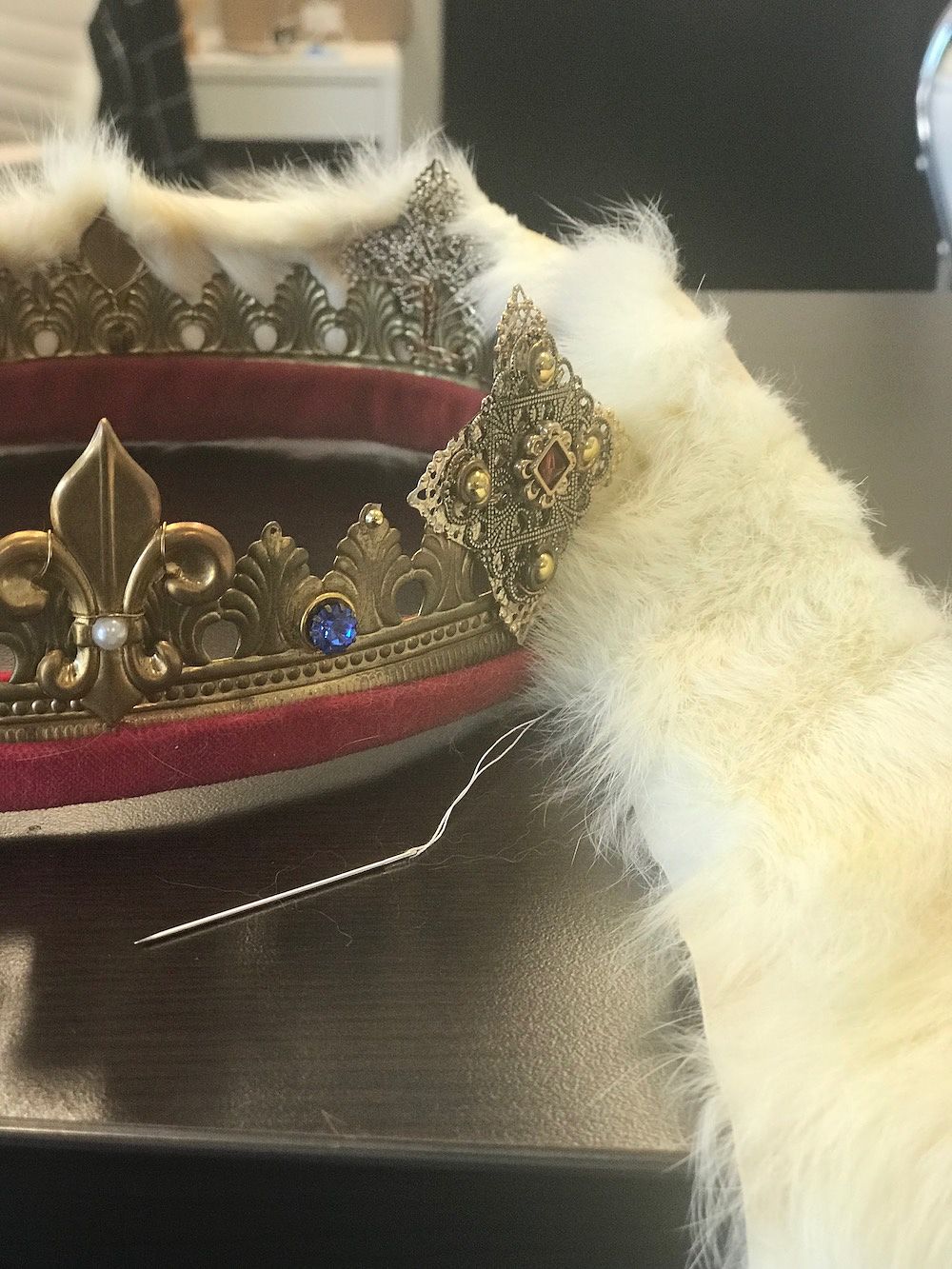 Yesterday a fellow translator, who works from German to English, confided to me, "I really didn't like Shakespeare in school. I finally took a course, with one of the university's leading professors, the last semester before he retired. I'm glad I did. But I still don't like Shakespeare. He's too hard to read."
How to respond to that comment? He wasn't seeking to be provocative; he was expressing genuine puzzlement. Here's someone capable of grasping Teutonic expression -- full of subtleties, obscurities, and jarring turns of grammar, at least for an English speaker -- who found these 300-year-old astonishingly literary texts simply more trouble than they were worth.
In high school and/or college most of us have been put through the intellectual grinder on the big titles of the canon, so we have at least a toe hold on each of them. Checking the CTXLiveTheatre logs, which run back to mid-2008, I found the most produced works of Shakespeare in our area of coverage were A Midsummer Night's Dream (31!), Hamlet (27), Romeo and Juliet (21), and Macbeth (19, including this one by the Baron's Men, and a three-day production in January 2020 in Wimberley by the Broke Thespian's Company). The Tempest clocks in at 13.
My response was to counsel him to see Shakespeare done and to listen to the texts in performance. When a company like The Baron's Men speaks the speeches, generally trippingly on the tongue, the story lifts off the prison of the footnoted page and flies in one's imagination.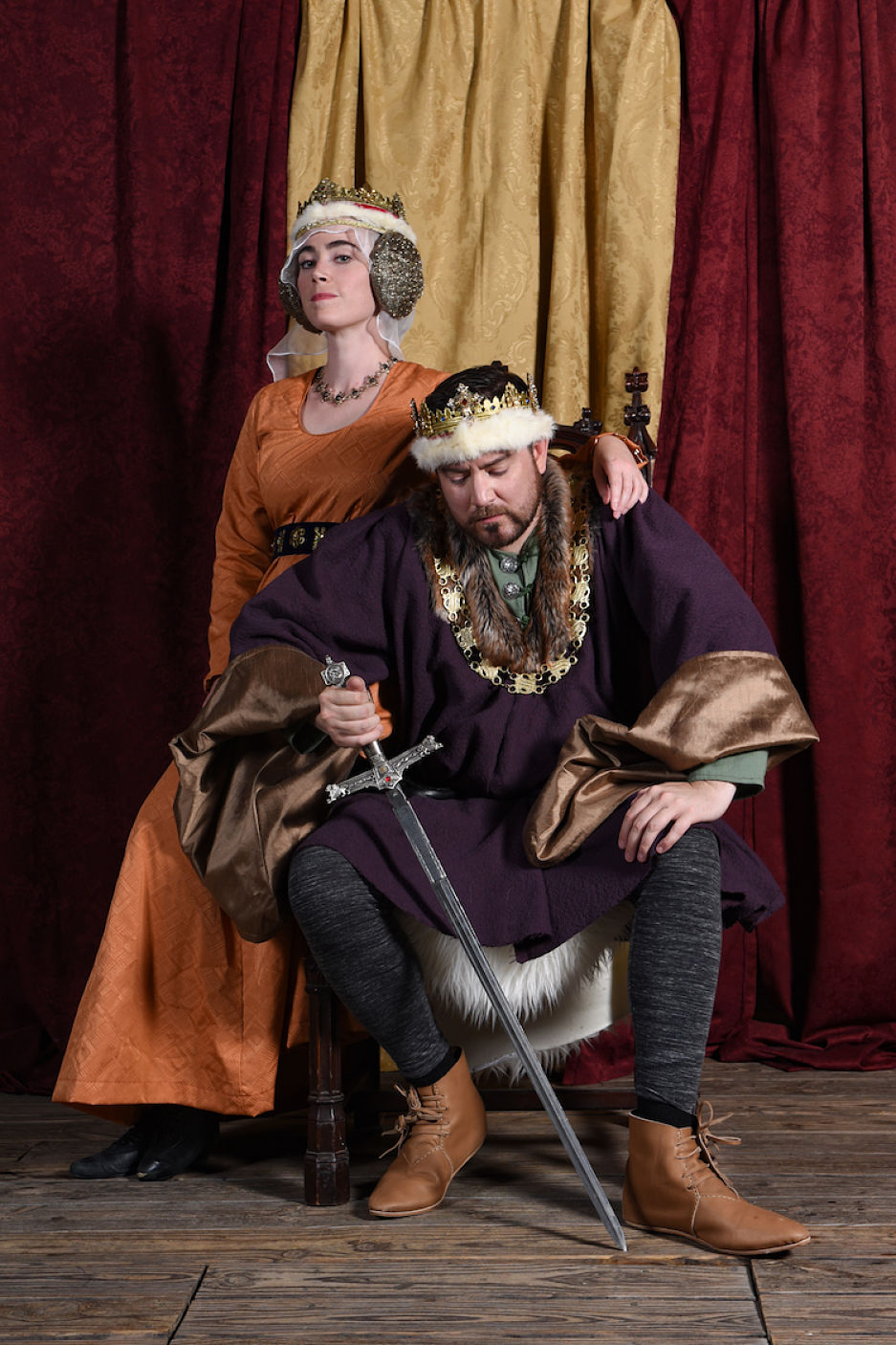 The astonishingly dedicated Baron's Men have been decoding, costuming, celebrating and giving life to Shakespeare's text for the past twenty years. They inevitably accompany the play with delicate and period-appropriate live music. Your experience at the tidy, perhaps half-size Elizabethan-replica Curtain Theatre, half a mile as the crow flies from the 360 Pennybacker Bridge and within a stone's throw of the Colorado River, is wonderfully close to authentic practices. One welcome 21st-century reform is that women play the women (and they play a fair number of the men, too, although with full respect for the characters as written). Pam Martin's costumes are gorgeous, but that's not news -- they always are.
So if you're like my translator friend and Shakespeare gives you pause, take heart. For one, Macbeth is Shakespeare's shortest tragedy; for another, the arc of the protagonist's is a satisfying one from heroism to ambition to regicide to tyranny to defeat by the righteous, God-blessed offspring of the erstwhile friend murdered by the wicked title character (whew!). You're not going to have any trouble understanding what's going on.
My preference is to see a Macbeth who's a real hero gone wrong, misled by the malevolent, soul-crushing evil represented by the witches. In partnership with his lady he takes actions that transform him step by step into a monster who's "in blood stepp'd so far" that killing has become his sole defense. The Macbeth presented by the Baron's Men, Casey Jones, is eventually just that resolute, but he's not a monster. Instead of becoming the incarnation of destruction, this Macbeth comes across as a guy who kind of just didn't really mean to make that one mistake (stabbing his king and then murdering the king's bewildered bodyguards). Shannon Dodson's Lady Macbeth is a creature more authentic: high-strung, intense and vulnerable.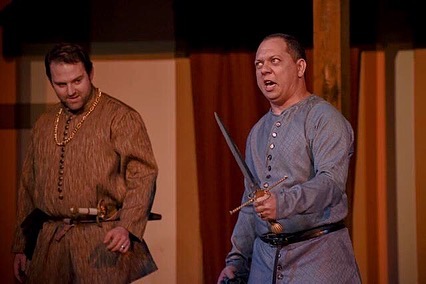 The cast didn't miss a word of the text, yet often a spectator might have had the impression that long stretches were recitative -- that though the words were there, the music -- the depth and surge of emotion in the text -- was muted. One example is the late scene when heir-presumptive Malcolm (Bradley Wright) accuses himself of the same sorts of perfidy as Macbeth. There's a clear intent and a turn as Malcolm tests Macduff's sincerity, progressively raising the ante with self-condemnations that mirror those of the tyrant. The audience understands that Malcolm's intent is to discover if Macduff's brownnosing (to put it crudely) in search of an opportunity for personal revenge or if he's truly loyal to his country, Scotland. Wright's progression is as indistinct as is that of Jones's Macbeth. Michael Osborne as Macduff stoutly holds up his end of the exchanges -- both with Malcolm and later in the decisive scenes with Macbeth.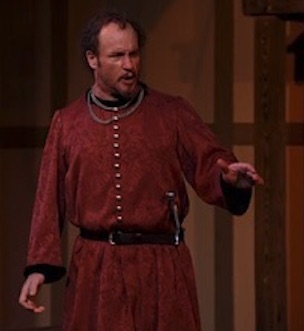 The counter-example was veteran actor Robert Deike, in the relatively minor role of Lennox, a confused and credulous thane who sticks with Macbeth but eventually goes over to Malcolm's forces. Lennox has only about thirty lines, yet Deike's body language and intense attention to others on stage made him stand out. Leanna Holmquist as Macbeth's grim and largely silently aide has similarly powerful focus.
Director Jacquelyn Lies moves her actors smoothly about that wooden half-O, and clearly had fun differentiating the three witches (Danielle Bondurant, Jennifer Fielding, and Stephanie Crugnola). Lindsay M. Palinsky as the drunken porter ("Knock, knock!") scrambles almost up into the seats in one bit of funny business; and when Malcolm's troops appear from the groundling entrance stage left, they're carrying branches that look fresh-cut from the Garriott estate.
The Baron's Men produce honest, vigorous Shakespeare, and they'll keep you attentive and rooting for the good guys right to the end. You're enouraged to voice your reactions! So forget the footnotes and study guides. Watch for their announcements for the 2020 season, either at www.thebaronsmen.org or here at CTXLiveTheatrer, for they'll be doing the Falstaffian comedy The Merry Wives of Windsor and the ever-popular fantasy-adventure The Tempest.
EXTRA
Click to view the program sheet for Macbeth by The Baron's Men
---
Macbeth
by William Shakespeare
The Baron's Men
Thursdays-Saturdays,
October 04 - October 26, 2019
Please Note: Online ticket sales close at 3:00 PM on day of performance. Please pay in person at the Box Office. We accept all credit cards and cash.
Standard Ticket Prices
General Admission: $15 Student & Senior (with ID) / $20 Adult
Box Seating: $150 Thursdays, $25 upgrade to 5-6 people / $175 Friday & Saturday, $50 upgrade for 5-6 people
Special event pricing on Ticket site
Group pricing available, please contact info@thebaronsmen.org
'Pay what you WILL' night on Thursday 10/10, minimum $1 cash/credit at the door.
Date Night is Saturday Oct 12th!
Seatback and Blanket Rentals
The Curtain Theatre is an outdoor venue with hard wooden bench seating. For the comfort of our patrons we offer seatback and blanket rentals for $1 each. Patrons may also choose to bring their own seatbacks, blankets, or camp chairs for the groundling area if they so wish.
Rain Check Policy
Rain Check tickets are only valid for the show in which they are issued.
Waivers
Due to the nature of some of our events, you may be required to sign a waiver on site to attend a given event.