Review: The Book of Will by Austin Playhouse
by Michael Meigs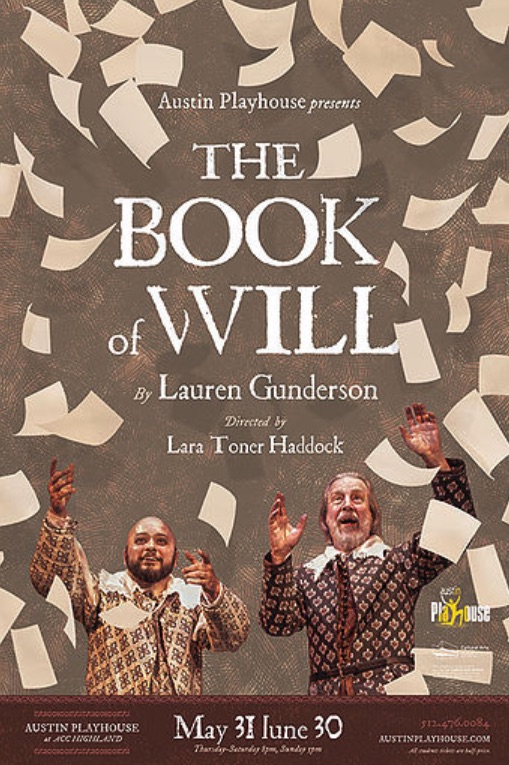 Lauren Gunderson's The Book of Will at the Austin Playhouse is a lot of fun, and it doesn't intend to be anything else. It's a players' play, patterned on history, not particularly deep, but with the predictable happy ending -- the printing and sale of the 1623 First Folio of Shakespeare's plays, seven years after his death.
The great Will is mostly absent from the narrative and dialogue, except when pirated poor editions are quoted. Assistant director Rosalind Faires reminds us of the most notorious of these from the First Quarto, rendered with great solemnity by Owen Ziegler early in the evening:
To be, or not to be; ay, there's the point.
To die, to sleep—is that all? Ay, all.
No, to sleep, to dream—ay, marry, there it goes. . .
Gunderson did her homework and crafted a plausible picture of how the late Will's remaining associates went about collecting and piecing togther players' prompt books and other materials to create the definitive text we know today. We'll never be quite sure how close the results came to whatever words rang out at the Globe and at the palace, but Gunderson reminds us how easily they could have been dispersed and entirely unremembered.
That's an alternate reality perhaps too drastic for contemplation. After all, we mere players who strut and fret are so tied to that immense canon that we know how such a loss would have impoverished the imagination. Gunderson's script offers the drama of the decisions and the collecting process; at the same time she creates characters that are a bit bigger than life. Director Lara Toner Haddock and the familar, much-liked actors in the cast go for a jovial interpretation, one that's almost cartoonish at times. Toby Minor, for example, has great fun chewing the scenery, first as leading company actor Richard Burbage, a bag of verbal hot air beneath a luxuriant wig, and later as the acerbic, equally conceited Ben Jonson.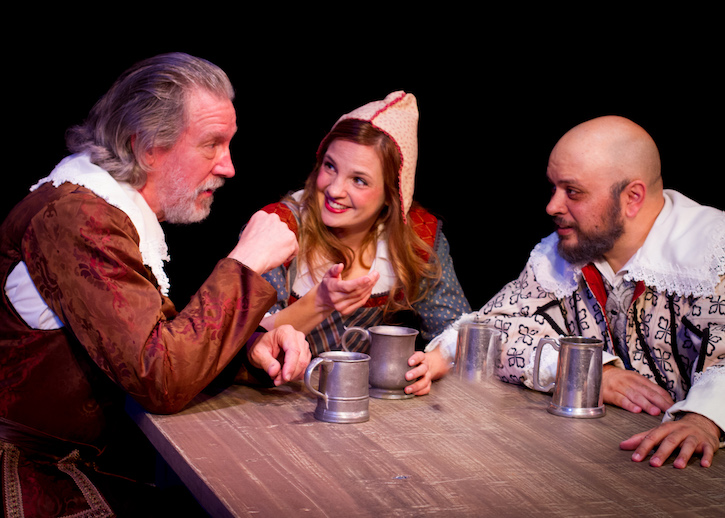 The Mutt and Jeff pair of Ben Wolfe as Condell and Huck Huckaby as Hemmings establish the action to rescue Will's works. Their debate and mutual encouragement is at times a bit obvious. Hemmings is also assisted by his perky, bright daughter Alice (Marie Fahlgren) and his dutiful wife Rebecca (Cindy Williams). The perhaps futile quest is given improbable impetus by copyist Ralph Crane, played by Stephen Mercantel as neurotic, shy, and so entranced by Shakespeare that he illicitly copied out whole plays for his own pleasure. Mercantel's aroused intensity makes fanboy Crane vivid and convincing. Other cool kids in the ensemble often played their roles so broadly that one half expected a conspiratorial wink at the audience.
Double casting in this show is a reminder not to be too serious. The technique brought to mind capers such as the 2010 Playhouse presentation of Alfred Hitchcock's The 39 Steps, the comedy in which director Lara Toner appeared as all of the female characters and regulars Michael Stuart and David Stahl were just about everybody else.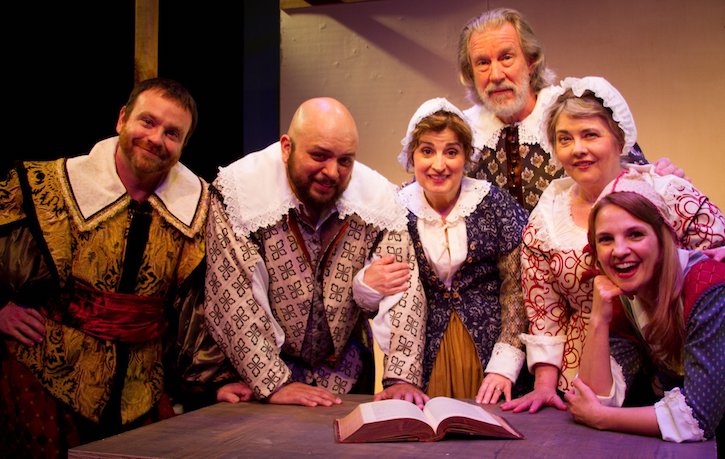 You'll enjoy this one even if you haven't visited Shakespeare since junior high school. If you know a bit more about the great man, you'll appreciate the nuggets Gunderson scatters about the script, such as ongoing in-jokes about Pericles, a sub-par script not included in the Folio even though Shakespeaare probably wrote about half of it.
Austin Playhouse has its 20th anniversary season coming up and there's much ado, for the company has just acquired a well situated plot for a permanent home. The dedication and determination of the Toner family have seen these players through the challenges of their caravanseri, and we fans are looking eagerly to see them properly anchored. And hey, there's nothing wrong with "lite." Crowd pleasers assure continuing support from the company's devoted fan base. Try the Playhouse out with Will, now onstage, or go for the first outing of the upcoming season, Jeffrey Hatcher's piece Holmes and Watson.

EXTRA
Click to view the Austin Playhouse program for The Book of Will
---
The Book of Will
by Lauren Gunderson
Austin Playhouse
Thursdays-Sundays,
May 31 - June 30, 2019
The Book of Will runs May 31 - June 30, 2019.
ADDED matinee Saturday, June 29th at 2 PM
Austin Playhouse at ACC's Highland Campus
6001 Airport Blvd., Austin, TX 78752
WEB: austinplayhouse.com
TICKETS: Tickets range from $36-$42
BOX OFFICE: 512.476.0084
DISCOUNTS: All student tickets are half-price. $3 discount for Seniors 65 and up. Group rates available.