Review: "Some Humans Were Harmed in the Making of this Show" by En Route Productions
by Justin M. West
I had no idea what I was getting myself into. I just saw a show that billed itself as a "drag, puppetry, self-help testimony play inspired by the 1903 public execution of Topsy the elephant" and emphatically replied. I didn't even know who Topsy was. Surely, I thought, good or bad, this show is guaranteed to entertain. Right?
"*some humans were harmed in the making of this show," written by CB Goodman and presented by En Route Productions, was probably at a disadvantage as I walked through the door. Troubled from a day spent in part bickering with my wife via text message - we're fine, don't worry - and irritated at having forgotten to eat before I arrived, I'll admit that I wasn't necessarily in the mood for theatre. But as I sat in the lobby listening to what doubled as both pre-show and warm-up music for the actors inside the still-closed theatre, my feet began to tap. First time I've heard "Groove is in the Heart" in years, and certainly the first time in a theatre.
Let that be the first point I make. Best damn pre-show music I've ever heard, courtesy of sound designer Lowell Bartholomee, and it's blasted right at you to make it difficult to converse… and to avoid dancing. I suspect this was an intentional choice, as the energy in the show follows that of the music that precedes it, and one would have to be quite the sourpuss not to be in the right mindset by the time the "curtain" comes up. In addition to beautifully minimalist light (Aaron Curry) and scene design (Ia Ensterä), Bartholomee's music and sound succeed admirably in hitting comedy notes and setting tone throughout the performance.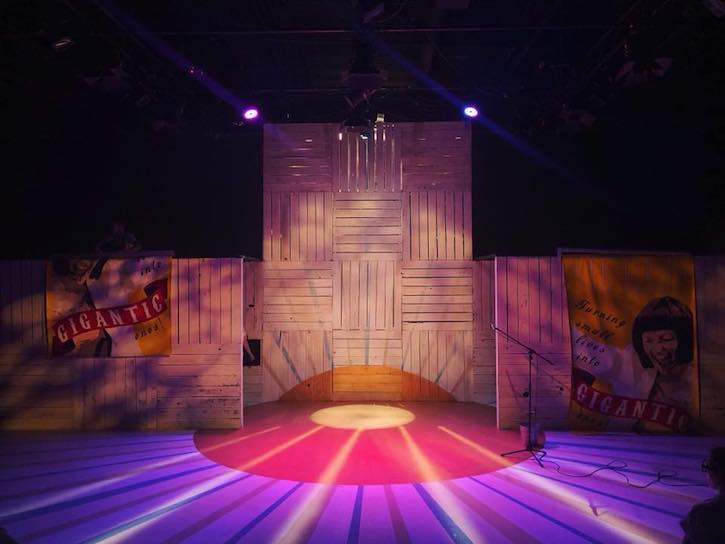 Now. What exactly is a "drag, puppetry, self-help testimony play inspired by the 1903 public execution of Topsy the elephant?" To be quite blunt about it - it's exactly that. Those exact things are presented, basically in that order, and what ensues is a praiseworthy piece of art that is risky, pointed, hilarious, and solemn.
"*some humans..." is a unique social commentary disguised as a roaring comedy. We have Helen (Ellie McBride), thrift shop owner and self-help guru wannabe, whose coworkers perform a play-within-a play to tell the story of her own life, with her younger version played by Delante G. Keys (the drag part of it). Helen (McBride) is zealous and manic, both attractive and a bit scary, especially near the end. Keys is even more over the top, and he nails every beat in an energetic, frantic, fearless performance that drew howls from the audience. (If the drag part of it turns you off, don't worry, Keys has the legs for it.)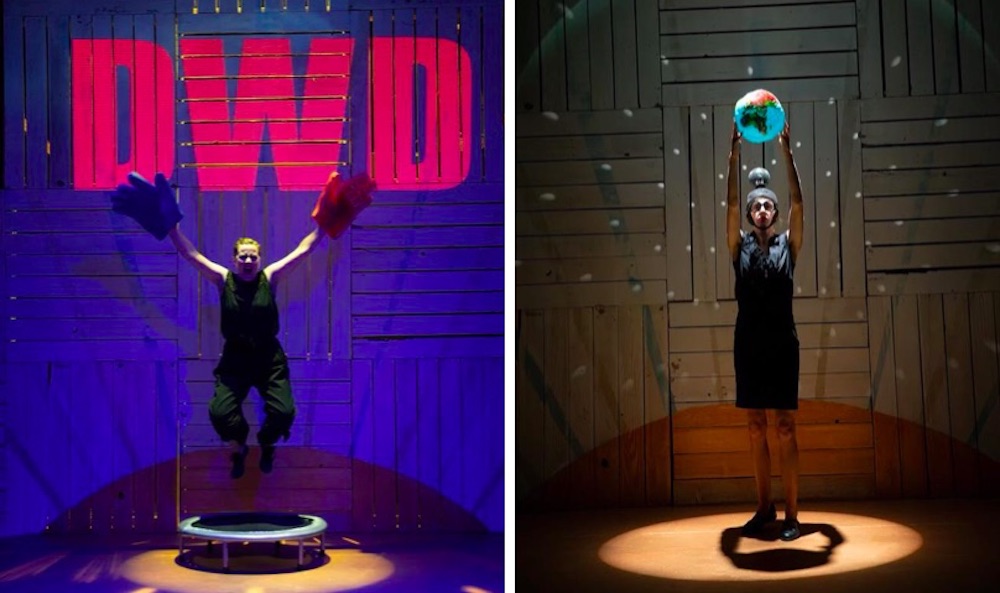 Katy Taylor steals the entire damn show for a while in a commanding turn as Tony (Robbins), hiking through and interacting with the audience, ad-libbing and encouraging outbursts and applause all the while. She's boisterous, gregarious, and utterly hilarious, even though (or maybe because) all the things she's saying sound exactly like something you'd hear in a self-help book. Taylor here is simply captivating.
At one point, Taylor paused, silently holding eye contact with a member of the audience for what felt like far too long. This kind of rhythm is frequent throughout the show, and it works. There was nervous laughter, especially from the gentleman drawing her gaze, and a thought occurred to me: in that moment, everyone in the theatre was entranced. Almost like meditation, not a thought existed in our minds. We were all just there... just existing in that moment as observers, watching two other people in their moment, curious how the interaction would play out and secretly glad we weren't the ones in the hot seat. We weren't watching an audience member and an actor. Instead, we saw two people just existing in the same space in a unique way that will never be recreated in precisely the same manner. Hell, they may never speak to each other again. What an exciting thing to witness and be a part of. When the silence broke and Taylor returned to the stage, I grinned, heaved a sigh of relief, and felt more human than I had in some time.
Everyone in this show has their moment to shine, and no one fails to do so. Roz Mandola (Billy) turns us on and repulses us all at the same time. Bridget Farr (Willowdean) is sheepish, submissive, and begs to be hugged, especially when she belts out a tune with a voice that made me do a double-take. Andrew Rodriguez (State Inducer) wears more hats than I could count and plays the audience like a fiddle ("Bring tissues. You will cry.") Elizabeth Mason (High Priestess) and Tyler Lane (Guitarist) close the show with depth and inspire remorse for wrongs we haven't even committed. And all of them are led by imaginative choreography by Amy Morrow and Rebecca Whitehurst that is its own character at times.
The crux of the entire performance is its final act, which shifts the tone from farcical to poignant. It's jarring, but the pacing is spot on. What began as an absurdist, avant-garde comedy very quickly becomes far more serious and thoughtful, and we're left feeling regretful for ever having laughed in the first place. The final moments of the "*some humans...", and some specific artistic choices that were made, were so creative and well executed that I spent a good while just observing the audience as they experienced them.
This is one of those shows that deserves the word "experience" attributed to it… one that will stick with its audience for a little while. It deserves a second viewing, or at least a little bit of quiet introspection, which I think you'll find will be provided to you for the modest cost of admission.
---
"Some Humans Were Harmed in the Making of this Show"
by GB Goodman
En Route Productions
Thursdays-Saturdays,
September 20 - October 06, 2018
Ground Floor Theatre
979 Springdale Rd
Austin, TX, 78702
Sept. 20th-22nd, 2018 at 8 pm. Sept. 27th-29th, 2018 at 8 pm. (Tickets:$20)

**Oct. 1st at 7 pm-pay-what-you-can with proceeds going to Texas Coalition To Abolish The Death Penalty** Death Penalty panel discussion at 7 before the play.

Oct. 4th-6th at 8 pm. Tickets: $20

All performances are at Ground Floor Theatre.
[poster image from staged reading by En Route Productions, February, 2018]