Review: The Curate Shakespeare As You Like It by The Baron's Men
by Michael Meigs
Faced with a request to adapt Shakespeare's As You Like It for a reduced cast, playwright Don Nigro, known for his comedies, probably decided it could be done -- but it would be more fun to turn the whole thing inside out. After all, Shakespeare's script features twenty named characters -- twenty-one, actually, if you include the masque of Hymen, the god of marriage ceremonies. So that's what he did.
Nigro imagined an amateur cast earnestly trying to enact this great comedy under the guidance of the village curate, a benevolent and well-intentioned parson trying to light the fire -- or at least fan the embers -- of Shakespeare for a recalcitrant bunch of rude mechanicals. In a cast of seven, lanky Andy Bond is the curate figure trying to hold together this wreck of an amateur staging.
One of the palpable jokes, of course, is that these bumblers are anything but. Under the gentle direction of Kate Clark they fuss, fret and forget their lines with fine fettle. And I do mean that the playwright delights in reversals. In his concept the actress Rosalind (the sweetly vague Rachael Shaw) has already drifted off into distraction and can no longer play the part for which she was named. The curate has pressed Audrey into that leading role -- a big wink to the audience, for Shakespeare's Audrey was the rural wench courted by both Touchstone the clown and by William the rustic. So who becomes leading man Orlando? None other than William! Shannon Dodson is expressive and comic as Rosalind and as the reluctant untutored actress behind her, and Joseph Landis as the often abashed Orlando and the untutored actor within plays a good foil to her. The playwright lets Celia the actress (spunky Anneliese Friend) be Celia the character, probably the only real constant in the piece.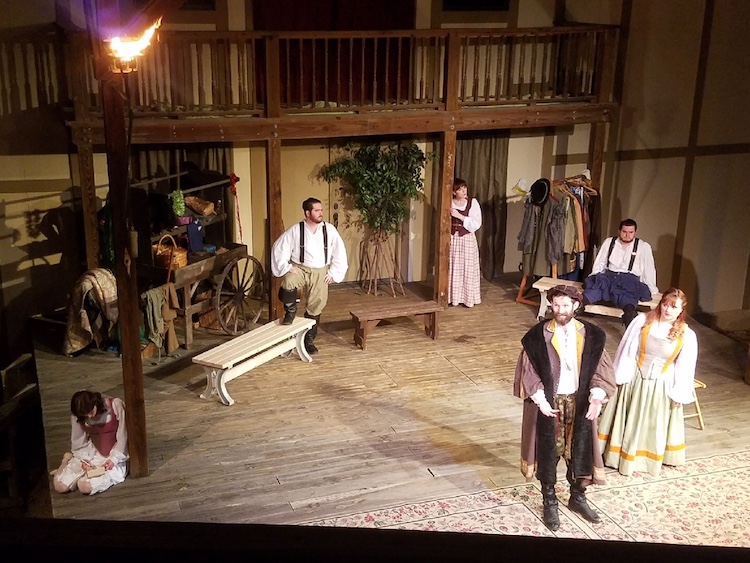 At this point you're either confused or not. If you're a Shakespeare fan or at least if you've seen As You Like It on stage or in film, you'll find Nigro's work a comic delight, for it holds together just enough of the story line to keep the original in view. The Baron's Men are a hearty bunch of women and men who've been holding renaissance court at the Curtain Theatre for more than a decade, and anyone who's enjoyed their high-quality, beautifully costumed Shakescenes will enjoy this one too. Shakespeare's verse glimmers like gold through Nigro's rowdy; this happens, for example, when the action moves to the forest of Arden and Andy Bond speaks as the banished Duke Senior, proclaiming. Sweet are the uses of adversity. The playwright teases us several times with Jacques' famous "seven ages of man" speech, but does indeed serve it up late in the action from an unexpected source, tying a tidy bow that shows us that even a dog's breakfast of an amateur production has moments that stir and move.
Eric Meo as Touchstone the clown et alii and Nathan Daniel Ford as an international platoon of characters nestled inside Amiens the courtier are obliged to do a lot of utility work to round out the cast of characters (including themselves as the would-be actors). There comes a comic moment at the finale of multiple marriages when one of them is necessarily nonplussed.
Andy Bond guides them through this all with patience, assuring them that although the house is empty of spectators (it isn't really, of course), this whole endeavor is significant and worth doing. Bond's not wearing a clerical collar in Clark's staging, but he's still a moral figure and gentle disciplinarian. The curate is far different from Bond's memorable 2016 appearance in the title role of Richard III for the same company -- and the contrast between those roles and the two plays is a reminder of what a sterling but underappreciated resource The Baron's Men company is for Austin arts.
EXTRA
Click to view the program sheet for The Curate Shakespeare As You Like It by The Baron's Men
---
The Curate Shakespeare As You Like It
by Don Nigro
The Baron's Men
Thursdays-Saturdays,
March 01 - March 17, 2018