Review: Pocatello by Street Corner Arts
by Michael Meigs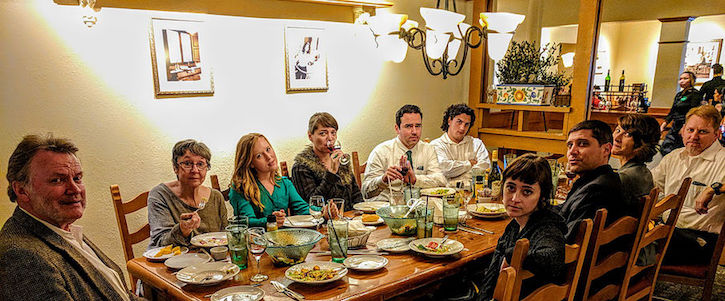 From Street Corner Arts' publicity photos for Pocatello you might think that this was going to be a story of a big Italilan family dinner. Lots of discussion, acrimony, anger, maybe even flying plates -- a nightmare over turkey and dressing. A sort of modern-day Sopranos translated to the barren plains of Idaho.
You'd be wrong. Way wrong.
Samuel D. Hunter's work concerns not a single quarreling family but three. Yes, the stories overlap and the actions take place entirely within the main room of an Italian restaurant owned by some anonymous proprietor who was granted the franchise by some anonymous corporate headquarters somewhere unknown. Playwright Hunter isn't presenting ethnographic entertainment the way Sopranos writer James Chase was. He's looking at the heart of small town middle America, much as he did in A Bright New Boise, staged in this same space in 2014. In fact, director Benjamin Summers played the protagonist in that staging by Ken Webster. He has gone back to Hunter's world, and we are the better for it.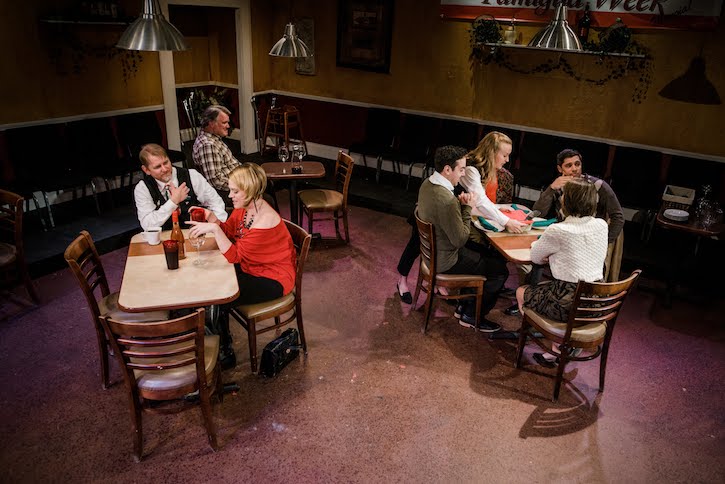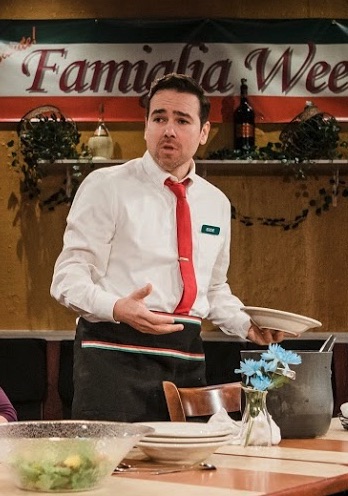 Yes, the two pieces take place in Idaho, but they could just as easily have been situated in any of the fifty states in any mid-sized town. This is franchise America, a homeland without a home. Eddie, the manager of this place, has put up a "Family Week" banner and as the lights come up he is hosting his mom, his brother and his sister-in-law. A confusion of conversations and cross-talk may disorient you at first, but stay with it; soon the director and this talented cast will be carefully pulling apart this story skein quietly, thread by thread, to reveal one surprise after another.

Carlos Lorenzo Garcia, newly arrived in Austin from Chicago, is Eddie. Garcia gives us a protagonist who's reticent, attentive, and almost painfully aware of others. Garcia creates a character who has buried his own longing and pain deep, where no one can find it. Joel Gross, another actor recently arrived from Chicago, is brother Nick, impatient and urban, reluctantly back in town at the urging of his wife Kelly (Molly Fonseca). Chris Humphrey as the brothers' mother Doris is abrupt and annoyed to have been invited to Eddie's well-intentioned dinner.
Garcia's performance as Eddie is nuanced and riveting, an ache of tightly controlled emotion. Playwright Hunter has given him a lot to work with, and I reach back to the comment I made about Summers in Webster's staging of Boise: this is a performance so rich that it alone justifies you urging your friends to attend. I'm not a great fan of "best of" lists, but Garcia's Eddie belongs on any of those drawn up for 2017-2018.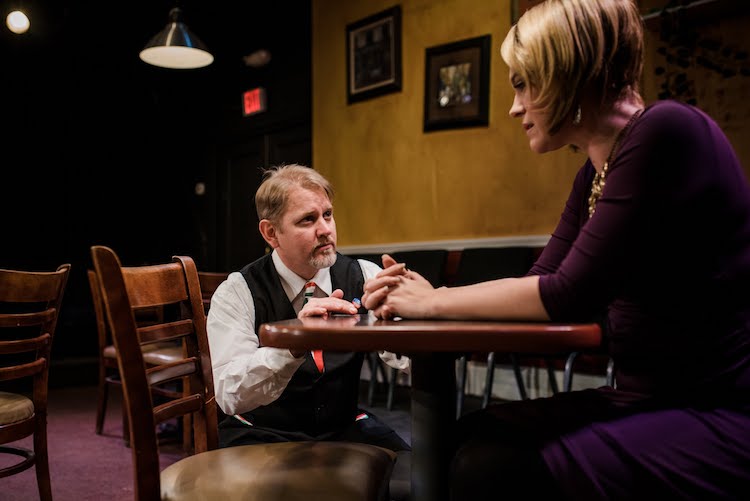 But there's more. Amber Quick is Tammy, the small-town career woman married to Troy, waiter here for the past eight years (Jeremy Brown). She's desperately unhappy and their marriage is on the rocks, surrounded by the sharp whiff of Tammy's alcoholism. That toxicity floats around them and their teenage daughter Becky. Sydney Huddleston, recently seen in the HPT's The Wolves, deftly handles that character, despite the playwright's sardonic stereotyping of uninformed idealism and spiky alienation.
The third family is the restaurant staff with Eddie at its head. Waiters Isabelle and Max, Kayla Newman and David Scott, bring us the dilemmas of young persons lacking education and motivation to get away from the dull haze of indifferent Pocatello. They're sharp with one another but take mutual refuge from hopelessness. Eddie brings Huddleston as teenager Becky onto the staff, where she is a witness as the operation sails slowly and inevitably into the metaphorical iceberg field that soon will sink it.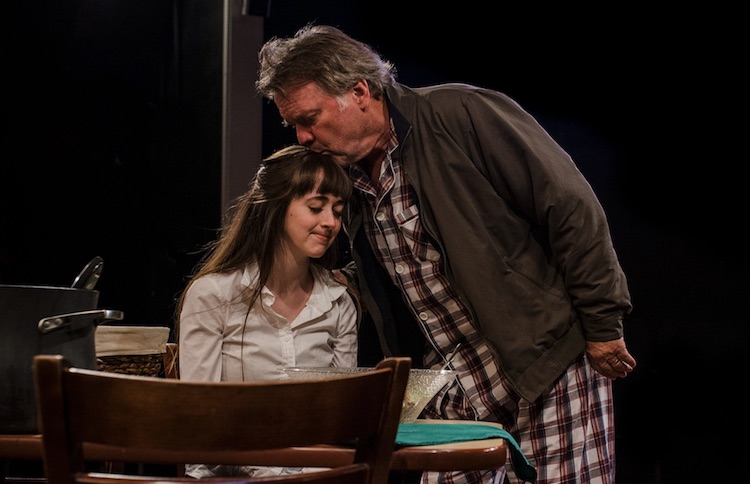 And there's Ev Lunning, Jr., as grandpa Cole, stuck away in assisted living and hauled out for special occasions. Lunning's fierce silent glare lights the far end of life life in Pocatello, and his confusion calls all endeavor into question. Cole has the best line in the piece, a throwaway comment when granddaughter Becky has persuaded him back to the present. "Lucidity, my dear, is overrated."
Hunter's script is unpredictable and moving, and along with the intensity there are flashes of incongruity that provoke astonished laughter, quickly stifled because the audience is intent on the unfolding stories.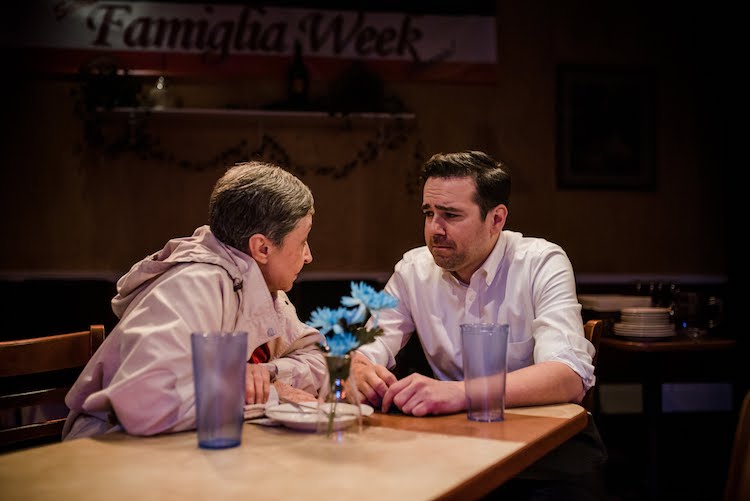 Set design by Chris Conard and Zac Thomas is clever and evocative, recalling every dusty joyless imitation of abroad you've ever seen. They've cleverly provided limited audience seating along the back walls of the set, so that folks serve both as witnesses and suggestions of the clilentele of the place. Summers and Paul Feinstein collaborated on sound design that includes both authentic Italian canto and Italo-American cheese (the Dean Martin numbers are carefully located and not overdone).
Pocatello was scheduled for a three-weekend run, so it plays tonight and the next two evenings. If only Austin theatre venues and appreciative heatre audiences could permit it, this production deserves to run for another month. If only we could attract a well-heeled, arts-minded patron for this company. . . meanwhile, folks like you and me will need to content themselves with digging out some folding money and dropping it in the guitar case in the HPT lobby to express appreciation for the depth and quality of their art.
EXTRAS
Click to view a slideshow of performance photos taken by Donny Tidmore
Click to view the program for Pocatello (along with the Itallian menu of Regal Ravioli on South First Street!)
---
Pocatello
by Samuel Hunter
Street Corner Arts
Thursdays-Saturdays,
December 01 - December 17, 2017
Runs December 1, 2017 – December 16, 2017
Opening Performance Friday, December 1 with post-show Opening Party
Saturday, December 2 SCA "Famiglia Night" with refreshments and post-show Karaoke!
All other shows Thursday, Friday & Saturday nights at 8 pm
Tix Dec 1-14: $20, General Admission; $15 Educators + Students with ID
Final Fri-Sat Tix, December 15-16, $22 General Admission; $17 Educators + Students with ID