Review: Crimes of the Heart by City Theatre Company
by Michael Meigs
I generally resist comparing stage productions to film versions. That's on principle, since a theatre piece must stand on its own concerning casting, directing, acting, technical support and -- not least -- the charisma of folks on and off stage. For City Theatre's Crimes of the Heart I was comfortably placed to follow my convictions, since not only had I not seen the 1984 film but I had never before seen the play.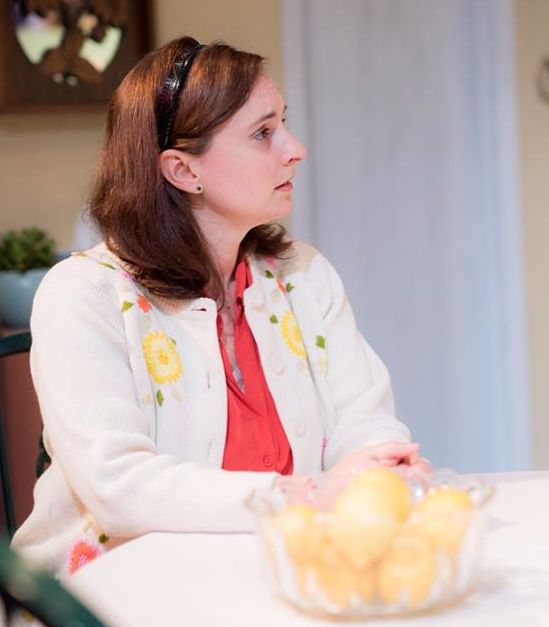 All I knew was that Henley's 1983 Crimes of the Heart has become a staple of college and community theatre. Just in the last three years it has been staged at Trinity University, Fredericksburg Theater Company and Baylor University. A January, 2016 staged reading at Playhouse San Antonio will result in a May, 2017 full production by the company despite the sweeping management changes following appointment last year of George Green as the new executive director.
Plus, this is City Theatre's celebratory 11th season featuring reprises of successes from its busy first decade of productions. City's Crimes of the Heart in its 2007-2008 season resulted in B. Iden Payne theatre award nominations for outstanding lead actress in a comedy -- for two of the three actresses in the lead trio of Mississippi sisters.
I quickly felt right at home with this script and these characters: Lenny Magrath the stay-at-home sister devoted to caring for the unseen Old Grandpa and well on her way to becoming an old maid; Meg Magrath who left to pursue a singing career in California and wound up doing minimum-wage work; and Babe, just released from jail on bond for having shot her husband with a .22 pistol without managing to kill him, much to her disappointment.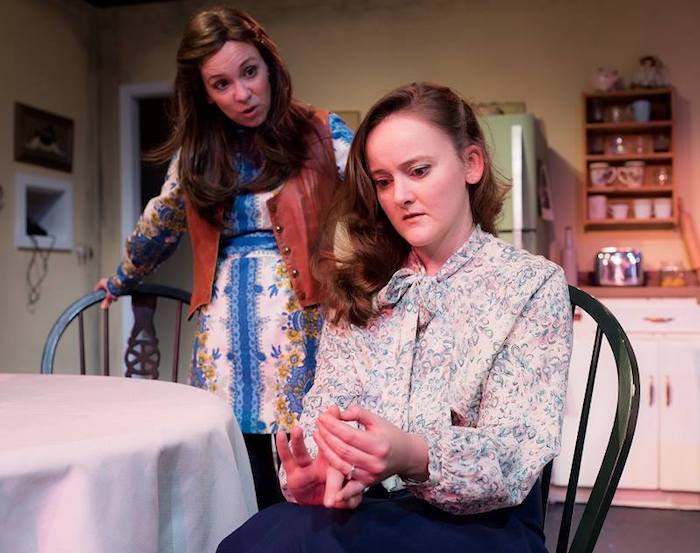 Henley provides a rich background for what is essentially a small family reunion in response to crisis. Old Granddaddy, whom we never see, has just about reached the end of his days; a lightning strike has killed Lenny's horse; years ago their father abandoned them and their mother committed suicide, first hanging her cat; and each of the sisters will reveal unhappinesses and secrets that are not so terrible or so terribly dark.
The events reminded me of Lyle Lovett: 'Lord it made me happy. Seeing all those people / I ain't seen since the last time somebody died.'
One commentator summarizing the film called it 'Southern Gothic,' a genre of macabre portrayal that to my mind emphasizes the weird and the benighted. Crimes of the Heart is anything but that, and it's a long healthy distance away from contemporary Gothic dramas like Letts' Killer Joe and Taylor Mac's HIR. Henley's characters are sweetly sincrere, and they play subtly against the deluded ideal of Southern womanhood: the notion that a woman is fulfilled principally through marriage and that her overriding preoccupation should be charming and ensnaring a man to take care of all her financial and emotional needs.
Each sister is a riff against that ideal.
Lenny the stay-at-home sister is awkward and reticent, and she turned away from her only beau out of duty toward Old Granddaddy; she's sexually naïve and totally clueless when it comes to the pursuit of a male. Kristin Chiles gives Lenny a deep seriousness without overcoming her essential nature as an uninstructed girl child. This is Lenny's thirtieth birthday, the one that will officially mark her as an old maid.
Meg embraced the worldly 'bad girl' identity, presumably reveling in her sexuality without becoming a player in the courtship game. This return home will be marked by her revisiting her previous attachment with 'Doc' Porter (Chad Dike), now married and a father. Memory, temptation and disappointment elsewhere lure her. Shannon Embry's Meg is transitional, a figure coming to terms with her own dreams and background.
Hannah Lane Farrell as Babe the renegade 'good wife' is comic because she's in unapologetic rebellion against that matrimonial culture, a bit of a dim bulb, given to infatuations and impulsive transgression. Matt Buzonas as Barnette, the earnest lawyer appointed to defend her, quickly has his hands full. His interest in the case is refreshingly free of sexual overtones. For his own reasons he's seeking to stick it to Babe's now very much estranged husband.
Establishing the base line for Southern female behavior is cousin Chick Boyle, done by Samantha Brewer in full gossiping, reproaching, scandalized and preaching mode. Brewer has a great time being the horrible harridan. One of the epic moments comes in the second act when Lenny takes a broom to her, chasing her out of the place like a great squawking flustered hen.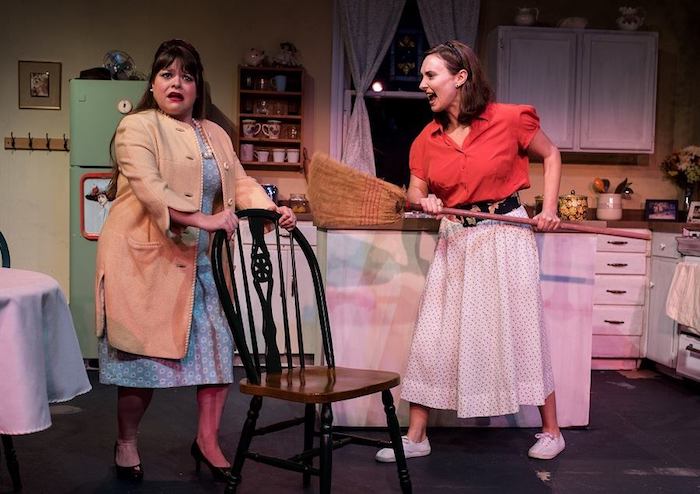 Attending with me was my spouse. A 'Yankee bride' at just about the same epoch as Henley's play, she came face to face with all those Southernisms for the very first time. She was getting one flashback after another throughout the evening, and almost convulsed when the girls were scandalized by Doc's 'half-Yankee children.'
She detected one anomaly that had escaped me: the use or non-use of make-up. Lenny, of course, used very little. Meg from California was carefully adorned, looking like a Junior Leaguer or career woman; she might been conceived as plainfaced, in clothing that was more California hippy in style.
Hannah Lane Farrell as Babe was completely careless of her face. In my experience of those times, Babe, back home from her failed marriage, would have been likely to have paid intricate attention to eye-shadow, lipstick, foundation and blush, all the tools and artifices that maintain the appearance of Southern maidens and matrons alike. That carelessness and her impulsive tooting on the saxophone gave the impression of a girl rather than a woman. Yes, her motherless upbringing might be the excuse. But a tutor like the artfully painted cousin Chick would have pushed Babe toward at least a restrained use of those arts.
Costuming by Heather Bullard and Production Design by director Rod Mechem strongly supported the staging, establishing the sense of a solid lower-middle-class Southern environment.
Henley's gentle comedy resembles the Jones, Hope & Wooten comedies about the Futrelle sisters in Texas, adored by community theatres. Henley's work is kinder and less grotesque, closer in tone to Robert Harling's 1987 Steel Magnoias. Henley's play is at heart a celebration that provides gifts to each of the sisters, along with the day-late birthday cake for Lenny that probably marks an end to her spinsterhood.
EXTRA
Click to view the program for City Theatre's Crimes of the Heart
---
Crimes of the Heart
by Beth Henley
City Theatre Company
Thursdays-Sundays,
January 13 - February 05, 2017

January 13 – February 5, 2017. Thursdays - Saturdays 8:00 pm. Sundays 3:00 pm.
The City Theatre, 3823 Airport Blvd. 78722.
General Seating $15. Front/2nd Row Reserved $20-25. Thursday all seats $10.
Tickets at the door $20. Group and student discounts.
Tickets 512-524-2870 or info@citytheatreaustin.org