Review: Bloomsday by Steven Dietz, Austin Playhouse
by Michael Meigs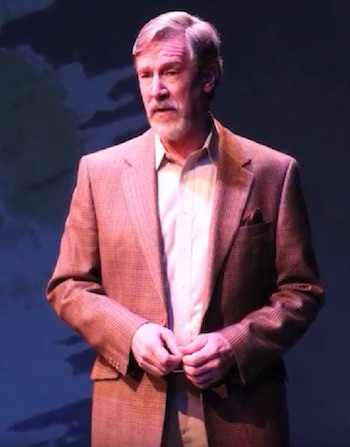 If you're one of the legions who have started to read James Joyce's Ulysses and eventually abandoned it, take heart: Steven Dietz's Bloomsday is tied to that massive novel only by the lightest of gossamer threads. Compounded of equal parts of nostagia, romance and whimsy, it's a clever tale that takes the classic boy-meets-girl, boy-loses-girl, boy-finds-girl into the fourth dimension and multiple beyonds.
Following theatrical convention, we're introduced to a trip down memory lane by Robert, a man in his fifites who has left his academic career behind for the moment to travel to Dublin. He addresses us directly, acting as narrator and low-key master of ceremonies. It quickly becomes evident that the 25 years or more he has devoted to teaching Joyce's Ulysses can be traced back to -- and blamed upon -- a chance encounter in Dublin when he was a clueless youth with a backpack.
In the course of the evening we will see, as if in a dream, the feisty colleen who persuaded him to join a walking tour of the Dublin locations that figure in Ulysses. Claire Grasso as Caithleen, speaking in a fine rich Irish accent, has just gotten the job as tour guide. Robert has never heard of the novel but he becomes infatuated by her and winds up spoiling her first outing as a docent.
Further theatrical convention serves up a doubling and unpacking. Huck Huckaby as Robert our narrator is soon observing Aaron Johnson as his younger self. Playwright Dietz provides an exquisitely tender account of the blossoming -- blooming -- relationship, revealing through dialogue attraction that edges close to courtship once the invisible gaggle of half-interested tourists drops away. This, older Robert indicates, was the decisive moment in his life, the opportunity missed that instilled a chill in his heart that has lasted ever since.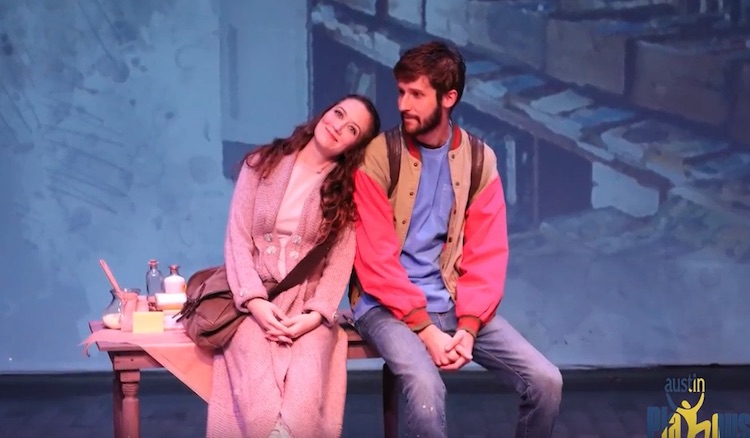 Director Don Toner's choice of these two -- Robbie and Robert -- is highly effective. Within this story Johnson and Huckaby become almost uncanny mirrors of one another. They match in height and build, and their interpretations of those Roberts give credence to the notion of the before and after. Johnson as Robbie the younger man is soft spoken, uncertain, slightly gauche; Huckaby's neutral delivery and air of alienation complete the far end of Robert's character development.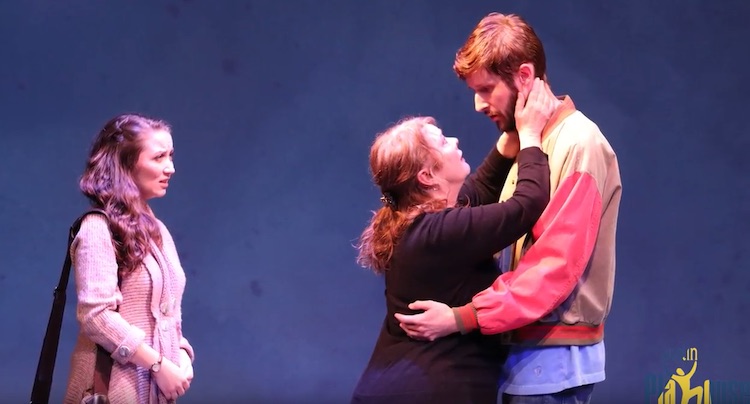 And of course Caithleen is dual as well. Grasso is matched by Cyndi Williams, again a credible physical pairing, this time of a character who retains her spark of personality and canny equilibrium. We're not suprised when Robert succeeds in hunting up the now more aged Caithleen to speak of old times.
In these events playwright Dietz works upon us a subtle reset and disorientation. In separate duo scenes older Robert speaks with young Caithleen and with his younger self. Caithleen enters into self-dialogues, young and older versions as interlocutors. Glimpses backward in time mix with precognition, visions of what is yet to be; St. Brendan's psychiatric hospital figures in past and present. The regret-filled academic takes an initiative to intervene, and time seems to lose its moorings, with unpredictable and ultimately unrevealed effect. On your drive home afterward you can enjoy the retrospective warmth and prospective hope, all the time trying to decipher what happened, when, and to whom. Is that cold in Robert's heart destined to last forever? Here, in Dublin, or somewhere else? And if there are dreams within dreams, whose were they?
Dietz has worked some of these themes before in his extensive oeuvre, including here in Austin with his plays Shooting Star, Fiction, Becky's New Car and Mad, Beat, Hip and Gone, all done at the Zach Theatre. They evoked lost opportunity, confrontation with the past, romantic nostalgia and yearnings to be someone or somewhere else. Bloomsday adds a touch of fantasy to that mix, suggesting that with good heart and determination one might literally be able to rewrite the past. . . perhaps. . . or at least to believe that one has done so.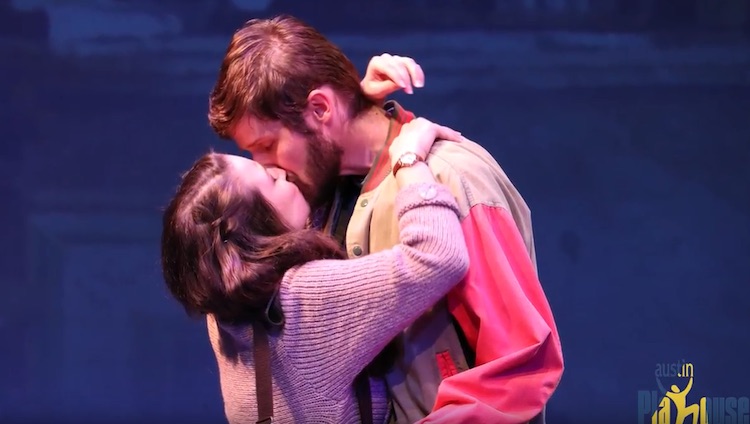 This memory play takes place not in the tied-down circumstances of a box set but rather on benches and minimal furnishings placed in front of various artful and evocative projections designed by Joel Mercado-See. The opening scene occurs in a Dublin street, depicted with a tidy shopfront: Toner's, an emporium or pub that just happens to carry the name of the family that founded and runs the theatre.
Bloomsday is a sweet and engaging tale, and it probably offers your last opportunity for a while to see the two young leads, each of them among my favorites on Austin stages. Johnson departs soon to New York, carrying with him a resumé strongly bolstered by his work in Austin over the past two years; Grasso is likely to be taking a break from onstage work soon.
Bloomsday debuted in 2015 at the ACT Theatre in Seattle, Dietz's home before he accepted the playwriting chair at the University of Texas in Austin. The American Theatre Critics Association (ACTA) put it on a list of six notable new plays for that year and selected it for a $7500 runner-up award in that category. This production is the first in Texas, and in April other stagings will take place in Milwaukee and in Cinncinati.
EXTRA
Click to view the program for the Austin Playhouse production of Bloomsday
---
Bloomsday
by Steven Dietz
Austin Playhouse
Thursdays-Sundays,
January 13 - February 05, 2017
Thursdays - Saturdays at 8 p.m., Sundays at 5 p.m.
Austin Playhouse at Austin Community Center Highland Center (formerly Highland Mall) at 6001 Airport Road, Austin (because of ongoing construction, click HERE for driving instrutions)
Tickets $16 - $34 pls service fees available on-line