Review #1 of 2: Dead Man's Cell Phone by En Route Productions
by Michael Meigs
It used to be that when you died, you were dead.
Now, not so much. How much of yourself have you invested in Facebook? How much do you want to leave floating in the ether and accessible once death, random but inevitable and invisible, comes calling? The guys at Facebook corporate developed policies for that, by the way, and posted them in 2015.
And if like so many of us today you're living on your phone, what becomes of you and your phone when you're no longer living?
Sara Ruhl was early to look at such uncomfortable questions of technology. Her play was staged at the Wooly Mammoth Theatre in Washington DC in 2007, a bare year after Facebook was opened to anyone who wanted to post.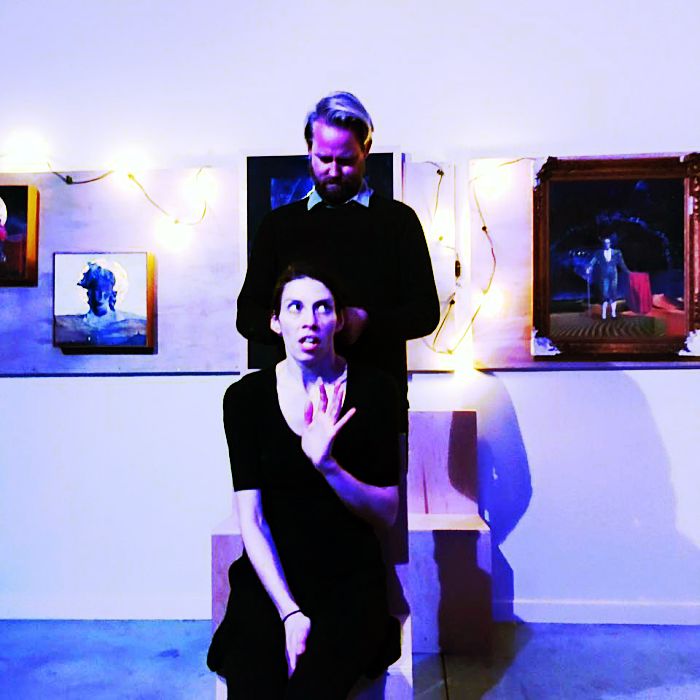 Jean is high-strung, uncertain of herself and apparently completely unattached, with no sign of any family or friends. She is sitting solitary in an urban cafe when the man at the next table sags and silently slumps to the table. There's no one else around, not even wait staff. She speaks to him, grabs him, tries to evoke a response. Nothing.
Nothing from him, that is. But his cell phone rings and Jean grabs it up, gabbles, "Uh, he can't come to the phone right now." From that absurd moment onward the dead man's cell phone becomes a vital -- living -- object for her, and Ruhl uses it to pry open the life of Gordon, the man who just died in Jean's arms.
Nothing could be more intimate than that or more final. But that phone and the people who come and go at the other end of that electronic line give Jean purpose.
Director Lindsay Doleshal explores Gordon's now disembodied life with a minimum of artifice, and the staging logistics echo somewhat the themes of the play. The cast employs an assortment of wooden chair shapes easily slipped into different configurations. The set by Ia Ensterä is easily transportable, and the play materializes in two quite different locations: the Link and Pin Gallery on East 6th Street with 25 seats, where we saw it, and Springdale Station, a repurposed railroad hall refurbished and now installed alongside the complex of warehouses at Springdale near Airport Road, capable of receiving 125.
Bridget Farr gives Jean a wide-eyed intensity behiind those severe spectacles of hers, as well as a yearning to please. With no plan at all, she's drawn into Gordon's life and family, partly by the succession of calls to the phone and partly by Gordon's family, who are curious about her relationship with him. There was none, of course, but Jean invents one and soon enters first into the family circle and then into Gordon's business life, initially enigmatic and later alarming. Ruhl rolls back layer after layer for us.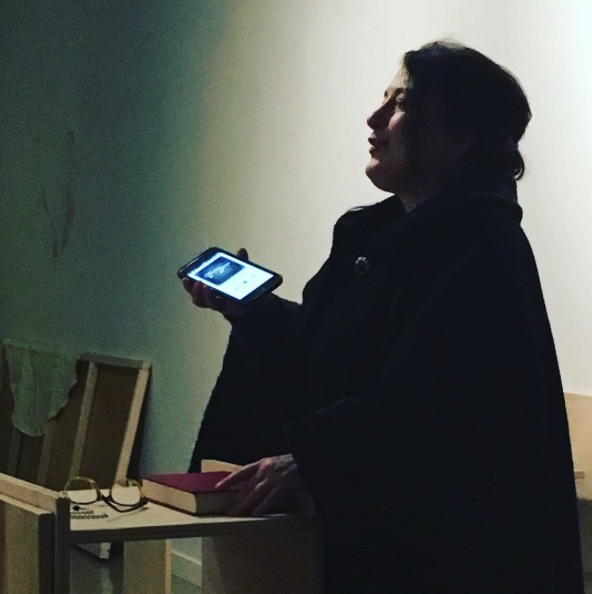 Ann Hulsman delivers a forthright performance as Harriet Gottlieb, Gordon's mother, a tough, frank New Yorker. Hulsman avoids caricature by setting a good amount of grit in the familiar type of the apparently Jewish mother, always at odds with her children. Lara Wright as Gordon's previously estranged wife Hermia, now a widow, is unmoved but dutiful within the family.
Affable Dan Dalbout gets assigned the role of Dwight, the awkward, less-loved younger brother, painfully similar to his Gooper in the company's Cat on a Hot Tin Roof -- although in this piece his character is gently delighted to enjoy an infatuation with the young woman with the cell phone.
Jean fibs to each of these characters, imagining last kind intimate thoughts and gestures from the departed Gordon. She also makes the fatal mistake of involving herself in Gordon's shady business dealings.
Following the intermission the playwright takes us through the non-existent curtain between this world and the next, a liberty that reminded me of Ruhl's 2003 Eurydice (done beautifully in Austin by Different Stages and by St. Ed's Mary Moody Northen Theatre). Meason Wiley, delivering lines and character with fluid reflective restraint reminiscent of screen acting technique, is Gordon in the afterlife. Cynical, unsentimental and plausible, he has a lot to tell us and to tell Jean.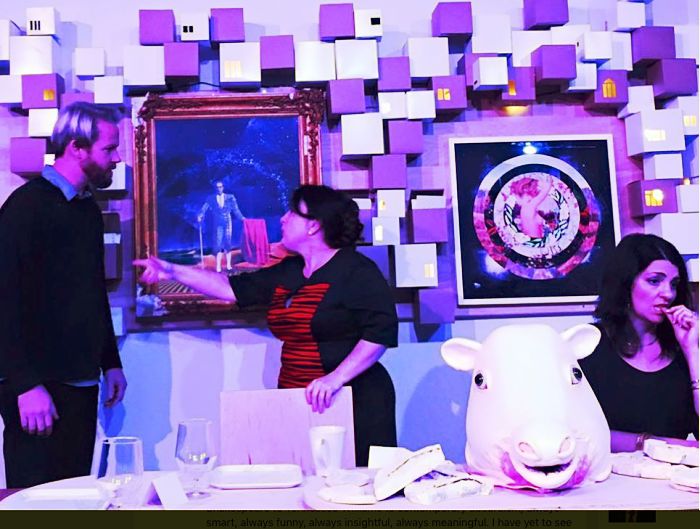 Those in the opening night audience, limited to 25 by the constrained space of the gallery, appeared for the most part to be youngish professionals who'd be at home in that environment any night of the week. Director Doleshal and the cast gave us the story straight and with a compressed emotional intensity, but one or another in the audience jarred us with barks of laughter.
Dead Man's Cell Phone is not a comedy, despite the occasional bit of bizarre whimsy such as the cow's head centerpiece on the Gottlieb dining table. It's a deadpan look at hope and death and the invisible lines that connect us or break, a piece more likely to provoke reflection than hilarity -- and in this staging by En Route Productions it's a significant work of theatre art.
EXTRA
Click to view the program by En Route Productions for Dead Man's Cell Phone
---
Dead Man's Cell Phone
by Sarah Ruhl
En Route Productions
Thursdays-Mondays,
January 07 - January 29, 2017
En Route Productions joyfully presents "Dead Man's Cell Phone," a dark-edged romantic comedy by Sarah Ruhl this January at Link and Pin Art Gallery (2235 E. 6th St. #102) and Springdale Station (979 Springdale Rd) for En Route's inaugural event, The Winter Modern, which places moving, theatrical art in gallery spaces throughout Austin. The Winter Modern is a beautiful combination of installation and theatrical art, which Ruhl's intelligent, absurd, comedy lends itself to perfectly.
The Winter Modern opens January 7th and 8th at 8pm at the lovely, very intimate Link and Pin Art Gallery. In this space, we will exhibit local artists, Sarah Presson, Nick Schnitzer, and Stephen Pruitt's visual art on the walls surrounding the intimate performance of "Dead Man's Cell Phone," by Sarah Ruhl. The production will be minimal and every word tangible. This unique, intimate opportunity seats 25 guests. There will be an artist talk (with visual artists and performance artists) and an Opening Reception on the 8th from 5-7 pm before the show. On January 15th and 22nd, we will have two, intimate, MANHATTAN MATINEEs at 2 pm at Link and Pin as well, and the art will be hung in the space until the 23rd. Hot Steeping Room Tea, Live Oak Beer, and wine will be available for free during reception and for donation during the event.
From January 13th-15th, 19-22nd, and the 26th-29th at 8 pm, we will be exhibiting our dark, absurd theatrical installation at the lovely Springdale Station, which allows for a different, unique Austin experience. The production design, created by Ia Enstera, Stephen Pruitt, Meason Wiley, Jason Farmer, Haley Powell, and Taylor Harrison will be the art installation in this old, train station, which seats 120 guests. There will be a donation bar with Hot Tea from The Steeping Room, Live Oak beer, and Whiskey, and plenty of parking.
Please join En Route at one or both of these unique spaces in Austin and get your ART on!
website: www.enrouteproductions.com
Tickets $20 general admission, $30 and $50 supporter tickets available, plus fees, via