Review: A Funny Thing Happened on the Way to the Forum by Austin Playhouse
by Michael Meigs
At first glance, Austin Playhouse's 150-seat theatre at Allen Field hardly seems large enough to contain the exuberance of A Funny Thing Happened on the Way to the Forum (May 23-June 29). Mysteriously, as we arrived in the foyer at 7:25 for an 8:00 Thursday curtain, the closed doors reverberated with the opening number, "A Comedy Tonight" - - a last-minute polishing? A run-through of a revision of the dance number? The familiar musical with a cast of 18 has a stage band of three, but they sounded like double that number.

In fact, the Playhouse does contain the action very nicely, in part because Don Toner has directed the focus toward the lower, center seats occupied by the season ticket holders. Mind you, there's not a bad seat in the house, but those privileged viewers must be giddy with the ins and outs, appearances and disappearances that take advantage of the aisles to pop up just in front of them for the next bit of business.

You could assert that Funny Thing was already a war horse when the Sondheim-Shevelove-Gelbart musical opened in New York in 1963 and went on to do 964 performances before becoming a movie and then a mainstay of community theatres across the English-speaking world. The conventions of the "tricky slave" and the long-lost children eventually reunited go back to real Roman days, as in the plays of Plautus and his contemporaries. Shadowings of those elbow-in-the-audiences'-ribs jokes occur again and again throughout theatre history.

But familiar doesn't mean boring or trite. Everyone loves a funny man, and we can all hum along with several of Sondheim's songs (especially Comedy Tonight, Lovely, and Everybody Ought to Have a Maid).
This production is full of energy and cannily cast. Toner and lead "tricky slave" Pseudolus (Michael Stuart, right) deal with the ghost of Zero Mostel in forthright fashion by channeling him without embarrassment. Stuart is just as lumbering, pop-eyed, and stage-stealing as the Master, and he obviously has a huge amount of fun in delivering the character.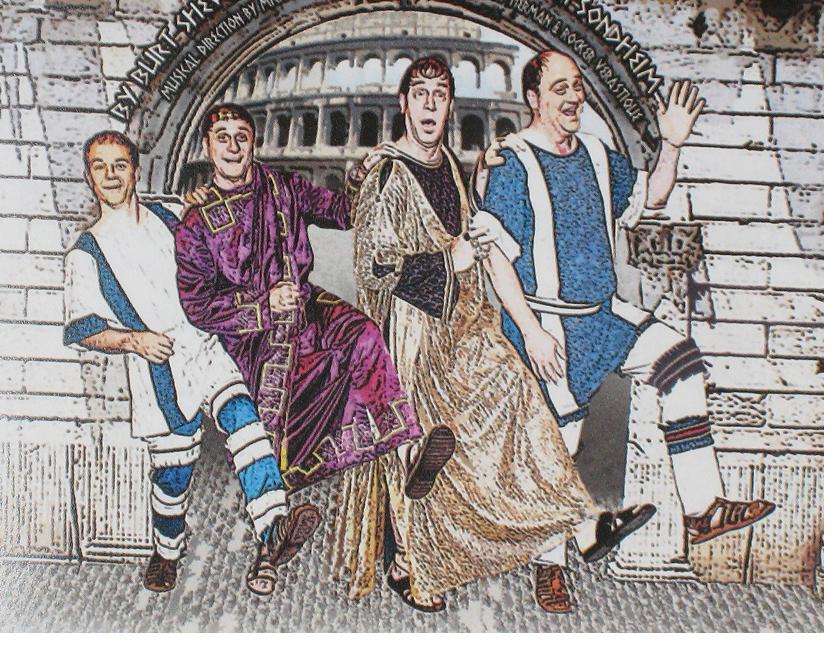 Characters just as diverting are Hysterium the house overseer (Hans Venable, left, by turns cranky, bewildered, feisty, and in one very funny moment even delicately feminine) and next-door panderer Marcus Lycus (Huck Huckaby, 3rd in line), who at times with his tilted angular face and transparent guile resembles the late, great British comic Peter Cook.

Plot: young man Hero (Clay Cartland) falls for the pretty face of Philia (the lovely, vacant-blue-eyed blonde Haley Smith), visible in the window of the house of panderer Marcus Lycus. Tricky slave Pseudolus (Stuart) elicits his master's promise to free him if he can deliver the doll, who inconveniently has already been sold to the Roman captain Miles Gloriosus (another stock figure of Roman comedy, the soldier of "a thousand glories," played by Brian Coughlin). The young man's father Senex (Latin for "old man" and played by Tom Parker, 2nd in line) happens to be undertaking a trip out of Rome with his tough old bird of a wife Domina (yes, Latin for "the dominating woman" and done by Bernadette Nason). A near-sighted old neighbor Erronius (Dirk van Allen) returns from years of searching for his children, lost to pirates.

So the stage is set, so to speak, for intrigue, disguises, a failed attempt to use a sleeping potion, mistaken identities, horny old guys delighted by the prospects of young flesh, and wild chases through most of Act II. All turns out well for the lovers, of course, as well as for the rest of the cast, although usually via unexpected surprises.
Lovers Hero (Cartland) and Philia (Smith) are indeed "lovely," as their song proclaims, but the book doesn't give them a lot to work with for characterization. They sing well and pose delicately. Hero's parents Senex (Parker) and Domina (Nelson) are much more endearing as old lechers with few romantic illusions.

The show calls for many extras to keep things moving – 6 courtesans (including a pair of putative twins) who get about 30 seconds each to tempt prospective buyers, 3 eunuchs (directed to emit squeaks, giggles and bounces worthy of silly bouncing six-year-olds) and 3 Protean soldiers ("hut-hut" marching and reacting in Keystone Cops confusion). Some of the dance numbers are crowded and the silliness of the extras gets a bit extreme, but the audience was loving it.

Toner directs his cast to build to a fine climax but races through the denouement too quickly for my taste. Yes, the lost children are rediscovered, resolving all – but there is a lost opportunity for inflection there. The expectant audience would enjoy just the tiniest moment of dawning – particularly from the squared-off Miles Gloriosus (Coughlin, credible, with a fine voice and by no means bombastic) and from the ancient near-sighted father, Erronius (van Allen), who has already established great affinity with the audience with his asides.

The dutiful Top Kat Trio sits at deep center stage since there is no orchestra pit, and the audience happily forgets that the bass (George Fahlund), keyboard (Steve Saugey) and percussion (Trevor Detling) are completely anachronistic. Sets by Janet Hurley Kimlicko make no effort to parade as anything other than cartoon representations, an approach appropriate with this musical.

We had a great time. As Austin newcomers, we were attending our second Austin Playhouse production - - and at the intermission I went out to the foyer and purchased season tickets for 2008 – 2009 from Producing Artistic Director Toner himself, who was happy to talk theatre with me.

[Click here for Elizabeth Cobbe's perceptive June 13 review in the Austin Chronicle]
---
A Funny Thing Happened on the Way to the Forum
by Steven Sondheim, Burt Shevelove, Larry Gelbart
Austin Playhouse